A Headbanger's Journey to Athens
A brief guide to some heavy metal hot-spots and experiences I had while traveling recently in Greece.
Head of Metal
Ultimate Guitar

Head of Metal
Writer and ambassador of the world's greatest music: heavy metal. Fave subgenres: Most of them. I run my own site, headofmetal.com.
Posted Oct 14, 2015 09:22 AM
Athens is one hell of a city for metal.
As is the case with much of Europe, metal has always been more popular here than in North America. Being surrounded by ancient history and epic landscapes gives the Greek metal community an inspired intensity that is hard to create anywhere else.
"I really don't know what it is with Greece, man," says Iced Earth songwriter/guitarist Jon Schaffer, whose live album "Alive in Athens" was recorded here in front of 5,000 screaming Greeks at a place called the Rodon. "Athens is by far the most intense place Iced Earth has to play. I've always wondered if there's something in the music that touches these kids in a way that doesn't really touch other people. They were so loud that sometimes they drowned out the PA system." The shows on that album lasted about 3 hours and represented a highlight of the American band's career.
His words recurred to me as I wandered the Greek capital recently. It was election season again, and the city's aggressive graffiti, a surprising amount of it in English, had much political bent ("Wake Up," "OXI," "THOU ART BLIND," etc). Unrest and discontent are just as prevalent in Greek history as the golden and prosperous times, and heavy metal has had much to discover and reflect upon here.
From the way our media portrays Greece, you would think the country was an apocalyptic wasteland, with riots and explosions every few minutes. But I have to tell you, it wasn't. Apart from a strike the first night we arrived that made it take longer to get to a restaurant we wanted to try, we were problem-free in Greece. The food, wine, lifestyle and history are all just as powerful draws now as they always have been. But for a metal fan, there comes the added bonus of a thriving music community and some seriously good homegrown Greek metal.
Most famously (or infamously) is Rotting Christ, whose irreverent and melodic black metal helped put Greece on the map of metal in the first place. I saw plenty of their shirts worn around town - pretty much everywhere, but especially out at the bars. The Greeks tend to start their nights out pretty late, but headbangers are out and about at all hours of day and night.
I spent my first and last nights out in Athens at Iroon square in the Psiri district, drinking beer and smoking cigars outside at a bar called Beertime... Because one must drink beer when talking metal. If you're in Athens and looking for a fun, unpretentious night out, I recommend it. Plenty of outdoor seating, big selection of Greek craft and German beers... And lots of headbangers in band shirts. The first night I chatted with a guy wearing a Motörhead shirt about Lemmy's health, which was improving (I had attended the band's New York show before this vacation). It's a great communal atmosphere with a lot of energy.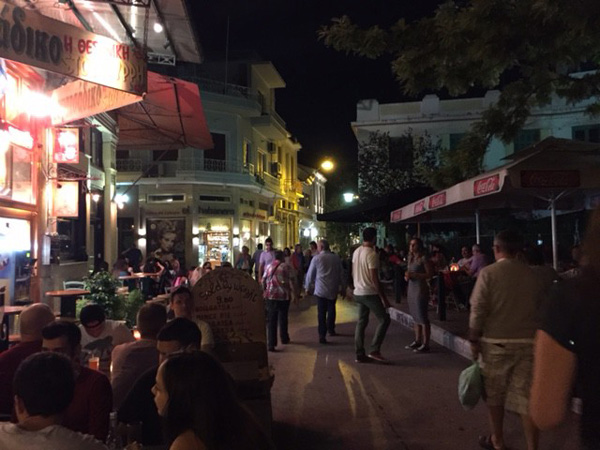 But as easy as it is to find kindred spirits of metal out on the town, you can't beat Athens' enviable selection of metal-focused record stores for meeting fellow metalheads.
Metal Era record store may the best known. It's located in the Exarchia neighborhood near Omonia Square metro stop. The neighborhood has a reputation for anarcho-leftism and is often compared to the Greenwich Village area of New York City "before Giuliani." But don't let that stop you from going there - it was quite safe when I went. It's the perfect place for a metal record store. I was especially hoping to find physical music by Greek band Zemial, whom I discovered via an Amazon Recommendation from Bathory. Not sure if they worked around the same time or if Quorthon knew of them if so, but I think he'd be proud.
Another Greek band I admire and hoped to invest in is Septicflesh. Most of the best-known metal bands from this country fall under the "extreme" banner, but that's not to say they're all devoid of melody. Septicflesh, though absolutely a death metal band, masterfully incorporated symphonic elements for extra bombast. To my ears, it suited the epic landscapes, battles and folklore of Greece. And yet, when they're on the road Septicflesh gets tired of junk food and misses their native cuisine.
With Greece lurching in and out of crisis for the past 5+ years, I was told re-stocking certain imports was getting difficult, and sadly that extended to music as well. I didn't find most of what I was looking for, but I still walked away from Metal Era with Helloween's "Keeper of the Seven Keys Part 2," Artillery's "Fear of Tomorrow," and Entombed's "Wolverine Blues." Gotta support a metal record store somehow!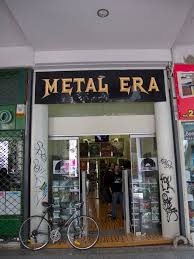 A happy accident happened near Monastiraki market, while we were looking for another record store. This is regarded as the central tourist part of Athens near the Acropolis, but as we walked along we trooped downstairs towards what we thought would be another metal record store (Jimmy's Inferno... Unfortunately we were told it isn't there anymore). By happy metal accident, we had walked into Topman clothing store, which has been open since 1973.
Located at Ifestou Street, Topman was a Dickensian Ghost of Christmas Plenty of metal clothing and memorabilia. Of every badass metal band you could think of, there were t-shirts, patches, flags, belts, jewelry, wallets, footwear, jackets, figures, and more. All pretty well-priced too. I bought a Motörhead shirt for under $20. God bless em.
After the visit to those two shops, I thought the metal part of my trip was over for now. But it was not, by another happy accident. We were wandering the neighborhood near Athinaikon restaurant, which has been open since 1932 and witnessed the highs and lows of the Greek people from the Nazi occupation to the Olympics, from the Communist insurrection to the current EU crisis. After a two-hour lunch there including multiple dishes, wine and coffee per the Greek tradition, our plans were to go to the War Museum. As we tried to get our bearings, I saw someone wearing a Trouble shirt standing on the corner with his girlfriend and another guy wearing a Metallica shirt. They all carried large bags of records.
"Pardon me, where did you get those?" I wander over and ask.
"That record shop on the corner - we're actually going over to No Remorse Records now if you want to join us, do you like metal?"
With them leading the way and me practically salivating, we got to No Remorse, which had the best selection of metal I've ever seen on any continent. THIS was everything I had ever hoped for from an Athens record store. THIS was where I found the local Greek stuff, including Necromantia, a unique Athens group formed in 1989 that featured a distorted 8-string bass... Not just for novelty, either. It really sounds good.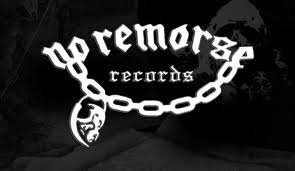 The owner was working the register at the front, and he happily chatted with us all. He had just returned from a long visit to Japan, where he had chosen the CD and vinyl stock for the store himself. And No Remorse was laid out with a true metal devotees eye: everything was not only characterized alphabetically by artist, but it was also split up by subgenre. By SUBGENRE. Yes. There was a section for death metal, black metal, power metal, '70s hard rock, and more.
We were like little kids on Christmas morning, as we enthused and gushed over all things metal while we snatched up incredible record after incredible record. The girlfriends preferred to hang back and discuss things non-metal. But in those moments, I not only dropped a truly stupid amount of money, but truly felt the joy of being a fan of heavy metal, surrounded by my favorite noise and enjoying a connection with fellow enthusiasts that could cross continents. I shook the managers hand heartily and thanked him for all his hard work and devotion. God bless that man. If by some chance he's reading this, he is welcome back anytime in New York City for a visit to Generation Records!
Before I left on this journey to Greece, others who had been there had mixed feelings about it. They said they felt "underwhelmed" by Athens, or even disappointed (though they had nothing but praise for the Greek islands). After wandering this ancient wonder of a city, I have to conclude they only felt that way because they didn't really get out and explore, embracing the sense of adventure that so many of us lack in this world.
The people of Greece are undeniably going through some tough times. But no matter where you are and who is in charge, life goes on. People still enjoy one another's companionship, eat, drink, go out, and listen to music. This incredible culture is worth experiencing, whether you love metal or not.
So if you've always wanted to go to Greece but have held off for some reason, go. Go now, and embrace this moment in the country's storied history as part of the burning spirit of metal.
About the Author:By Matt P. headofmetal.com.