Best Albums of April 2017
Rounding up April 2017's best and most interesting releases.
travislausch
Ultimate Guitar

travislausch
Travis Lausch, a Canadian prog-head who's been lurking around on Ultimate-Guitar pretty much since the beginning (joined in 2002!).
Posted May 10, 2017 03:16 PM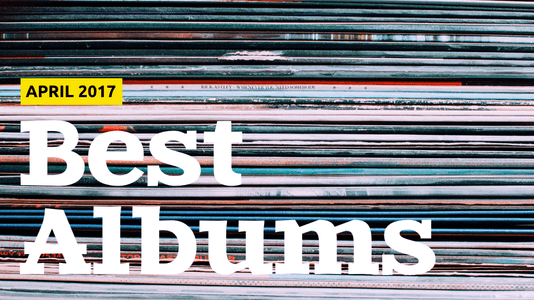 Welcome, UGers, to another new feature, where we round up five of the best and most interesting releases of the past month, as reviewed by our UG review team!
Firstly, let's start off with some honorable mentions, in no particular order:
Procol Harum - Novum
Brad Paisley - Love and War
Deep Purple - Infinite
Falling in Reverse - Coming Home
And now, the five most interesting or best records of April 2017!
5. Ayreon - The Source
We're starting off this list with the album that received the highest score from both the reviewer and UG's user base, Ayreon's sprawling rock opera "The Source." A prequel to Arjen Lucassen's "Planet Y" saga that spans many of his Ayreon albums, the album features no fewer than ten vocalists from all over the metal scene, such as James LaBrie of Dream Theater, Floor Jansen of Nightwish, Tommy Rogers of Between the Buried and Me, Russel Allen of Symphony X, and more. Featuring Arjen's eclectic mix of prog-rock, power metal, and classical and folk influences, as well as a renewed emphasis on guitar in the songs, users such as ensifer1 and RDSElite have agreed that, while the album sticks close to Arjen's formula, it works very well, and it's a fun listen.
4. All That Remains - Madness
On the complete flip side of the coin, we have All That Remains' latest effort, "Madness," which is this month's lowest-rated album, with UG users rating it a rather unimpressive 3.4/10. While the band claims to be growing and experimenting with their sound, both the reviewer and the fans found the album to be rather generic, marking a shift from the classic metalcore of "The Fall of Ideals" to a sound much more along the lines of Five Finger Death Punch and Nickelback. Many agreed about the production, with BwareDWare94 asking if the album was "recorded in a pole barn", and kmath2220 stating that "the master Oli [Herbert - lead guitar] sound[s] junky with the weird tones used."
3. Incubus - 8
Only faring slightly better in this lineup is Incubus' eighth studio album, aptly titled "8." While the album does see the band returning somewhat to their guitar-heavy alt-rock roots, fears over Skrillex's involvement in the production as well as the band just overall missing the mark on what made their past works special have given this album a fairly uniform rating of 6 by both reviewer and users, with the users only bringing up the score slightly to 6.5/10. Reaction in the comments was fairly mixed, with some, such as shwilly expressing that the album really grew on them, both xeper9 and Salvo416 stating that "this is their best work since morning view," but BentheScrivener believing that "this is Incubus' worst album," and many others stating their dissatisfaction with it. The fairly mixed reaction to "8" has made it one of the most interesting releases of the month.
2. John Mayer - The Search for Everything
Oddly enough, this is one of the rare cases where UG's user base and the reviewer disagree on the rating of an album, with the reviewer giving it a 6/10, but the user base giving it a tremendous 8.7/10. John Mayer's guitar playing is something that pretty much all of us can agree on as being top-notch, but while the reviewer found the album a bit too "mellow" and "cliche," the user base seems to have come out in full support of the album, with danye42 remarking about the album's "funky and light, real feel good vibe," and GR84 "actually enjoy[ing] the mellow aspect of this record" and stating of Mayer that "he sounds at ease and the songs are well crafted." Personally, as the reviewer, I find that the album has actually grown on me a little since I finished the review, and if I had to revise my rating, I'd definitely give it a 7 now.
1. Gorillaz - Humanz
Animated pop/hip-hop/rock/whatever-you-want-to-call-it outfit Gorillaz, the pet project of Blur's Damon Albarn and illustrator/animator Jamie Hewlett, have returned with a very ambitious plan for 2017 that includes a TV show, a music festival, and their fifth album, "Humanz," a concept album "imagining a near future affected by an unexpected world-changing event." Musically, the album is a bit of a mixed bag, with some really good cuts and some not-so-good ones, but overall, still considered a return to form compared to "The Fall" by the reviewer, and as well by a few of our users, such as tomwebbsayshi, who said of the record "Certainly not Gorillaz' best work, but still a brilliant album", and BassFishin stating "The overall flow of the album is wonderful. Very fluid, and the interludes sort of keep everything stapled together." However, opinion of the album was not universally positive, with Jimjambanx stating that the album had "some stand out tracks like the brilliant Charger and the bizarre Momentz, but overall it's a very bloated album, lots of tracks that either seems half baked or just really not up to par with the rest of the album," and GrungeBloke making a fair point that much of the album "seems targeted at this youth (not us from around the 2000s) but instead the new kids that don't value music for its meaning and atmosphere, instead to its popularity."
Anyway, that wraps up the five best and most interesting albums of April 2017, as reviewed by the UG reviews team! Thanks for reading, and see you next month!