Best Albums of June 2017
Rounding up the best releases of June 2017.
travislausch
Ultimate Guitar

travislausch
Travis Lausch, a Canadian prog-head who's been lurking around on Ultimate-Guitar pretty much since the beginning (joined in 2002!).
Posted Jul 17, 2017 07:41 AM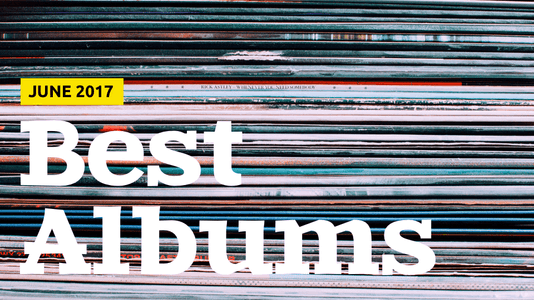 Hello, UGers! June of 2017 has been a pretty huge month for album releases, and we had a veritable bumper crop of album reviews to choose from to compile a list of the best albums of June from! So many great bands have released good albums this past month that it's hard to simply choose ten albums from it all, and so many of those albums have been well-received and heavily discussed. However, there can only be five albums to take the top 5 spots, so let's start by rounding up five honorable mentions, as judged by their UG score:
10. CKY - The Phoenix
9. Roger Waters - Is This the Life We Really Want?
8. Chuck Berry - Chuck
7. Royal Blood - How Did We Get So Dark?
6. Municipal Waste - Slime and Punishment
And now, the five best releases of June 2017!
5. Origin - Unparalleled Universe
American technical death metallers Origin come in at #5 on our list, bringing some extreme and chaotic music to our "best-of" list. On "Unparalleled Universe", the band largely sticks to their formula, a point mentioned in the comments section by alisunshin691: "it seems like if a band is tech death on this site they instantly get 8s and 9s despite not really bringing anything new to the genre or setting themselves apart". Regardless of whether Origin pushes the boundaries of their genre or not, their musical chops and sheer extremity are undeniable, and it seems that most of Origin's fanbase are not particularly looking for anything groundbreaking, giving it the fifth-highest UG score of any review of June, and putting it in our top five!
4. Styx - The Mission
On the complete flip-side of the coin, the #4 spot is taken by classic rockers Styx, coming back with a surprisingly impressive concept album about a mission to Mars, their first studio album of all-new material since 2003, and in many's eyes, their first "good" album since before most of us reading this article were born. Musically, this record harks back to the grandiose '70s heyday of the band's prog era, on records such as "The Grand Illusion", "Pieces of Eight" and "Paradise Theater", and features some of the band's proggiest material to date, including the adeptly-played "Red Storm", and as pointed out by GN'R Dude in the comments, features a brave return of Styx's trademark vocal harmonies. Perhaps this will bring the band back to some form of legitimacy after spending decades running the nostalgia act festival circuit? Only time will tell, but for now, this is a great new record from a band many may have written off.
3. Cheap Trick - We're All Alright!
June 2017 seems to be a good month for classic 70s rock returns, with Cheap Trick adding to the mix with their new album, "We're All Alright!". Their second album not to feature drummer Bun E. Carlos, replaced by guitarist Rick Nielsen's son Daxx, the album features tight songwriting, meaty Les-Paul-through-a-Marshall riffage and solos, and all of the various things one would still expect from Cheap Trick, and perhaps most surprisingly, shows a band that, despite their age, in the words of commenter willis5000, "can still put out a nice little rocker". Described in our review as "a perfect summer album", one listen to the lead single "Long Time Coming" will likely have most of you agreeing.
2. Anathema - The Optimist
A complete counterpoint to the high-energy sunshine and happiness of our #3 entry, Anathema's "The Optimist" revels in melodrama, and overall has a much sadder tone, but the lushness and warmth of Anathema's sound is one of those things that ensures that every subsequent release by the band will receive massive accolades from the press. "The Optimist" serves as something of a sequel to 2001's "A Fine Day to Exit", and continues the style the band firmly established on the critically-acclaimed "We're Here Because We're Here". A slightly more post-rock-influenced writing style and use of electronic elements gives this album even more ambiance, though some fans, including commenters DeadEndKing and FallenAsh, are not as fond of the increased electronic elements and female vocals from Lee Douglas, preferring to hear more of the Cavanagh brothers' performances. Nonetheless, this album was very highly ranked for this month, and even when there are minor gripes about Anathema's music, they still put on one of the most excellent performances in the ambient/prog domain.
1. SikTh - The Future in Whose Eyes?
Taking the top spot this month is djent/mathcore pioneers SikTh, who broke their nearly decade-long radio silence with the 2015 comeback EP "Opacities" to great fanfare, and finally committed to entering the studio for their first full-length since 2006's "Death of a Dead Day". Despite losing vocalist Justin Hill along the way, his replacement, Joe Rosser of Aliases, tag-teams with original vocalist Mikee Goodman for one of the most unique dual vocal performances in metal this side of System of a Down, without losing any of the characteristics of the band's older vocal style. Musically, the album is a little less frenetic than past releases, not featuring as many high-energy tunes as past albums, but there are still metric tons worth of excellent performances throughout the record. While commenter and UG writer EpiExplorer shares some of our qualms about the lack of high-energy performances, he does point out that in terms of production and composition, this is SikTh's best so far, and we're inclined to agree. Comparisons to Periphery, for better or worse, abounded in the comments section. All things considered, though, by the absolute slimmest of margins, this album is our top pick of June 2017, and a well-deserved full-length comeback for one of the most highly revered bands in modern metal!
And that ends our top five for June. There were so many great albums in June that it was really hard to have to pick out just the five top-ranked, so please feel free to discuss which June albums you liked in the comments below!