Best Albums of May 2017
Rounding up May 2017's best releases.
travislausch
Ultimate Guitar

travislausch
Travis Lausch, a Canadian prog-head who's been lurking around on Ultimate-Guitar pretty much since the beginning (joined in 2002!).
Posted Jun 08, 2017 01:40 PM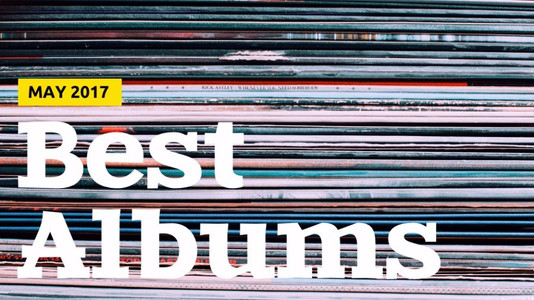 All right, UGers, it's time to go through our May reviews and select the five best records from last month, as voted by the UG community on reviews written by our very own review team members! We had quite a few good records from the past month to choose from, so we won't be able to cover everything that came out, and we'll be selecting these albums based on their UG score, which is based on user votes and reviewer's score (sorry, Linkin Park!).
So without further ado, here are some honourable mentions:
Kasabian - For Crying Out Loud
Papa Roach - Crooked Teeth
Wavves - You're Welcome
At the Drive-In - in•ter a•li•a
DragonForce - Reaching Into Infinity
And now, the main event. Your top five albums of May 2017:
5. Zac Brown Band - Welcome Home
Following a rather divided response from fans on 2015's "Jekyll + Hyde", Zac Brown and his band backpedal from the electronic pop and grunge-rock influences of that album in favour of the band's more traditional country/southern rock style. While the album may not have been up to the standards of their early work, team reviewer Sam Mendez calls it a "[job well done] of being a country music palate cleanser for those who were disenchanted with the sugar sweet pop sound of Zac Brown Band's previous album". UGer comments seem to be a bit more divided, with user konfusius merely stating: "cringe". But anguyen92 seemed to be more on board with Mendez's review, saying "I like the idea that Welcome Home had and bring good-hearted country music without that overproduced nonsense that most pop country bands seems to bring nowadays."
4. Magna Carta Cartel - The Demon King [EP]
With its kind of muddy backstory of being a pre-Ghost band that eventually formed part of the Swedish Grammy-winning heavy metal band's lineup, and their subsequent disbanding and identity revelations, the band has found it appropriate to reconvene in the wake of all the controversy surrounding their former boss. However, this is most certainly not a "Ghost redux" album, with soundscapes recalling Pink Floyd rather than Black Sabbath. While UG reviewer Parker Abt was not fond of guitarist/vocalist Martin Persner's vocals, user angolodivergil believes that Persner's voice "fits beautifully with the songs, even if the lyrics aren't that great", while r0ckmaker compares his vocals favourably to those of the band Blue Öyster Cult.
3. Seether - Poison the Parish
Bucking the recent trend of mainstream rockers to utilize more and more electronic sounds, American-based South African band Seether put out a rawer, more visceral record that what many of their contemporaries are putting out these days. But the album still has loads of catchy melodies, and a huge amount of Nirvana influence throughout. It's not the most inventive record out there, but an incredibly solid hard rock album. And it seems many in the UG community agree, leading one d.sharpe1095 to proclaim "I love this album almost as much as I love burly gay men. 9/10!". We think this comment speaks for itself. Opinion was not universal, however, as a few of you found the album a bit disappointing, including self-confessed "die-hard Seether fan" SurferDude12498, who says "Seether has become something I feel like I can't listen to in the same way. It feels watered down. Where did their fire go?". Guess you can't please everybody.
2. Paramore - After Laughter
After the departure of the Farro brothers (drummer Zak and guitarist Josh), and bassist Jeremy Davis, Paramore was left in something of a quagmire, having recorded the band's 2013 self-titled record as a trio. Drummer Zak Farro returned to the fold, however, just in the nick of time for "After Laughter", which sees the band collaborating with producer (and bassist) Justin Meldal-Johnsen, for a ridiculously simple, fun pop-rock record with no frills, and not a lot in the way of filler. And surprisingly for a pop-rock record, a good number of UG users agreed with Parker Abt's assessment, with anthsband comparing the album's style to '80s new wave, and vIsIbleNoIsE saying it was "surprisingly good" after painting them as "run-of-the-mill pop rock".
1. Alestorm - No Grave But the Sea
Yo-ho-ho, mateys! Set sail for the #1 album of May 2017! Pirate metallers Alestorm take the top spot in this month's list by a single fraction of a point, but it's hard not to love such a fun band whose entire world revolves around "rum, beer, quests and mead". Buoyed by some excellent musicianship and anchored with some incredibly fun, catchy, and downright riotous hooks (check out the one in "Fucked With an Anchor"!), "No Grave But the Sea" is a veritable treasure chest of rum-soaked adventures and killer guitar riffs. For this reviewer's money, this album may actually be staying on my iPod for a good long while, and it's an absolutely perfect soundtrack for road trips and all of your adventures. ensifer1 puts it succinctly by saying "If it's Alestorm, you know it's going to be fun." A perfect motto for this band if I've ever heard one.
And be sure to follow slapsymcdougal's suggestion and check out the version for dogs!
And that concludes our top five albums of May 2017, as voted on by the UG community. If you felt there were any albums worth mentioning (sadly, if they weren't reviewed on Ultimate Guitar, they won't appear in these lists), please feel free to mention them in the comments below! Until next month, se ya UG!