Best Rock Songs by One-Hit Wonders
Songs you all know from the bands you may not remember.
Niass
Ultimate Guitar

Niass
Serial Walken comma user. Stroopwafel enthusiast.
Posted Jul 18, 2017 08:22 PM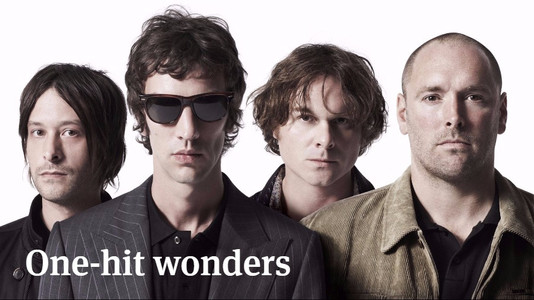 Crazy
Town – Butterfly
Looking back, it's actually surprising that Crazy Town's "Butterfly" was the group's only hit. Limp Bizkit had already proved that the rap-rock formula could work, and the song's release coincided with Linkin Park's debut album, Hybrid Theory. Clearly, American youth couldn't get enough of this stuff.
Hoobastank - The Reason
All emo kids gather 'round to take a trip down memory lane with this hit. It was a long, drawn-out, sad sound, but you felt it and it moved you! Hoobastank was responsible for the one hit wonder known as "The Reason." After all, who can really forget a name like Hoobastank in the dead heat of 2004?
Semisonic - Closing Time
"Closing Time" is American alternative rock band Semisonic's most recognizable hit to date. Unlike many typical one hit wonders, it's not that strange or quirky – it's a fairly typical alternative song, but while people tend to either love it or hate it, nearly everyone knows it. It has remained popular in the years since its release and been featured in several television shows and movies.
4 Non-Blondes - What's Up
Only forming in 1984, this band had a very short lived career. They hit the big time in 1993 with their only major single What's Up. Linda Perry left the band in 1994 to begin a solo career and shortly afterwards the band packed up.
Chumbawamba -
Tubthumping
Prior to signing to a major label and releasing this humongous party hit, Chumbawamba were, astonishingly, a socialist collective known for writing anarchist-punk songs and actively opposing racism, big business, war, and homophobia. Even if you hated "Tubthumping", fans of political folk music would do well to go and explore the band's impressive back catalogue.
Blind Melon - No Rain
In 1993 it seemed like MTV played nothing but Aerosmith's Alicia Silverstone videos, Dr. Dre's "Nuthin' But A 'G' Thang" and Blind Melon's "No Rain." The latter group was a hippie grunge band from California that seemed like the next big thing. They played at Woodstock 1994 and had a massive radio hit with "No Rain," but lead signer Shannon Hoon was hopelessly addicted to drugs and he died on tour in October of 1995.
The Verve - Bittersweet Symphony
Here's a good lesson for all young bands out there: If you're going to borrow part of a song, don't take it from the Rolling Stones. They're a little litigious. They have good lawyers. They will destroy you. The Verve learned this the hard way when used a symphonic version of the Stones' 1965 hit, "The Last Time," on their 1998 hit, "Bitter Sweet Symphony." The band originally negotiated with ABKCO Records to split the proceeds down the middle, but when the label heard the finished song, they sued for everything. They felt the group took too much of the melody. The Verve lost, and the song credits flipped to Jagger/Richards, even though Ashcroft wrote all the lyrics and he used the sample in a pretty novel way. All the tension didn't exactly help band relations, and they split in 1999.
Remember any better one hit wonders? Share your entries in the comment section below.