Can Bad People Make Good Music? Part 2
Bloody punk-rock, mental illnesses and the image of musical subculture.
meetmeatseven
Ultimate Guitar
Posted Jul 08, 2017 04:26 PM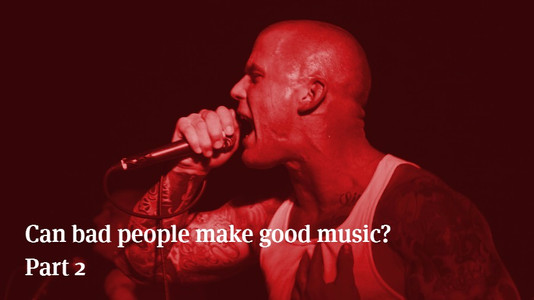 This summer seems to be a pretty cold one in the place where I live. Showering rains and cruel wind like it came straight from October. That's not normal. Another thing that is not normal this year – is my behavior. This July you can find me on the streets of Moscow after 9 PM hiding from the severe cloud-bursts chilling with beer and a couple of old pals after a hard working day and repeatedly asking only one question that has been haunting me since my previous article – "Can you remember any bad person who is (or was) making great and enjoyable music?" The Handsome Family's title song from the first season of True Detective drama keeps on ringing again and again as I get messages from people whom I haven't seen for ages. "What about Charles Manson, dude?" – that's an average answer. But one guy finally gave me some food for thoughts. He is a punk-music lover of my age worshipping Henry Rollins as long as I can remember him (to be honest I'm also a great Rollin's fan).
He told me about the band Discipline. Just listen to the first two minutes of their song and watch cuts from their energetic live performance captured on tape. I think most of the people can not say that it's the best punk song they've ever heard, but it's definitely not the worst one. It's raw (in a good way), it's powerful, and at least it contains a simple but rather nice guitar riff. And that big bald man with the microphone is Joost De Graaf who is now imprisoned for thirteen years after killing his own wife. He killed her with a hammer, and his band is still going but for now without him. Some of you can say that it's a personal issue, but it's definitely evil. Like in one of PJ Harvey's piano songs, a shocking verse – "Hit her with a hammer/Teeth smashed in".
Another example he gave me was the band called Time Again and their frontman Daniel Dart. This time also imprisonment but several accusations including "kidnapping, carjacking, dissuading a witness, assault, and extortion among others". What do we know for sure - he burnt his own house, killed his wife and kid. Now he is back on track and reunited with his band. As some of the press say – "Daniel has become a leading voice in the criminal justice reform movement". But who cares? We can not resurrect people. No one will return life to an innocent child. A good person? By all standards – no but, a pretty decent singer and musician.
The next day after our meeting he sent me a message. "I would like to ask you about one thing. I'm worried about punk culture and the vision of it that people have. Please, mention in your article that as far as I'm concerned those were the only criminal cases in punk's history. And the reason for that was just their own mental health." That was interesting. If you worry about the culture or the life of genre you're actually so much into – you worry about its image. And bad people can for sure spoil the picture that people have in their minds on some certain subcultures. I also want the word "punk" to be associated with Sid Vicious, Johnny Rotten, Joey and Johnny Ramone (and for sure a bunch of other names), good old days back in the 70's, protests and rallies, but not the bloody massacres and dead bodies.
In the end – can bad people make good records? Yes, definitely. Life is life and art is art, those are close, related but different terms. They can influence each other, but one can not mix them together. The only thing that we all need to do – is to ask ourselves: "Do I really care about that person's deeds if the music is great if I enjoy it?" That's a question of your own choice. One statement in addition: never listen to people who think that they know how to live and is constantly teaching you about what is good and what is bad in their opinion judging only by their own beliefs, prejudices, and understanding of moral.