Chris Shiflett: The Biggest Change Foo Fighters Brought to My Guitar Playing After I Joined the Band
UG exclusive: Guitarist talks about going from California punk scene to headlining arenas.
Shura_FYI
Ultimate Guitar

Shura_FYI
Posted Apr 19, 2017 06:31 PM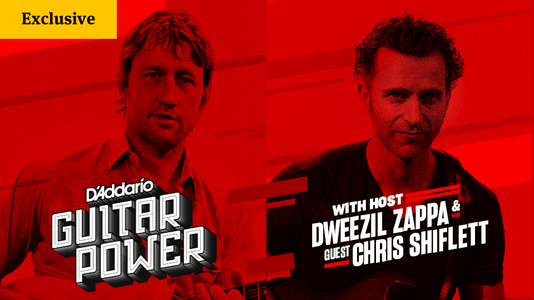 In the latest episode of Guitar Power - premiered exclusively on UG - Chris Shiflett talked about how joining Foo Fighters impacted his guitar playing. 


Subscribe to our newsletter to be the first to know about new Guitar Power episodes hosted by Dweezil Zappa.
"What was weird about going from [my early punk band No Use for a Name] to Foo fighters was - onstage, I didn't know what to do with myself, 'cause the music was so much slower.
"I haven't played in a regular-tempo band for a really long time. It was like, 'What are my moves?!' [Chuckles]
Focusing on the change he faced guitar-wise, Chris added: "I never had effects pedals, ever.
"I would have like a tuner, but it was always straight into the amp. So when I joined Foo Fighters, I remember Dave saying, 'On that song, you need a delay. On that song, you need a flanger.'
"I was like, 'Whoa, fuck, gotta learn how to use pedals!' It was so tricky to coordinate, a weird mental block.
"No my pedalboard is as big as that [points at Dweezil's rather big board], the other guys in the band make fun of me, they call it the spaceship. I love messing around with pedals, I don't know why I never did."