Complete Guide to AC/DC 'Thunderstruck'
Everything you need to know about the story behind the song, amp and pedal settings as well as used guitar techniques.
Udjine
Ultimate Guitar

Udjine
UG contributor and editor. Fan of several almost unknown bands.
Posted Apr 15, 2017 01:25 PM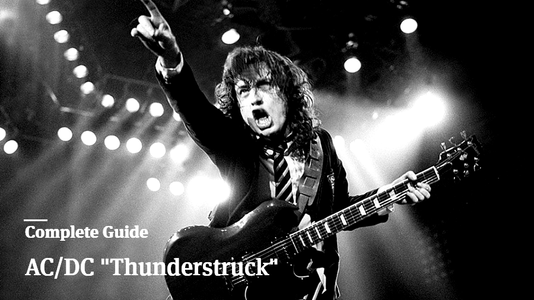 Hi, folks, today we are dissecting legendary hard rock song by AC/DC.
AC/DC "Thunderstruck"
Writers: Angus Young, Malcolm Young
Producer: Bruce Fairbairn
Album: The Razors Edge (UG Score 8.9)
Recorded: January 1990
Released: 10 September 1990
Label: ATCO
Genre: Hard rock
Length: 4:52
Additional Information:
#5 peak position in the Billboard US Mainstream Rock Chart
Story behind the song
AC/DC's Young brothers - guitarists Angus and Malcolm - wrote this song. They would often tell a story about how the song came about when Angus was flying in a plane that was struck by lightning and nearly crashed, but in the 2003 re-release of The Razor's Edge, Angus explained in the liner notes:
It started off from a little trick that I had on guitar. I played it to Mal and he said, 'Oh I've got a good rhythm idea that will sit well in the back.' We built the song up from that. We fiddled about with it for a few months before everything fell into place. Lyrically, it was really just a case of finding a good title, something along the lines of 'Powerage' or 'Highway To Hell.' We came up with this thunder thing and it seemed to have a good ring to it. AC/DC = Power. That's the basic idea.
AC/DC loaded a massive $500,000 for the use of the song in the film "Varsity Blues." It was the biggest deal that music supervisor Thomas Golubic (Breaking Bad, The Walking Dead) has ever brokered. "I remember being absolutely horrified when I heard that number," Golubic recalled. "And we spent a lot of time coming up with what we thought were great alternates, but there was going to be no budget on that, and they had money so they paid for it."
Music Videos
Official music video
David Mallet, who directed the video for "You Shook Me All Night Long," returned to work with the band on this clip. Mallet wanted to create the "ultimate performance video," showcasing AC/DC's live energy. The official music video was shot at Brixton Academy in London with innovative camera work: small cameras were installed on the guitar and on one of the drumsticks and additionally, Mallet proposed Angus do his duckwalk over plexiglass to get footage from underneath.
Live version
AC/DC performing "Thunderstruck" live at the Head Bangers Ball from their massive Razors Edge world tour in 1990 - 1991.


Live at River Plate, 2011.
Famous covers
"Thunderstruck" is a truly iconic example of a hard rock song, so it was covered a lot of times by various performers.
Thunderstruck by Steve'n'Seagulls
The Croatian cello duo 2Cellos covered this song on their 2015 album "Celloverse."
The BadPiper covered "Thunderstruck" on a bagpipe at Australia Got Talent in 2010.
Gear and settings
Guitars
Angus Young
Angus' rig is rather simple, and he mostly uses only one model of a guitar – a Gibson SG. The first one he got was a model with the Lyre Maestro tremolo and two PAFs from the early 70s. Over the years he went through about hundred various SG guitars, and in 2000, Gibson presented a Signature Angus Young model (UG Score 9), which he uses himself.

Malcolm Young
Malcolm used Red 1963 Gretsch double-cutaway Jet Firebird guitar which he got from Harry Vanda and his elder brother George. Malcolm nicknamed this guitar "The Beast". He removed the neck and middle pickups and only the stock Gretsch "Filtertron" bridge pickup remains. For a short time, he put socks in the cavities to avoid feedback. Prior to that, he used a white piece of plastic to cover the pickup holes. The guitar red paint was later stripped off. This guitar was loaded with heavy gauge Gibson nickel round wound strings (.012-.056).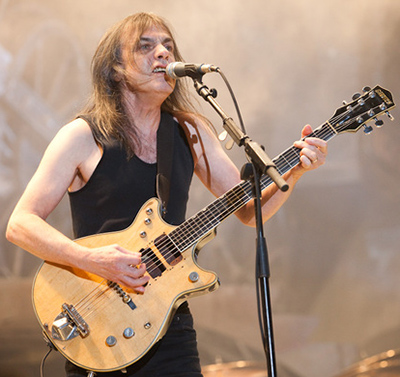 Cliff Williams
Cliff Williams prefers the StingRay (UG Score 9.4) and other basses by Music Man with D'Addario strings (.045, .065, .085, .105), flat wounds in the studio and round wound XLs in concert. Williams states that despite trying other basses over the years, he always went back to Music Man's basses, which he characterized as "a tremendous workhorse of a bass".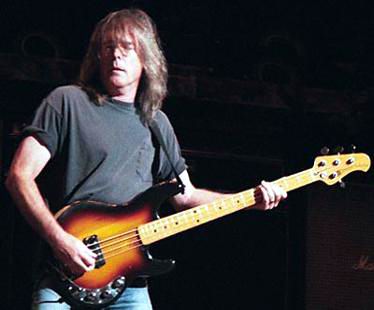 Amps and effects
Angus Young
Angus used Marshall 1959 100 watt Super Lead Plexi heads (UG Score 9.3) and model 1960 AX and BX 4x12 cabinets with Celestion G12-65 speakers.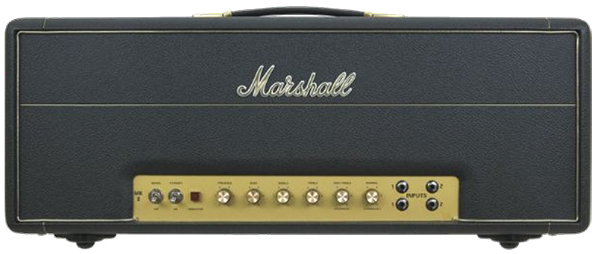 Marshall 1959 100 watt Super Lead Plexi head.
Malcolm Young
The amps stacked behind Malcolm onstage were two original Marshall 100 watt heads, one 1966 JTM45/100 and one late Superbass from the late 1960s or early 1970s. Each head powers two 4 × 12 cabinets. His main amp, since recording Dirty Deeds Done Dirt Cheap in 1976, was a slightly modified Marshall Superbass from the late 1960s or the early 1970s.
Cliff Williams
Williams used 3 Ampeg SVT-810E cabinets with 2 Ampeg SVT-4 PRO Heads.

Amp settings
Rhythm settings: bridge pickup, drive 9, drive vol 7, bass 8, mid 0, treb 8, reverb 0.
Lead settings: bridge pickup, drive 10, drive vol 10, bass 5, mid 6, treb 7, reverb 3.
Tablature
These are top tabs rated by the UG community:
Tab version: Thunderstruck Tab, Thunderstruck Bass Tab
Interactive versions: Guitar Pro, Tab Pro
Tuning
Guitars: standard tuning (E A D G B E)
Bass: standard tuning (E A D G)
Song key
The song is written in the key of B major.
Techniques
According to "The Story of AC/DC: Let There Be Rock," Angus Young created the distinctive opening guitar part by playing with all the strings taped up, except the B. It was a studio trick he acquired from his older brother George, who produced some of AC/DC's albums.
The main riff is built on notes in the Mixolydian mode.
Song breakdown
Intro: 0:00 - 1:04
The song starts with the famous riff, played by Angus, which is heard throughout the whole song. This riff is often played by different people with the straight hammer-ons and pull-offs (as it shown in the official video), but this is not how it played on the record and at live performances, you can hear and see a definite pick attack on every played note. Alternate picking is used for that riff.
Verse 1: 1:04 - 1:58
Rhythm part underneath the first verse is played with hybrid picking with additional use of power chords at the end of this verse.
Verse 2: 1:58 - 2:27
Rhythm part of the second verse keeps the same pattern with long-lasting power chord sound.
Pre-chorus: 2:27 - 2:41
Pre-chorus presents a notable trade-off between sets of power chords and vocal part.
Chorus: 2:41 - 2:57
Chorus is also played with power chords but in a little different pattern.
Interlude: 2:57 - 3:10
Short interlude before solo has a structure similar to that you can hear in the second verse.
Solo: 3:10 - 3:26
Solo is rather short, but fun to play. It starts with a short pick scrape and then involves a heavy use of vibrato and bends.
Bridge: 3:26 - 3:41
A short transition part that leads back to the chorus. Here main riff starts again.
Final chorus: 3:41 - 4:52
During the final chorus, there is a background solo, which is done by using B minor pentatonic scale, then followed by a set of bends.
Recommended lessons
Intro
Rhythm guitar parts
Guitar solo
Bass line