Complete Guide to GN'R 'Welcome to the Jungle'
Everything you need to know about a story behind the song, amp and pedal settings as well as used guitar techniques.
Shura_FYI
Ultimate Guitar

Shura_FYI
Posted Feb 03, 2017 08:12 PM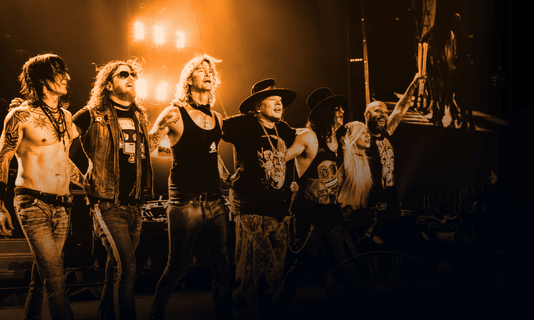 Today, we're testing a new song learning format where everything (and by everything I mean tablature, techniques, song info and amp setting) can be found on one page. We think that one of the best ways to spread the knowledge is to do it in articles, well, kinda like a lesson. It's something new for UG so, will be waiting for your feedback.
For the first time we took "Welcome to the Jungle" by Guns N' Roses. There are reasons to why we chose this song. First, it's one of the bands Ultimate Guitar started from. Secondly, Appetite for Destruction turns 30 this year which is a considerable milestone. And thirdly, that's a damn good song after all.
Guns N' Roses 'Welcome to the Jungle'
Writers: Axl Rose, Slash, Duff McKagan
Producer: Mike Clink
Album: Appetite for Destruction (1987) (UG score is 9.5)
Released: September 28, 1987
Label: Geffen
Genre: Hard rock
Length: 4:31
Additional Information:
Billboard Hot 100 - #7
Rolling Stone's 500 Greatest Songs of All Time - #473
Story behind the song
This song is actually about Los Angeles. It exposes the dark side of the city many people encounter when they go there to pursue fame. Guns N' Roses knew this side of the city well: in 1985, they lived in a place on Sunset Boulevard in Los Angeles that they called "Hell House." The house was often filled with drugs, alcohol and groupies.
Slash said: "I was at my house and I had that riff happening and Axl came over and he got those lyrics together, and then the band sort of arranged it. We got an arrangement for the whole band, 'cause that's how we work. Someone comes in with an idea and someone else has input and in that way everyone's happy. That came together really quickly too, that was arranged in one day." "It was really the first thing we all collaborated on," he continues. "And it's really a combination of everybody's input. The song had a heavy swing to it – a dirty, nasty groove. But there was also a mid-section in which the band pulled back a little, easing the tension. This breakdown was lifted from a song called The Fake, which McKagan had written in 1978 when he was a member of Seattle punk band The Vains. "I don't want to say the word 'bluesy'," Slash says, "but it had a really cool kind of soulful feel. There was no analyzing this stuff – writing a song was something that happened spontaneously. But in that whole 'discovering ourselves' period from eighty-five through eighty-six, when we were living very haphazardly and getting together and jamming, there was something going on that not a lot of people had. And this song just had this natural feel that was very cool."
There are different stories to where the famous lyrics origin. Axl said it originated when he spent a night in a Queens schoolyard before joining the band. "This black guy said, 'You're in the jungle! You gonna die.'
Jake Query a friend of Axl Rose, gave a different account, saying: "when Axl Rose hitchhiked to Los Angeles, California, on the last leg, a truck driver drove him to Los Angeles, and when Rose got out of the truck, the truck driver said 'Welcome to the Jungle!'
Official Music Video
 
Gear and settings
Guitar
Slash - Kris Derrig build 1959 Les Paul and MAX build 1959 Les Paul replica with Seymour Duncan Alnico II pickups.
Izzy - In the official "Welcome to the Jungle" video, he is seen using a black Gibson ES-137 (UG score 8.9).


The middle Les Paul replica is Slash's first from luthier Kris Derrig. The guitar on the right was built by Peter "Max" Baranet. The instrument on the left is purportedly Slash's second Derrig model.
Amplifiers
Marshall 1959 SuperLead Tremolo Metal Plate (A.K.A. SIR Stock #39) modified by Tim Caswell - used for the "Appetite for Destruction" rehearsals.

Marshall 1959 SuperLead Metal Plate (A.K.A. SIR Stock #36) and the exact replica of #39 mod, done by Frank Levi and Glenn Buckley - this amp was used for the "Appetite for Destruction" recording sessions. 

2 Marshall JCM800 - used for the first leg of the AFD tour.

Amp settings
(dirty) Presence: 7, Bass: 7, Middle: 4.5, Treble: 7, Output Master:6, Lead Master: 10, Input Gain: 6.5
(clean) Presence: 0, Bass: 9, Middle: 3, Treble: 5.5, Output Master :10, Lead Master: 0, Input Gain: 6.5
Effects 
Boss DD-3 Digital Delay (UG Score 9.5)


Delay settings
Level: 80% 
Feedback: 85% 
Delay time: 85%
Mode: 800ms
Tablature
These are top rated by UG community tabs:
Tab version: Welcome to the Jungle tab
Interactive versions: Guitar Pro, Tab Pro
Tuning
Half-step down tuning (Eb Ab Db Gb Bb Eb)
Techniques
General
In this song, Slash uses slide technique and a lot of bends and double stops.
Intro
A dotted eighth delay effect is used in the intro. The delayed notes sound in-between the notes the guitarist plays which makes it sound more complicated than it actually is.
To get this sound:
set your delay repeats to 4-5
set your delay time to follow the tempo (around 200-300 ms)
plug your delay pedal BEFORE your distortion pedal
put your distortion at the max
 
Slash talking about his famous "Welcome to the jungle" echo/delay  
To produce a muffled sound in the intro use palm muting.
In the rhythm part to the introduction to "Welcome to the Jungle" Izzy plays a bunch of power chords followed by slide.
In the main part of an intro riff, there are mostly slides and bend/releases.
Verse 1
Based on the same techniques as intro with the additional use of dead notes.
Chorus
Chorus is played with bend/release and palm muting.
Guitar Solo
The guitar solo after the second chorus is played with slide, hammer-on and pull-off techniques.
Interlude
It ends with a guitar solo, that brings a vibrato technique in.
Bridge part
It comes after the guitar solo and the bass plays the main role while one of the rhythm guitars uses long slides and bends/releases and the second plays power chords with dead notes.
The song ends with a long slide.
Recommended lessons 
Intro, verse, chorus riffs and Slash's first guitar solo

Slash's second guitar solo and final choruses riffs


Isolated guitar part played by Izzy, except two solos which are played by Slash