Complete Guide to Pink Floyd 'Comfortably Numb'
Everything you need to know about the story behind the song, amp and pedal settings as well as used guitar techniques.
Udjine
Ultimate Guitar

Udjine
UG contributor and editor. Fan of several almost unknown bands.
Posted Mar 15, 2017 03:33 PM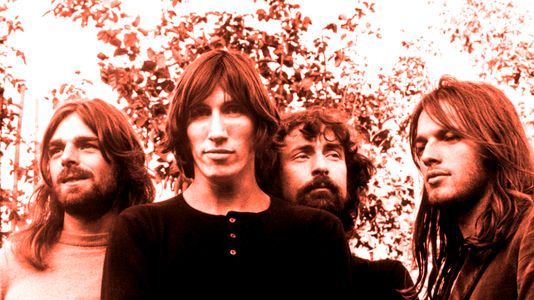 Hello? Hello? Hello?
Is there anybody in there?
The Complete Guide rubric is here and today we'll look at one of the most famous Pink Floyd songs - "Comfortably Numb." Enjoy!
Pink Floyd "Comfortably Numb"
Writers: David Gilmour, Roger Waters
Producers: Bob Ezrin, David Gilmour, James Guthrie and Roger Waters
Album: The Wall (UG Score 9.2)
Recorded: April – November 1979
Released: 30 November 1979
Label: Harvest (UK), Columbia (US)
Genre: Progressive rock
Length: 6:23 (album version), 3:59 (single edit)
Additional Information:
The song was ranked number 321 on Rolling Stone magazine's list of the 500 Greatest Songs of All Time.
David Gilmour's solo was rated as the best slow guitar solo in UG's Friday Top: 25 Best Slow Guitar Solos Ever.
David Gilmour's solo was rated the 4th best guitar solo of all-time by Guitar World magazine, in a reader poll.
Story behind the song
Most songs on "The Wall" were written by Waters alone, but the music for "Comfortably Numb" was written by David Gilmour, who basically made the instrumental demo during the recording his first solo album, desiring to find some later use for it. Gilmour later brought his demo records to "The Wall" sessions. In Gilmour's original demo, though there were no lyrics, he sang a melody close to the final version of the chorus. But the verses were in the key of E minor (a progression of E minor, D major, C major, A minor, and E minor again), rather than B minor, as in the final version. Also, the demo didn't contain the chord sequence for the final chorus line "I have become comfortably numb". So, while the music is widely considered to be Gilmour's work, it is likely that Waters wrote the chords for that line, as well as changed the verses key from E minor to B minor.
So lyrics were written by Roger Waters. While many people thought the song was about drugs, Waters insists it is not. The lyrics are about what he felt when he was sick with a fever in his childhood. As an adult, he got that feeling again sometimes, entering delirium state, where he felt disconnected from reality.
He explained in the interview to Mojo magazine in December 2009:
I remember having the flu or something, an infection with a temperature of 105 and being delirious. It wasn't like the hands looked like balloons, but they looked way too big, frightening. A lot of people think those lines are about masturbation. God knows why.
Music Videos
Album version of the song
Official music video
Actually, there is no music video on "Comfortably Numb" but an excerpt from "Pink Floyd - The Wall" film is often counted as an official music video for this song.
"Pink Floyd – The Wall" is a musical drama film directed by Alan Parker with animated segments by political cartoonist Gerald Scarfe. The film focuses on a confined rocker named Pink, who, after being driven into insanity by the death of his father and many disturbing moments during his life, creates a metaphorical wall to be protected from the world and emotional situations around him. When this coping mechanism backfires he puts himself on trial and sets himself free. The screenplay was written by Roger Waters.
So what is happening during the "Comfortably Numb" part of the film?
A large group of people consisting of Pink's manager, the hotel manager, paramedics, and roadies breaks into Pink's broken hotel room, to find an unconscious Pink lying in a chair. As the paramedics try to revive Pink, his manager scolds him. The hotel manager dissatisfied by Pink's destruction of the room, but Pink's manager insists that "he's an artist", and later solves the problem by the cash.
The revival scene is intercut by flashbacks of Pink's childhood. In the flashback, a young Pink finds a wild rat and shows it to his overprotective mother. Her negative reaction causes Pink to hide the rat in a nearby shed. Pink later catches a fever that keeps him bed-ridden for some time. After he recovers, Pink returns to the shed only to find that the rat has died during his illness. Pink dumps its lifeless body in a nearby river. He dreams of injured (or perhaps dead) soldiers attempting to give him back his dead rat, accompanied by his disapproving doctor and teacher.
After injecting a drug into Pink's arm, the paramedics drag Pink out of the hotel to his limousine.
As he is dragged through the halls of the hotel to the limousine, the drug makes Pink to hallucinate that his body is covered by an ugly, bulbous pink shell. Upon being pushed into the limousine, Pink tears off his diseased shell to reveal himself in military-like clothes, and now appears very clean and in control of his surroundings.
The lyrics of the song feature interplay between a doctor treating the adult Pink (verses, sung by Waters) and Pink's inner monolog (chorus, sung by Gilmour).
The mix of "Comfortably Numb" in the film is very much the same as the album version, except that Richard Wright's organ before David Gilmour's final solo is removed, the bass guitar is more prominent, and Pink's screams (as performed by Roger Waters) are mixed in, as he claws his way out of his shell. Additionally, the song in the film has an extra line at the start, "Is there anybody in there?", when Pink's associates breach into his hotel room.
Live version
The song has become an essential part of any live set by Pink Floyd.
A giant wall was constructed across the stage during The Wall tour. The song was performed with Roger Waters dressed as a doctor at the bottom of the wall, and David Gilmour singing and playing guitar from the top of the wall on a raised platform with spotlights shining from behind him.
Live performance at Earls Court, London, UK in August 1980.
This song is also an important part of Waters and Gilmour's solo careers.
David Bowie and David Gilmour perform "Comfortably Numb" at Royal Albert Hall on May 2006 on an Island tour.
On Wednesday, September 28th, 2016 David Gilmour performed "Comfortably Numb" and Benedict Cumberbatch joined him for the last song of the night.
Notable covers
An orchestrated version of "Comfortably Numb", arranged by Jaz Coleman, performed by the London Philharmonic Orchestra, and conducted by Peter Scholes, appears on the 1995 instrumental album "Us and Them: Symphonic Pink Floyd."
Staind included a live acoustic version on their compilation album "The Singles 1996 - 2006" (UG Score 7.9).
Various Pink Floyd tribute albums include this song.
The Australian Pink Floyd perform "Comfortably Numb" in Germany in 2016.
Gear and settings
Guitars
David Gilmour
1969 Fender Stratocaster
David used the Black Strat for the two solos.
This was David's main guitar for the most part of his early career. He bought it at Manny's guitar store in New York in May 1970 during Pink Floyd's North American tour, because he needed a new guitar after the theft of Pink Floyd's rig just a couple of weeks earlier.
This guitar has gone through numerous modifications over the years. First and foremost, it wasn't even originally black, it was repainted at the Manny's from its original sunburst finish. In the 70s David fitted this guitar with a rosewood neck, but later it was replaced with Charvel maple neck with a Fender logo in 1978.
David also installed XLR connector for the guitar's input to reduce the noise produced by Dallas Arbiter Fuzz Face which he was using at the time. Not entirely satisfied with the results, he decided to install a Gibson PAF pickup in the middle position, which required drilling holes in the body and the pickguard. Not willing to part with his original Fender single-coils, David bought a black pickguard and installed the old pickups there. He eventually swapped the pickguards, and installed a DiMarzio FS-1 in the bridge position, and later replaced it with Seymour Duncan SSL-1.
In its current state, the guitar is fitted with a 1983 Fender c-shaped maple neck, 1971 Fender pickups in the neck and middle, and an SSL-1C (SSL-5 Prototype) in the bridge. It styles the black pickguard and a 5-way switch instead of the original 3-way pickup switch.

In the original recording, David Gilmour played the acoustic guitar on the second verse and main guitar solo and session guitarist Lee Ritenour handled the duties on the chorus. All acoustic parts were played with an Ovation 1619-4 steel string with a so-called Nashville tuning or high-strung tuning, - the A, D and G string being the high strings from a 12 string set.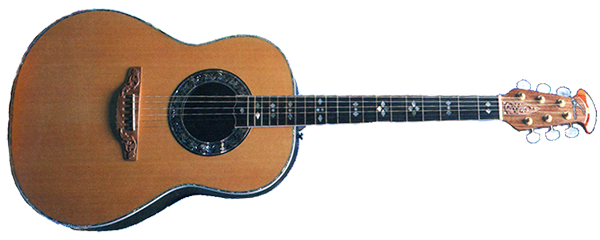 Roger Waters
Fender Precision Bass Black (UG Score 9.2)
Originally with a rosewood neck, this bass was re-necked with a maple neck between 1970-72, and re-necked again with the Charvel maple neck in 1978.
The original white pickguard was replaced with a black one around 1976 and a Kluson vintage style tuners were fitted in 1978.
In the '80s, two replicas of this bass were made by Fender Custom Shop. Since then Roger keeps these replicas as backup instruments.
Roger's signature bass is based on these replicas.

Amps and effects
Much of David's sound on "The Wall" lies in the recording and mixing of the album. Engineer James Guthrie and Gilmour tried all sorts of things to make the guitars sound bigger and better. This is something that's nearly impossible to recreate. It's also worth mentioning that David's live sound on The Wall tour was very much the work of engineer James Guthrie. Together with Phil Taylor and Pete Cornish, they produced a complex guitar sound that was way ahead of its time.
Pete Cornish pedal board and additional effects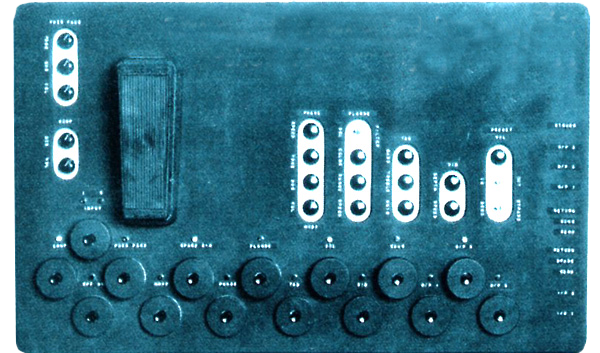 Pedalboard effects listed as in a chain:
Dallas Arbiter Fuzz Face (BC109, modified with a tone circuit)
Electro Harmonix Big Muff ("Ram's Head")
Electro Harmonix Electric Mistress
MXR Dynacomp
MXR Phase 90 (UG Score 8.9)
Pete Cornish (ST-2) Treble and Bass Booster
Pete Cornish custom vibrato pedal
Pete Cornish custom volume pedal
Additional units
MXR Digital Delay System I
The main effect is the Electro-Harmonix Big Muff Pi Ram's Head fed into a Hiwatt DR103 head with a WEM speaker cabinet and a Yamaha RA-200 rotating speaker. The Yamaha is mixed slightly lower than the Hiwatt adding a rich sort of undefinable character.
Electro-Harmonix Big Muff Pi Ram's Head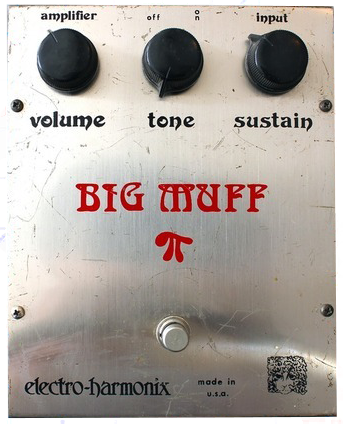 Hiwatt DR103 head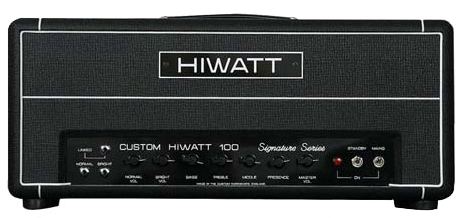 Yamaha RA-200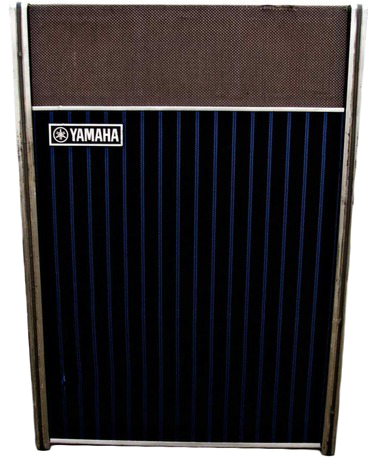 From the interview with Phil Taylor, David's guitar technician:
I think it's just pretty much him. He is obviously using a couple of effects, like a Big Muff and a delay, but it really is just his fingers, his vibrato, his choice of notes and how he sets his effects.
Roger Waters started using his Pete Cornish custom pedalboard during In the Flesh tour (1977) and he continued using it on The Wall tour (1980-81).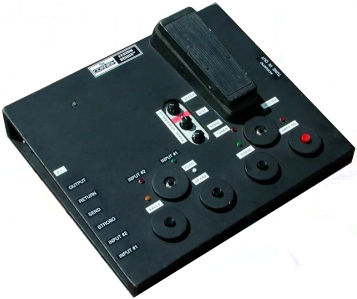 Roger's pedalboard contains only two effects - Electro-Harmonix Bassballs and MXR Phase 90, send/return switch for MXR Digital Delay, switch for the spare amp, volume pedal, and output for Floyd's typical Conn Strobotuner ST-11.
In the interview for Total Production International magazine, Phil Taylor explains the role of pedalboards in the original concert production of "The Wall":
I was with the band while they were recording in America, and had to work out how many pedalboards I needed for the show. I ended up with 11, and because there were no faxes back then, I had to send drawings to Pete Cornish by express mail and discuss them with him on the phone.


We were not only adding a second guitarist - we also now had a second bass player who needed his own board, plus we had a complete second stage to equip and I needed another four mini pedalboards for this. I already had some spare send and return units to cover unseen eventualities. I put it all together by working out with David and Roger exactly which effects would be needed for the songs performed on each stage, and then making the boards as compact as possible by including only the necessary effects for each situation.


Amp and effects settings
Big Muff
Sustain 100%, tone 30-40%, volume 50-60%.
Pete Cornish ST-2 Treble and Bass Boost
– (mild OD) treble 9, bass 12, volume 12 (o'clock);
– (heavy OD) treble 9, bass 12, volume 3 (o'clock).
MXR Dynacomp
Output 2, sensitivity 10 (o'clock).
MXR Phase 90
Rate 11 (o'clock).
MXR digital delay
Time 370ms, 5-6 repeats, and volume at 30%.
General notes about tone
Try to combine the inputs with a small patch cable, – upper normal and lower bright/brilliance and plug the guitar cable into the upper bright/brilliance. This will add brightness and presence without losing the lower ends. General settings for both tube and solid states should be:
Bass 50%
Treble 50-60%
Mids 40%
Master at about 1/3 of the channel output
If the inputs are combined set the normal input volume a little higher than the bright input volume.
Tablature
These are top tabs rated by the UG community:
Tab version: Comfortably Numb Tab, Comfortably Numb Bass Tab
Interactive versions: Guitar Pro, Tab Pro
Tuning
Guitars: Standard tuning (E A D G B E)
Bass: Standard tuning (E A D G)
Song key
The verses and the outro solo are composed in the key of B minor, while the chorus and the first solo are in D major.
Techniques
Despite the importance of sound effects, Bob Ezrin recalls, that with Gilmour, equipment is secondary to touch: "You can give him a ukulele and he'll make it sound like a Stradivarius."
But it doesn't mean Gilmour didn't fiddle around in the studio when he laid down the song's unforgettable lead guitar part.
David explained to Guitar World in 1993 how the solo was written:
I just went out into the studio and banged out five or six solos. From there I just followed my usual procedure, which is to listen back to each solo and mark out bar lines, saying which bits are good. Then, by following the chart, I create one great composite solo by whipping one fader up, then another fader, jumping from phrase to phrase and trying to make a really nice solo all the way through.
David Gilmour's solo style is often characterized by blues-influenced phrasing, expressive note bends and sustain.
Song breakdown
The most of the song is played with orchestra or synthesizer, so most of the parts (verses and choruses) have no any real guitar riffs, but it can be easily played with an acoustic guitar using chords.
Intro: 0:00 - 0:07
The intro is short and presents the main sound theme for verses, which is played with the synths, bass, and drums.
Verse 1: 0:07 - 0:52
Chorus 1: 0:52 - 2:04
Chorus is rather lasting and the part at the end of chorus contains the main lyrical hook.
Guitar solo 1: 2:04 - 2:46
The first solo is sort of a signature and David rarely goes beyond playing it note by note.
This guitar solo is very melodic and contains a lot of vibrato, bends and releases, slides and pull-offs.
The main lyrical hook is also repeated at the end of this solo.
Verse 2: 2:46 - 3:16
Chorus 2: 3:16 - 4:31
Outro solo: 4:31 - 6:23
The main solo, in contrast to the first one, is a long jam piece where David brings out all the ammunition. Still, he retains some of the signatures and improvises around them.
This solo starts with a power chord, then goes to the main part of the solo. This solo like the first one is not very fast, has a lot of vibratos, bends, slides and pull-offs and played with B minor pentatonic blues scale lick.
Whammy bar is heavily used here by David Gilmour.
Outro in the studio version of the song has a fading end.
Recommended lessons
Full song guitar performance
Rhythm guitar parts
Most of the rhythm guitar work in this lesson is showing the chord progressions that the orchestra is playing since there is very little guitar played during the non-solo sections except for some acoustic guitar here and there and the power chord rhythm under the outro solo.
The first solo
You can study this solo as the blueprint for creating a gorgeous and melodic solo using pentatonic based playing.
Outro solo
Bass line
Leave the songs you would like to see in the next issue of our Complete Guide rubric in the comment section below. Remember, you decide what song is going to be next!