Cool Covers Played on Unusual Instruments
Lamb of God's 'Grace' on a hurdy-gurdy, SOAD's 'Aerials' on floppy drives, Guns 'N Roses on electric harp and much more.
Maria_Pro
Ultimate Guitar
Posted Jun 29, 2017 01:28 PM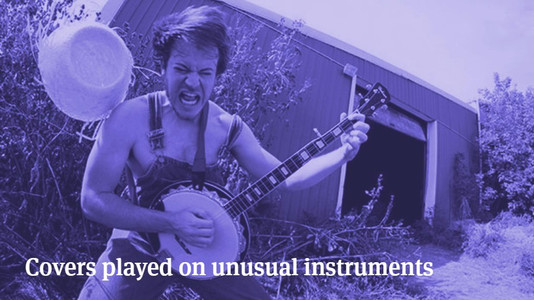 A hurdy-gurdy cover of the Lamb of God's 'Grace.'
By Michalina Malisz
It's truly remarkable that the Polish musician Michalina Malisz managed to make a hurdy-gurdy sound cool. Even though, we seriously doubt that this is what LoG had in mind when they wrote 'Grace,' it still sounds interesting.
A gayageum cover of AC/DCs 'Back in Black.'
By Luna Lee
Luna Lee is a Korean musician, who plays contemporary music with a Korean traditional instrument called the gayageum. The first gayageum dates back to the 6th century, yet it sounds so modern when Luna plays it.
Floppy drives cover of the SOAD's 'Aerials.'
By MrSolidSnake745
He makes music. With floppy drives. Wow. You can check out the rest of the tunes at MrSolidSnake745 YouTube channel.
Meanwhile, here's a cover of White Stripes' 'Seven Nation Army' by another one of his masterpieces - a computer hardware orchestra.
A ...teeth cover... of Meshuggah's 'Bleed.'
By Domen Repnik
This one is creepy and amazing at the same time. The audio was recorded separately, so at times audio and video are a little offset.
A banjo cover of the Slayer's 'Raining Blood.'
By Rob Scallon
Can you believe that this guy has no formal music education? Here is a little interview with him that we published a few years ago.
A harmonica cover of the Black Sabbath's 'Paranoid.'
By Håkan Ehn
Håkan is a Swedish guy with a cool hobby - he likes to play the harmonica. Copying solos from albums of his favorite musicians and trying to understand what Paul Butterfield and the other harp guys were doing has been his way of learning, so he is 100% self-taught.
An electric harp cover of Guns 'N Roses' 'Sweet Child o' Mine.'
By Harp Twins
Watch the identical Harp Twins rock their harps! Fun fact, the girls are Third Degree Black Belts in Tae Kwon Do and 'Distinguished Experts' in rifle marksmanship.
A bayan cover of Metallica's 'For Whom The Bell Tolls.'
By LadyChugun
This Russian girl plays guitar and bayan equally good. It looks like she has a great sense of humor too. We hope to see her become famous one day.
A sitar cover of Nirvana's 'Smells Like Teen Spirit.'
By Gil Shapira and Barak Ben Hano
We know nothing about these guys, but the song has never sounded this fun.
An old-school computer cover of the Queen's 'Bohemian Rhapsody.'
By bd594
This cover is put together on assorted computing equipment. The lead piano sound is from an Atari 800XL, the lead guitar is a Texas Instruments TI-99/4a, an 8inch floppy drive plays bass, an HP ScanJet 3C covers the vocals.
A bass sax cover of the Beatles' 'Helter Skelter.'
By Deep Schrott
The Deep Schrott claim to be the only bass sax quartet in the universe. They play a lot of covers of pieces by Led Zeppelin, King Crimson, Fleetwood Mac, Slipknot and others.
A sitar cover of Meshuggah's 'Bleed.'
By Rishabh Seen
Rishabh is a frontman of the Indian Classical Progressive Metal band named Mute the Saint. Even though this cover of 'Bleed' is less shocking than the one with teeth, it is, presumably, the fastest one on the internet (136 BPM).
Toy instruments cover of the Rage Against the Machine's 'Killing in the Name.'
By TheWackids
The band uses exclusively mini instruments, gadgets, and toys, stolen from their children! Rock on, you old rascals!
Hang drum cover of the Radiohead's 'Street Spirit.'
By Curt Ceunen
Tipsy Gipsy aka Curt Ceunen is a multi-instrumentalist composer from Belgium. He plays on many instruments of the world, sometimes on several at the same time… When he plays 'Street Spirit' it sounds like a mantra.