Eight Pre-Fame Bands of Iconic Rock and Metal Musicians
They all had to start somewhere...
UG Team
Ultimate Guitar

UG Team
UG editorial team. A group of people who are passionate about guitar and music in general.
Posted Jul 16, 2015 03:49 PM
Before becoming the gods of rock and/or metal, many legends of the guitar-driven domain started in low-profile bands. Granted, many iconic bands were nothing but low profile acts upon their formations, but the ones we are referring to here either never got past that stage or became just a marginal note in the story of something much bigger.
Anyhow, eight pre-fame bands of famous rock and metal musicians await below.
Jimi Hendrix - Little Richard's Backing Band, the Upsetters
Before becoming arguably the most iconic guitarist of all time, Jimi Hendrix played with the Isley Brothers, and then switched to Little Richard's backing band, the Upsetters. It was early 1965 when and Jimi recorded his first and only single with Richard, "I Don't Know What You Got (But It's Got Me)."
The song pretty much flopped on the charts, and soon enough tension began to rise between Richard and Jimi, mostly due to Hendrix's tardiness, wardrobe and stage antics. Within months, Jimi was fired.
During his Little Richard stint, Jimi made his first ever video-recorded performance, you can check it out below. It's little details like that upside-down guitar slide thing at 0:50 that show that Jimi was more than ready to become a guitar god.
Hendrix soon began working on a solo career, formed the Jimi Hendrix Experience in 1966, and the rest is history.
Dave Mustaine - Panic
Before joining Metallica, Megadeth mastermind Dave Mustaine was a member of a band called Panic. The band was off to a very rough start as drummer Mike Leftwych and the group's sound tech died in a car crash after their very first gig.
Dave said: "Although the sex, the girls and the drugs were rampant, it was marred by the death of two friends: the guy who did our sound and our drummer at the time. We were all partying, and I decided to spend the night.
"I stayed behind and these two guys went home. They were driving down the Pacific Coast Highway, south of the pier, by the Jack in the Box, and crashed."
Pretty much no Panic recordings can be found, although there is another interesting recording worthy of your attention. Back in the Panic days, Dave reportedly wrote the majority of what would become "Rust in Peace... Polaris," but didn't like the stuff and supposedly gave it to a band called Child Saint, which used the music for their eponymous 1988 track.
Child Saint never made it past that 1988 demo recording, but Dave apparently got back to the tune and made it the title song of one of Megadeth's most iconic albums.
After parting ways with Panic, Dave saw an ad in the local newspaper from guys named Lars Ulrich and James Hetfield. He got the gig, joined Metallica, and the rest is history.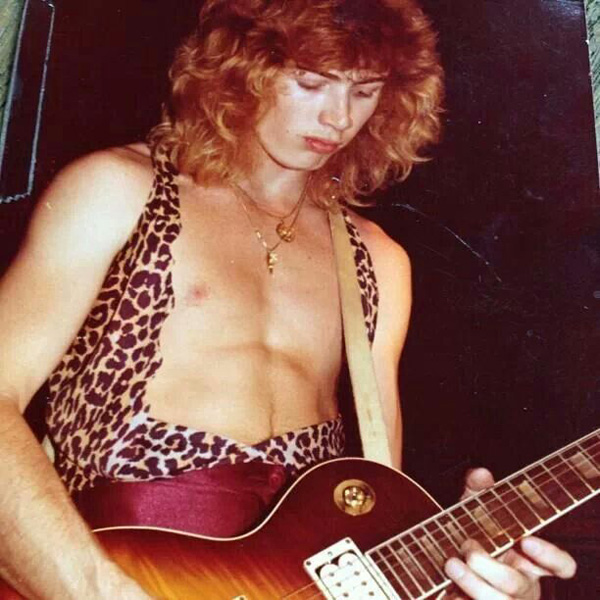 Dave Grohl - Scream
Before joining Nirvana, Foo Fighters frontman Dave Grohl was a member of a Virginia hardcore punk band Scream between 1986 and 1990. He was 17, but lied to the group that he was 20. When offered to join the band, Grohl dropped out of high school in his junior year so he could tour with the boys.
"I was seventeen and extremely anxious to see the world, so I did it," he said.
Grohl appeared on Scream's four live albums and two studio records - "No More Censorship" and "Fumble." The latter effort turned out to be the band's final album and features a song Dave wrote and performed vocals on - "Gods Look Down."
While in the band, Dave became friends with Melvins frontman Buzz Osborne. In 1990, Buzz took his buddies Kurt Cobain and Krist Novoselic to check out Scream live. And the rest is history.
Lemmy Kilmister - The Rockin' Vickers
Before becoming a god, Lemmy Kilmister of Motörhead joined a band called the Rockin' Vickers as a guitarist in 1965. As the photo below shows, Lemmy was a handsome lad, and the band reportedly became the first British band to visit Yugoslavia.
During this time, Lemmy had a relationship with a girl named Tracy. He got her pregnant, she bore him a son, but Lemmy didn't have any involvement with the boy until he was 6 years old.
After the Rockin' Vicers thing, Lemmy briefly worked as Jimi Hendrix's roadie, and then joined space rock pioneers Hawkwind, which are a killer band worthy of your attention. Check out "Silver Machine" footage to see Lemmy performing with the boys, and then take a listen to the "Hall of the Mountain Grill" album to see Lemmy deliver some nice tunes with the boys.
In 1975, Lemmy was arrested on the Canadian/US border for drug possession and subsequently fired from the band. He went on to form Motörhead and the rest is history.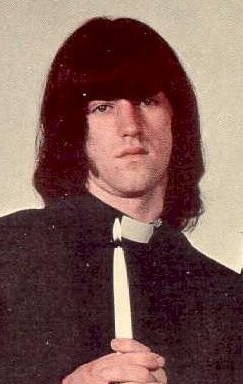 Tony Iommi - Jethro Tull
Before giving birth to heavy metal, Black Sabbath guitar lord Tony Iommi was briefly a member of prog rock icons Jethro Tull. Although Ian Anderson and the Tull boys are a huge name, they certainly didn't give Iommi even the slightest bit of fame that his work with Sabbath did.
Tony was also a member of a few other bands before the Tull stint, specifically Rockin' Chevrolets, the Rest, in which he met drummer Bill Ward, Mythology, in which he also played with Uncle Bill, and Earth, in which he played not only with Uncle Bill, but also with Ozzy Osbourne and Geezer Butler.
Tony then left Earth to play with the Tullers, performed only one gig, as a part of the iconic "The Rolling Stones Rock & Roll Circus" of all gigs, and then returned to Earth put his chopped-off fingertips to good use.
He said about working with Ian Anderson: "I learned quite a lot from him, I must say. I learned that you have got to work at it. You have to rehearse. When I came back and I got the band [Earth] back together, I made sure that everybody was up early in the morning and rehearsing. I used to go and pick them up. I was the only one at the time that could drive.
"I used to have to drive the bloody van and get them up at quarter to nine every morning; which was, believe me, early for us then. I said to them, 'This is how we have got to do it because this is how Jethro Tull did it.' They had a schedule and they knew that they were going to work from this time till that time. I tried that with our band and we got into doing it. It worked. Instead of just strolling in at any hour, it made it more like we were saying, 'Let's do it!'"
After getting back to Earth, the band was forced to change their name so they wouldn't get confused with another group called Earth. They opted for Black Sabbath and the rest is history.
Maynard James Keenan - Children of the Anachronistic Dynasty
After leaving the United States Military Academy in 1984, Tool vocalist Maynard James Keenan enrolled the Kendall College of Art and Design in Michigan to pursue an art career. He played bass in a band called Tex A.N.S., which he disbanded to form Children of the Anachronistic Dynasty.
In 1986, the boys recorded a demo cassette called "Fingernails" in Maynard's living room. One of the demo's tunes, "Burn About Out," is widely considered as the musical foundation of early Tool classic "Sober."
The band only lasted for about a year, ultimately disbanding in 1987. Maynard forged the Tool pact in 1990, and the rest is history.
Tom Morello - Lock Up
Now here's a band of funky boys! Before reaching fame as a member of Rage Against the Machine and Audioslave, Tom Morello played guitar for an LA funk rock band Lock Up. The group was active only for about a year, but did land a major record deal with Geffen. In 1989, Lock Up released their debut album "Something Bitchin' This Way Comes," featuring the spicy "Nothing New" single you can check out below.
After the band disbanded in 1990, drummer Jon Knox encouraged vocalist Zack de la Rocha and bassist Tim Commerford to jam with Morello and drummer Brad Wilk who unsuccessfully auditioned for Lock Up. And the rest is history.
Ronnie James Dio - The Vegas Kings
Before becoming a heavy metal god, Ronnie James Dio formed his first rock 'n' roll band back in high school. The boys first went by the name of Vegas Kings, only to change it to Ronnie and the Rumblers, and then Ronnie and the Red Caps.
Interestingly enough, Ronnie didn't start his musical journey as a singer, but instead as a trumpeter, only to start jamming on bass guitar. Dio formed a band called the Electric Elves in 1967. They subsequently changed their name to Elf, and ultimately disbanded in early 1975 after three studio albums.
Around the same time, Dio was hired by Deep Purple guitar legend Ritchie Blackmore for his new band Rainbow. Ritchie once noted: "I left Deep Purple because I'd met up with Ronnie Dio, and he was so easy to work with. He was originally just going to do one track of a solo LP, but we ended up doing the whole LP in three weeks, which I was very excited about."
And the rest is history...
Got more to share? Do it in the comments!