Famous Rock Weddings
Rocking the Mendelsohn.
Maria_Pro
Ultimate Guitar
Posted May 01, 2017 02:21 PM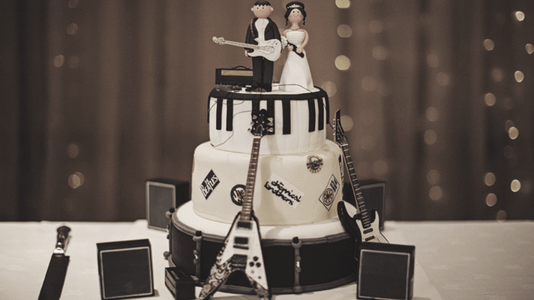 John Cale and Betsey Johnson
The member of The Velvet Underground John Cale and fashion designer Betsey Johnson got married in 1968. Before the marriage Betsey started outfitting the members of the band and wearing her designs herself regularly. In fact, when she went to City Hall with John Cale for their nuptials, she wore a crushed-velvet pantsuit, and the officials at City Hall turned her away for wearing pants! She accepted the challenge and returned to City Hall wearing the shortest mini-skirt she could find.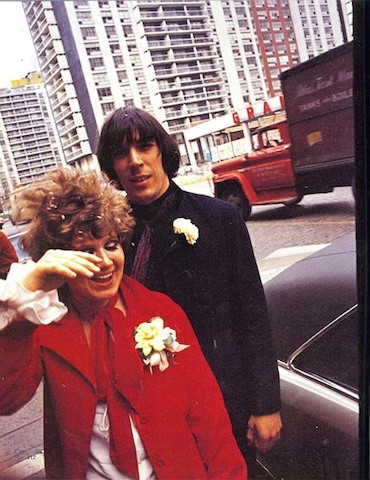 Kurt Cobain and Courtney Love
Kurt Cobain and Courtney Love got married on Waikiki beach in Hawaii at the end of Pacific tour Nirvana in 1992. Courtney wore a Satin gown that had previously belonged to the fortuneless actress Frances Farmer. Cobain was wearing pajamas. Kurt said in an interview: "In the last couple months, I've gotten engaged and my attitude has changed drastically, and I can't believe how much happier I am. At times I even forget that I'm in a band, I'm so blinded by love. I know that sounds embarrassing, but it's true. I could give up the band right now. It doesn't matter, but I'm under contract."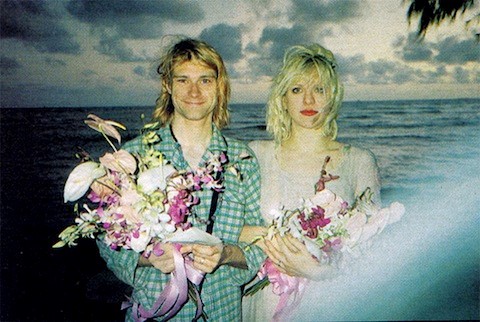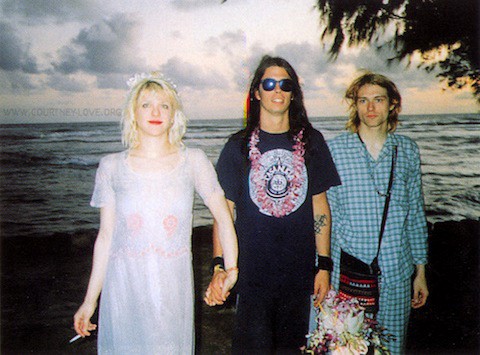 Robert Smith and Mary Pool
Robert Smith and Mary Pool got married in 1988. Smith met Mary when he was just 14 years old at St. Wilfrid's Comprehensive School in Crawley, England. And almost 15 years after they met, a very successful Robert penned "Lovesong" as his wedding present for Mary. The song was hit No. 2 on the Billboard singles chart on Oct. 21, 1989. It was the Cure's only U.S. top 10 hit.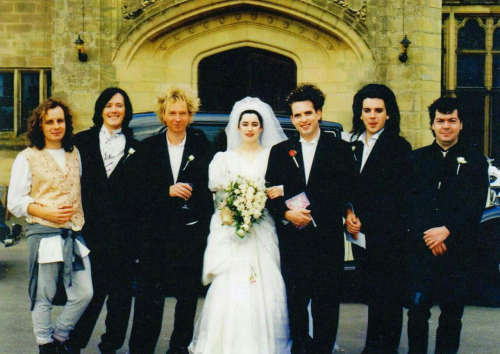 Marilyn Manson and Dita von Teese
Marilyn Manson and Dita von Teese were married in Gurteen Castle, the home of their friend and artist Gottfried Helnwein. Director Alejandro Jodorowsky was responsible for the couples outfits. He suggested to dress the bride and groom as characters of his famous movie "The Holy Mountain." Dita's gown was by Vivienne Westwood and Marilyn's suit was by John Galliano.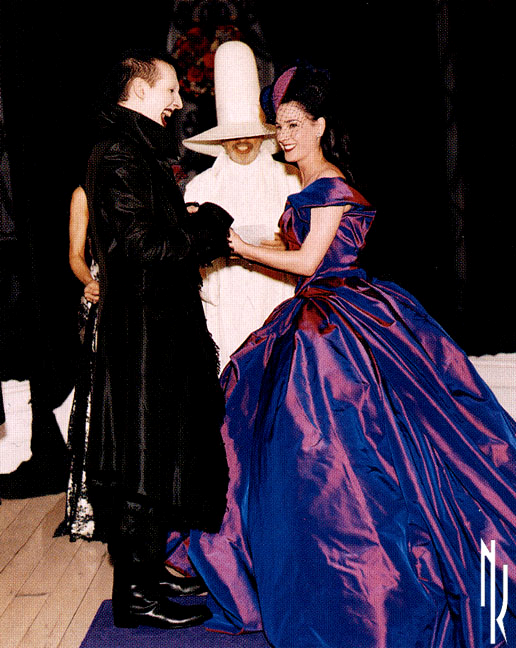 David Bowie and Iman
Bowie and Iman got married in 1992 in Tuscany. They had a lot of special guests that included Yoko Ono, Bono and Brian Eno. "My attraction to her was immediate and all-encompassing," David told Hello! magazine in 2000. "That she would be my wife, in my head, was a done deal. I'd never gone after anything in my life with such passion in all my life. I just knew she was the one."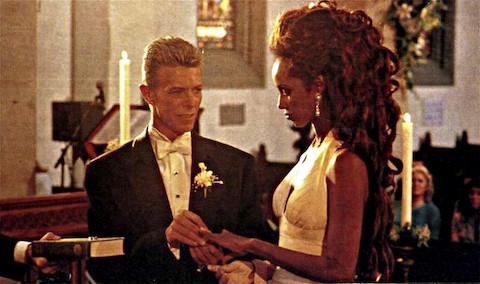 Elvis Presley and Priscilla Beaulieu
Elvis met Priscilla Beaulieu when she was 14. They married seven years later in their suite at the Aladdin Hotel in Las Vegas. The co-best men were Marty Lacker and Joe Esposito, two members of the Memphis Mafia.
The ceremony was attended by few guests and featured a $10,000 breakfast reception and press conference. The only celebrity on the guest list was comedian Redd Foxx.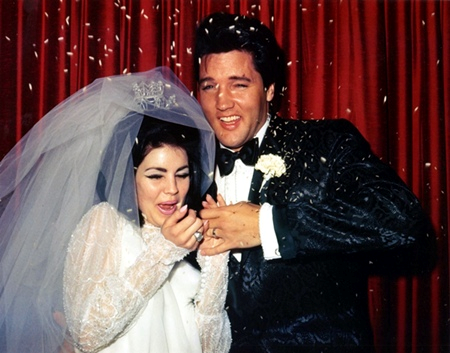 John Lennon and Yoko Ono
The 1969 wedding of John Lennon and Yoko Ono was a casual affair. The bride wore a white mini dress, her signature floppy hat, and sunglasses. Their wedding, which took place just one week after that of fellow Beatle McCartney to Linda Eastman, would be followed by a honeymoon which wasn't be anywhere near as low key. Instead, Lennon and Ono staged a raucous "Bed-In" for peace for the week of March 25-31 at the Amsterdam Hilton Hotel, surrounded by the press and various hangers on. Scotland Yard confiscated the prints, calling the artworks indecent. Lennon later crafted an autobiographical Beatles song titled "The Ballad of John and Yoko".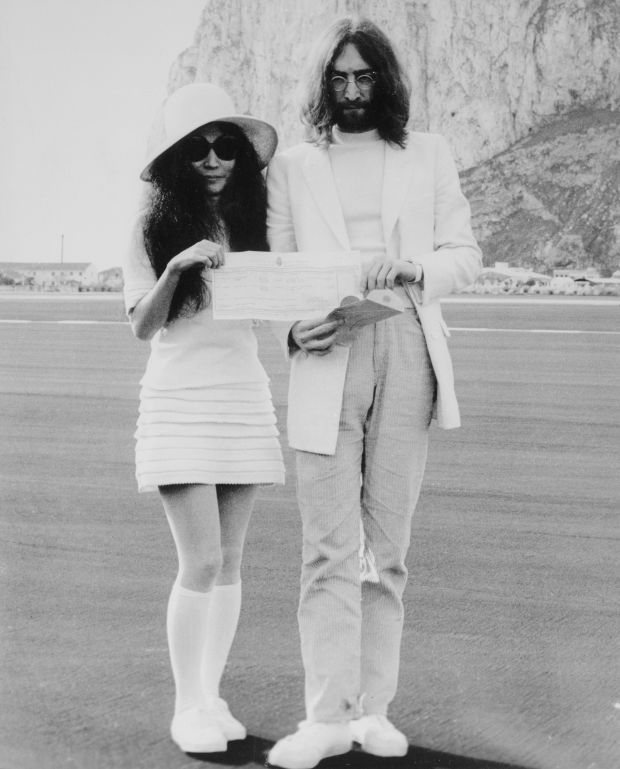 Ozzy Osbourne and Sharon Arden
Sharon Osbourne (then Sharon Arden) met her future husband Ozzy at the age of 18, whilst working for her father, Don Arden, who was managing Black Sabbath at the time. When Ozzy was sacked from Black Sabbath in 1979, Sharon started to date him and took over his management as a solo artist. The two were married in Maui, Hawaii, on 4 July 1982.Despite being called the Prince of Darkness, Ozzy meanwhile was dressed in an all-white suit, including a bowtie, and also wore a traditional lay around his neck. While in Hawaii, Sharon did not dress for a beach wedding but instead donned a high neck traditional lace wedding dress.