Four Rare Pink Floyd Live Recordings You Need to Check Out
Shine On You Crazy Bootlegs…
alecplowman
Ultimate Guitar

alecplowman
Posted Mar 11, 2017 06:10 PM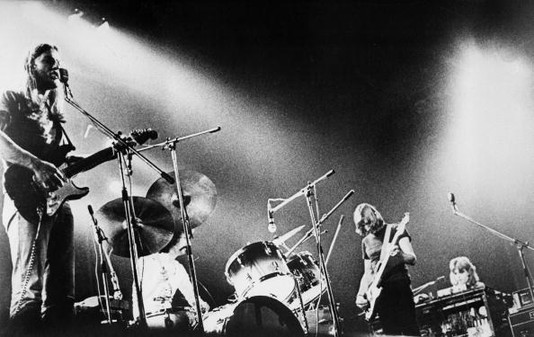 Following the news that Pink Floyd's Roger Waters is due to release a long-awaited new solo album this year, we've been delving into our Pink Floyd bootleg collection to relive some of our favorite live moments from the band. In this article, we've collected four of the best; three classic audio recordings and one live video that prove – as if any affirmation was needed – that the Floyd were one of the greatest live acts of all time. So carve out some time, make sure you're sitting comfortably (numb) and check out these awesome echoes of the band in their heyday.
Rainbow Theater, Finsbury Park, London, 20th February 1972
Pink Floyd's Dark Side of the Moon (UG Score 9.8) may be an iconic album, but it was originally a different beast from the version we got on vinyl. Before hitting the studio, the Floyd toured an embryonic version of the album in 1972, featuring different arrangements of classic tracks as well as songs that would never make it onto the album (the funky sounding "Mortality Sequence" replaces "On The Run" for example). This excellent quality audience recording from London's Rainbow Theater in 1972 is a fascinating insight into what could have been.
Los Angeles, California, 26th April 1975
This one – taken from the band's 1975 tour supporting Wish You Where Here – is a legend amongst bootleg collectors for two reasons. Firstly, there's its track list. Featuring most of the WYWH album, a full run through of Dark Side and a mammoth closer of Echoes, it is perhaps most intriguing for its two opening songs. "Raving and Drooling" and "You've Gotta Be Crazy" are early - and markedly different versions of "Sheep" and "Dogs" from the then-unreleased "Animals" album. Secondly, legendary bootlegger Mike Millard made this recording and the sound quality is absolutely phenomenal with a you-could-hear-a-pin-drop audio fidelity that belies its bootleg status. Essential listening.
Oakland Coliseum, California, 9th May 1977
Another excellent quality audience recording, this time taken from the band's 1977 tour supporting Animals. This bootleg is notable for featuring an absolutely inspired performance from the band. Everyone is on top form, the musicianship incendiary throughout, with Roger Waters' vocals during the Animals run-through full of rage and bile that is entirely appropriate to the grim subject matter. Top that off with the rare encore of "Careful With That Axe, Eugene" – the last time the band would ever play the song in concert – and you've got an absolute classic of a bootleg that cries out for repeated listens.
Earl's Court, London, 1980
Pink Floyd filmed their run of Wall shows at Earl's Court in London in 1980, intending for the footage to be used in the planned Wall movie. However, for various reasons, the band ultimately nixed the idea, going for a full-on fictional narrative instead. The footage that remains is fairly generated and pretty dark in places, but it nonetheless provides fascinating insight into how exactly that legendary run of shows went down. Roger Water has since said that he's discovered a load of 35mm footage from the tour that he intends to release as a concert movie at some point. But, until that comes out, this is the best visual document of that tour we have to go on.