Friday Top: 11 Worst Album Remasters Ever
As voted by UG community.
N-D
Ultimate Guitar

N-D
UG editor. Music lover. Constant searcher of something interesting and unique.
Posted May 05, 2017 06:16 PM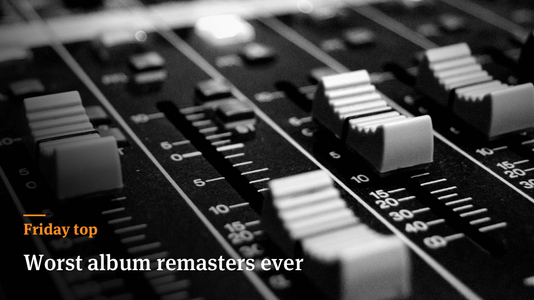 This week's traditional Wednesday Question saw the people of UG community discussing the matter of worst album remasters ever. Based on your votes and more than 100 comments, we summed this one up to a Top 11 rundown, make sure to check it out below.
Before kicking things off, this week's notable prank votes are: "Star Wars" and "Avenged Sevenfold's remaster of the 'Black Album.'"
And now, the actual list!
11. MD.45 - The Craving (2004 remaster)
Being a part of controversial 2004 "Remixed and Remastered" series, when Dave Mustaine decided decided to re-mix and re-master all of the first Megadeth albums up to and including "Risk," the "remastered" version of "The Craving" by MD.45 is perhaps the most controversial.

Originally MD.45 was a side-project of Dave Mustaine and Fear guitarist/vocalist Lee Ving - but for his 2004 "remaster" of the band's only 1996 album Dave Mustaine replaced original Lee Ving's vocal tracks and Lee's harmonica parts with his own vocals and simulated the harmonica on his guitar.

Due to many mixed reviews since 2011 all remastered versions were based on the original master tapes again rather than on 2004 ones. So as many said, basically Dave Mustaine took a side-project and turned it into a solo album.
10. Solefald - Neonism (2007 remaster)
For the 2007 reissue of Solefald's 1999 avantgarde-metal masterpiece "Neonism" all tracks were remastered and appear in a different order than the original. And the remastered version didn't receive any good reviews compared to the original.
9. Mike Oldfield - Tubular Bells (2009 remaster)
Mike Oldfield's masterpiece "Tubular Bells" was recorded when he was 19 and released in 1973 when he was 20. In 2003 he fully re-recorded the album under name "Tubular Bells 2003," but in 2009 he released newly mixed (in stereo) and mastered re-issue of the original 1973 album. And though it wasn't really "bad" but it definitely just felt flat compared to the charm of the original.
8. Arcturus - Aspera Hiems Symfonia (2002 remaster)
In 2002, the debut album of Norwegian avant-garde/progressive band Arcturus was remastered - and it faced many negative reviews: the remastered version has a considerably stronger, clearer sound that restores many of the lower-frequency elements of the music lost in the original mastering.

Although the liners notes on the CD booklet state that Arcturus did not re-record material, certain passages are evidently different from the originally released versions. Examples are the clean vocal sections in "Wintry Grey," "Naar Kulda Tar" and "Raudt og Svart." The original synthesizer lines in the opening of "The Bodkin and The Quietus" are replaced by a (similar but slightly more complex) guitar solo.
7. Red Hot Chili Peppers - The Red Hot Chili Peppers (2003 remaster)
In 2003 Capitol Records reissued the remastered version of RHCP's 1984 debut, and though they have some interesting bonus tracks (which were previously released on "Out in L.A." compilation in 1994), the actual reissue got bad reviews because of the whole sound - it was so loud and "brickwalled" and lost original rawness, as many fans said.
6. Bad Brains - Rock for Light (1991 remaster)
Bad Brains' 1983 album "Rock for Light" is a really influential record, completely changed the way hardcore punk developed. I was raw and energetic. But for 1991 re-issue album was remixed by Ric Ocasek of The Cars (who was the producer of the original record) and bass player Darryl Jenifer.

The re-issued version has some extra tracks, an altered track order, significantly different mixes and, on most tracks, a speed increase of the master which results in a raising of the pitch by one-half step. And according to fans, 1991 version completely smashed that dynamic of original, made it flat, "clean," with loads of additional guitar reverb and reduced bass.
5. Death - Individual Thought Patterns (2011 remaster)
As a part of 2011 reissues of Death's albums, Relapse Records did the remastering for the band's 1993 album "Individual Thought Patterns" as well. But it wasn't just remastered - actually the whole album was overhauled with completely different mix.

It's rather an alternative listen, because the drums have absolutely different and more straightforward sound/feel to them - as opposed to the pretty "small" drum sound of the original.
4. Nirvana - Nevermind (2011 remaster)
Nirvana's cult record "Nevermind" was originally mastered in 1991 by Howie Weinberg. But for the record's 20th Anniversary Edition in 2011 Bob Ludwig remastered the album, and many fans weren't pleased with the result - "Nevermind" became a victim of "loudnes wars" - and "cleaner" compared to the original that wasn't permissible for a grunge album.
3. Pantera - Cowboys From Hell (2010 remaster)
For its 20th anniversary "Cowboys From Hell" was remastered in 2010. But the main issue with the 2010 version was the sound of cymbals - it became really loud and too high in the whole mix.
2. Ozzy Osbourne - Blizzard of Ozz / Diary of a Madman (2002 'remaster')
Maybe one of the most controversial reissues/remasters in the music history - though actually it wasn't even a remaster - Ozzy and Sharon hired Rob Trujillo and Mike Bordin to re-record original parts made by Bob Daisley and Lee Kerslake - in order not to pay them royalties.
The first two Ozzy's classic albums, "Blizzard of Ozz" (1980) and "Diary of a Madman" (1981), were recorded and co-composed with bassist Bob Daisley and drummer Lee Kerslake - but the bass and drum credits were originally given to Rudy Sarzo and Tommy Aldridge, then members of Ozzy Osbourne's live band, even though they didn't play a note, and performance royalties have never been paid to Daisley and Kerslake. Daisley also claimed that, in addition to his studio work with Ozzy, he was responsible for all the lyrics in Ozzy's solo catalog in the 1980s (something Ozzy admitted to in his later interviews).
In 1986, Bob Daisley and Lee Kerslake won a court case which awarded them songwriting royalties, but until 2003 they still didn't receive proper performance credit for "Diary of a Madman." Daisley and Kerslake have been fighting the Osbournes in court again over that same issue. The lawsuit has yet to be settled, but Ozzy and Sharon Osbourne did it further. They made a 2002 reissue of these two albums which replaced Daisley and Kerslake's original bass and drum parts with new parts recorded by Osbourne's then-current drummer Mike Bordin and bassist Rob Trujillo. The 2002 reissue also included new backing vocals from a pair of singers named Mark Lennon and John Shanks.
Sharon stated at the time that it was Ozzy, not she, who was responsible for the decision to re-record the parts. However, Ozzy contradicted this claim in his 2009 autobiography, stating that the decision to re-record the original bass and drum parts was strictly Sharon's decision. He also stated that "a sticker was put on the covers telling everyone about it," though in fact the sticker was not initially placed on the re-issue and was only placed on the covers at a later date due to fan outcry over the altered recordings.
Later because of much of negative feedback from the fans Ozzy stated: "You know what, whatever the circumstances were, I want the original thing back." The 30th Anniversary release of "Blizzard of Ozz" and "Diary of a Madman" contains the original recordings, not the 2002 reissues.
1. Megadeth - Rust in Peace (2004 remaster)
Another victim of controversial 2004 "Remixed and Remastered" series. After remixing the band's debut "Killing Is My Business...And Business Is Good" in 2002, in 2004 Dave Mustaine started working with the other albums, trying to improve the sound. And the "Remixed and Remastered" versions met very mixed reviews among fans as many of them weren't satisfied by the new sound of classic records - as many said, raw energy of original recordings was lost in translation.
And another controversial decision was to completely re-record in 2004 some of the classic parts such as vocals, bass and guitars (for example, vocals on "Five Magics"). And due to many mixed reviews since 2011 all remastered versions were based on the original master tapes again rather than on 2004 ones.
That's all folks; we hope you enjoyed the top, stay tuned until next week for another WQ!