Friday Top: 13 Greatest Guitar Chords
As voted by UG community.
N-D
Ultimate Guitar

N-D
UG editor. Music lover. Constant searcher of something interesting and unique.
Posted Mar 17, 2017 06:03 PM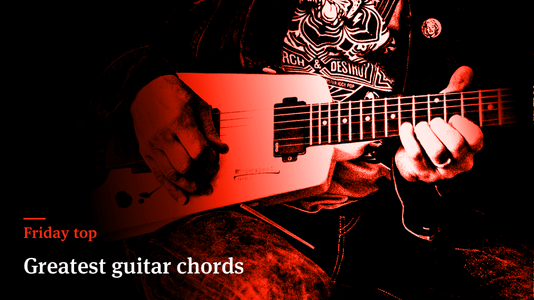 This week's traditional Wednesday Question saw the people of UG community discussing the matter of greatest guitar chords ever. Based on your votes and more than 200 comments, we summed this one up to a Top 13 rundown. Dig in!
13. A suspended 2 / A sus 2
Kicking things off, it's Asus2, the chord you can find in the chorus of The Who classic "Behind Blue Eyes."

0
0
2
2
0
x




12. Dadd4
Up next, you folks voted for Dadd4.

5
3
0
4
5
X (or open if in drop D tuning)


11. Bbmaj7
This week's No. 11 is Bbmaj7.

1
3
2
3
1
x


10. The opening chord to "A Hard Day's Night"
Up next on the list of all-time greats is the chord that opens "A Hard Day's Night." George Martin said about this one: "We knew it would open both the film and the soundtrack LP, so we wanted a particularly strong and effective beginning. The strident guitar chord was the perfect launch."

3  
3  
5 
3
5
3


9. E
The "epically huge" E is up next at No. 9. 

0
0
1
2
2
0


8. 'Shine on You Crazy Diamond' chord
Up next, the "mysterious and beautiful" chord of Pink Floyd classic "Shine on You Crazy Diamond."

0
6
0
8
x
x


7. B major played with the B and high E string open
As GGAllinsPizza explained, "Got hooked to that chord after hearing 'No Excuses' by AIC. Especially the last B major chord that rings out at the very end," with Boomer904 chiming in: "I agree, basically any chord in the E minor scale with the open e and b sounds incredible. QOTSA's 'The Sky Is Falling' uses most of them in the bridge."

0
0
8
9
9
7





6. Standard G Chord
The "powerful, yet elegant" G is up next, with Spinnerweb pointing out: "I don't have a favourite chord, but the reason I love the G is that it's so compliant. It can be beautiful, ugly, happy, sad, whatever you need it to be."

3
0
0
0
2
3


5. The power chord
Plain and simple - the power chord.

 
4. D in drop D
Tomwebbsayshi: "Very powerful, use with caution."


3. The Alex Lifeson Chord
When John Petrucci was asked on what his favorite chord is, he replied: "It's the opening chord for 'Hemispheres' by Rush - the F# major with an added 4th and the flat 7. That should really be named 'The Alex Lifeson Chord,' 'cause he invented that." You can also refer to it as the "Rooster" chord, it's this thing right here:

0
0
3
4
4
2


2. Cadd9
Basically a modified G chord with the middle finger on the A string and the index finger on the D string on the 2nd fret. It's one of the key components or Green Day's "Good Riddance (Time of Your Life)."

0
3
0
2
3
x


1. E7#9 - the Hendrix chord
At the throne of UG this week, it's the almighty Hendrix Chord!

X
8
7
6
7
X



That's all folks! Feel free to post your personal favorite chord in the comment section below. And we hope you enjoyed the top, stay tuned until next week for another WQ!