Friday Top: 15 Best Chord Progressions
As voted by UG community.
jomatami
Ultimate Guitar

jomatami
UG News editor since early 2013. King Crimson fan. I handle the 'news' around here.
Posted Mar 31, 2017 08:00 PM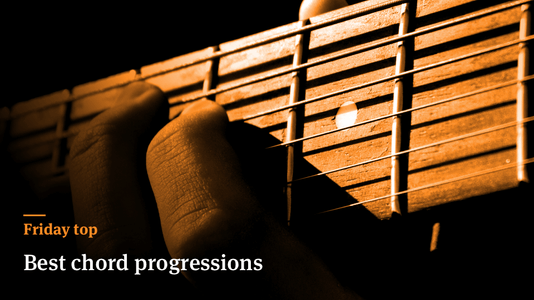 This week's traditional Wednesday Question saw the people of UG community discussing the matter of greatest chord progressions ever. Based on your votes and almost 200 comments, we summed this one up to a Top 15 rundown. Dig in!
15. Django Reinhardt - Minor Swing
Kicking things off, you folks voted for the tune RDSElite described as "ridiculously versatile in its simplicity, especially in more modern renditions." It's Django Reinhardt's "Minor Swing": Am6 / Dm6 / E7 / Am6 / Dm6 / Am6 / E7 / Am6-E7


14. The Jimi Hendrix Experience - Little Wing
Up next, another legend: Mr. Jimi Hendrix and "Little Wing."
13. Alice in Chains - Nutshell
As Tonganation noted, "definitely not an easy one to count out, I always play it by feel. Em7, G, D, and Cadd9 if I have it right. Sounds excellent!" This week's Lucky 13 is Alice in Chains and "Nutshell."


12. Radiohead - Pyramid Song
Up next, you folks voted for Radiohead and "Pyramid Song" - F# G A G G9.


11. Eagles - Hotel California
Bringing us a step closer to the Big 10, it's another classic tune - Eagles and "Hotel California."
10. Am-G-F
As selkayann noted, "'Ziggy Stardust,' 'Stairway to Heaven', half of the Iron Maiden catalogue..." Am-G-F at No. 10!


9. Opeth - The Drapery Falls
Solo9x noted: "Something like Cm9 Bbm9  B6sus4 Bb Bb/F# Cm if I remember correctly?", with Owen556 chiming in: "That's just the intro! Then there's the sexy verse where its like an Aminadd9. Such a good song." "Drapery Falls" at No. 9!
8. Led Zeppelin - Kashmir
At No. 8, you folks voted Led Zeppelin and "Kashmir."


7. Pachelbel's Canon in D
Up next, a touch of classical vibe: D-A-Bm-F#m-G-D-G-A
6. King Crimson - The Court of the Crimson King [chorus]
"FIND A MORE EPIC CHORD PROGRESSION," Mr. Stranger dares ya...
5. G-C-D-Am-Em-G
Here's Stewie to explain a few things to ya...


4. Pink Floyd - Breathe
Just a step away from the Top 3, it's Pink Floyd and "Breathe," the part right before the verse - Cmaj7-Bm7-Fmaj7-G-D7#9-D7b9-Em.
3. Am-F-C-G
You know that chord progression that's poppin' up on lotsa places? A bronze it is!


2. Pink Floyd - Us and Them
In the words of BassFishin, "No matter how many times I hear it, that third organ chord just gives me the chills."


1. I-IV-V
At the throne of UG this week, the one, the only... I-IV-V!


0. E, E, E, E, E, E, etc.
At the true throne of UG this week, all hail da King! 




That's all folks! Feel free to post your personal favorite chord progressions in the comment section below. We hope you enjoyed the top, stay tuned until next week for another WQ!