Friday Top: 15 Greatest Things That Happened in Music in 2016
As voted by UG community.
jomatami
Ultimate Guitar

jomatami
UG News editor since early 2013. King Crimson fan. I handle the 'news' around here.
Posted Dec 16, 2016 11:45 PM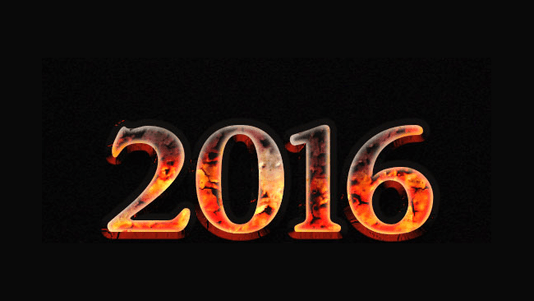 This week's traditional Wednesday Question saw the people of UG community discussing the musical events of the current year and jotting down the top things we've had the pleasure of witnessing.
We've decided to mostly NOT filter this one at all, and include the funny stuff in the same batch as the more serious stuff to reflect you folks in a way that's as raw and wild as you rascals.
The one we did have to discard, though, was "each member of Big 4 releases an album in the same year," since Slayer has released "Repentless" in 2015. Therefore, 1988 still remains the last year in which we saw Metallica, Megadeth, Slayer and Anthrax releasing a new record.
Anyhow, the goods await below.
15. Dave Mustaine kept his opinions to himself
Apart from saying that UG is awesome (which is a fact and not an opinion), that new Metallica album is good stuff, that nu-metal guitarists suck, explaining what's wrong with beer today and calling that dude at Megadeth concert an "asshole turd pile of shit" - yes, yes he did.
14. Ronnie James Dio, Lemmy Kilmister, Randy Rhoads to be inducted into 'Hall of Heavy Metal History'
If the Rock Hall doesn't want 'em, then fuck the Rock Hall. More info on the Metal Hall here.
13. The Desert Trip Festival
It's not every day you see a festival that features The Rolling Stones, Bob Dylan, Paul McCartney, Neil Young, Roger Waters, and The Who. This was a 6-day event that took place on October 7–9 and 14–16 at the Empire Polo Club in Indio, CA.
12. Axl/DC
Definitely one of the trending stories of the rock world this year, the Axl/DC stint kept Mr. Rose in the limelight of the music world for yet another year.
11. Buckethead returning to live performance
The trek kicked off in April and was wrapped up a few months later, marking Mr. Bucket's first live shows in 4 years. Since the tour ended, he's already released 8 new albums.
10. UG's new layout
Yes, we gave the guy who posted this nomination and everyone who upvoted him $1,000,000.
9. Canadians Celebrate The Tragically Hip on August 20
This marked the final show of the band's final tour, which was announced after frontman Gord Downie had been diagnosed with a terminal brain tumor. In total, 11.7 million people saw the concert.
8. A Tribe Called Quest makes a comeback
Following the death of Phife Dawg, the boys have returned with "We Got It from Here... Thank You 4 Your Service."
7. A lot of albums
Metallica, Gojira, A7X, Radiohead, consult the Reviews section for more.
6. Congress banning bots from buying concert tickets
As you folks agreed, this is "a prety big win for fans of all types of music." You can read about it here.
5.
4. Guns N' Roses reunion tour
Started strong in earlier this year, kept going strong in 2016, will go strong in 2017 too.
3. 'Ennio Morricone finally got his fucking academy award!!!!'
2. Bob Dylan getting the Nobel Prize for Literature
According to you folks, this sets a major precedent and opens the doors for other songwriters to be acknowledged on such a level.
1. Mozart beating Kanye in sold CDs