Friday Top: 16 Most Annoying Myths About Guitars and Guitar Players
As voted by UG community.
UG Team
Ultimate Guitar

UG Team
UG editorial team. A group of people who are passionate about guitar and music in general.
Posted Oct 29, 2016 03:38 PM
This week's traditional Wednesday Question saw the people of UG community discussing the matter of most annoying myths and stereotypes surrounding guitarists and the world of guitars in general.
We received a nice chunk of votes and close to 300 comments, all of which were summed up into a very round number of Top 16 results.
Before kicking things off, here's a nice little prank vote that got a healthy chunk of attention: "Tom Morello can walk into any restaurant he wants to regardless of it being full." *ba-dum-tss*
Yeah. Anyhow, you can check out the full rundown right below.
16. You must start with an acoustic and shouldn't go straight to electric
Kicking things off, it's the idea that one absolutely must master the acoustic guitar before firing things up with an electric.
FateDenied noted: "Urgh so annoying. I still remember when I was a teenager, all those people (that didn't even play a instrument) telling me i should learn acoustic before electric 'because it's better.' When you ask why, no worthy reply, just 'It's better.'"
hayes262 chimed in: "My acoustic kept me from progressing simply because my fingers hurt so bad when I was a teen. Could only practice for like 30 min before I lost interest. Got an electric shortly after and was astounded at my motivation levels and overall learning strides once my effing fingers didn't hurt so damn bad."
Keith Richards: Why It's Best to Start Learning Guitar on an Acoustic
15. You need to be a drug addict to write good rock/metal music
Up next, it's the "only drug addicts make good rock music" thing...
14. Musicians who play covers are the least talented
Not writing original music is not a reason to discard someone as a subpar musician, you folks say.
dewitt noted: "I didn't just download a shitty MIDI file so I could pretend I'm on American Idol. I'm creating music from scratch. Just because it's not the artist you're familiar with, that doesn't make it karaoke."
13. Scooping the mids
Scooping the mids is basically turning down all the middle frequencies on your EQ to 0.
Mr. David Draiman the voice of Disturbed exclusively joined us in the comments section to say this: "THE DAMN MYTH OF SCOOPING YOUR DAMN MIDS!!! SURE IT SOUNDS 'GREAT' WHEN YOU'RE WANKING AWAY ON A WARLOCK AT SOME IRON MAN/PARANOID/SMELLS LIKE TEEN SPIRIT MEDLEY THROUGH YOUR METAL ZONE THROUGH A LINE 6 SET N 'INSANE' IN YOUR MAMA'S BASEMENT, BUT IN A REAL LIVE SETTING WITH REAL LIVE PEOPLE, YOU LOOK AND SOUND LIKE A JACKWAGGON. SAVE THE MIDS! MAKE GUITAR TONE GREAT AGAIN!"
12. We are all a bunch of low-class druggies
You folks agreed that this is a fitting image for this one...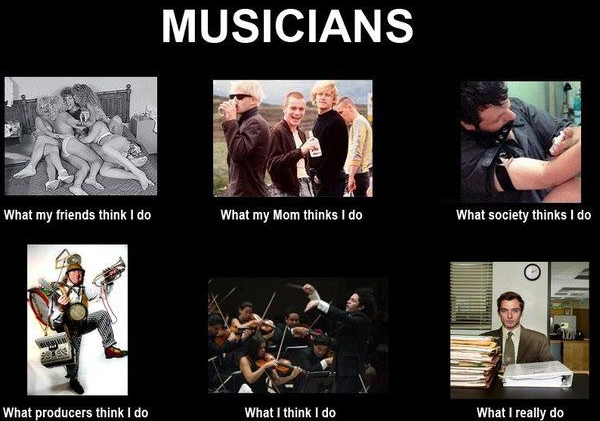 11. Playing fast = no feeling
You folks don't like people discarding players as soulless simply because they play fast. But as you can see further up the list, you also don't like people insisting on "the faster the batter." You folks are not easy to please.
10. 'It's not hard work.'
Yeah you just have to invest countless hours and a lot of money that many guitarists never break even with, easy peasy...
9. Telecasters are for country
Tele is love, Tele is life...
8. Music students can't play with feeling
Up next, you folks frowned upon the idea that studying music makes you soulless. You also hughly disagreed with the notion that music theory is useless.
huesudo2 noted: "The real irony here is the fact that by learning to play guitar, more often than not you're learning a lot of music theory without you realizing it. So the real myth here would be that there are guitarists that don't know their theory."
7. I can play metal = I am the greatest guitarist in the world
Also known as "the myth that lives in most metal guitarists' heads."
6. The better gear I have, the better I will be
In the words of Carl6661: "True that. People need to learn that it's really about the number of flashing lights and VU meters your gear has. /s"
And yes, obligatory video.
5. You're a guitarist = you can play everything
Alejandro.enduro passionately explained: "Just because we play the guitar doesn't mean we can play any song you ask. 'Can you play 'Stairway to Heaven'? - 'Not really, never learnt it...' - 'OMG how come, it's a classic, hurr durr blah blah blah.' Give me a break, EVERY party with friends, I'm sitting with my buddy jamming. Then someone comes and asks if I could play 'Stairway,' 'Wonderwall,' 'Wish You Were Here' (I can play this one actually...) or something else. If I was given a penny every time someone asks for it I'd have a dollar or two."
4. 'You must have started playing to pick up chicks!'
In the wise words of Iceman10129, "How about because I have a love for music!?!"
3. The faster the better
As machineno7 pointed out, "At some point you lose the essence of the song."
2. Bassists are just failed guitar players
Fuck you, Glenn!
On a bit more serious note, MaggaraMarine said about the whole "bass is best if it isn't heard" saying: "Well, that's basically the same as 'less is more,' which does apply in certain situations. The point of that saying is that most of the time bass is kind of a 'supporting' instrument - it's not supposed to be the main instrument (yes, there are exceptions and it really depends on the music you are playing). It's supposed to make the band sound full and the bassline is also the basis of harmony. As Victor Wooten said, the job of a bassist is to make the song feel good. Most of the time bass should not be the main focus of the song. Yes, there are bassists who can play complex stuff tastefully. But in most music 'bass is best if it isn't heard' applies, in a way at least.
"This doesn't mean the bass should be mixed so low that you can't hear it. It means that the bassist should know his role in the band. The lead part is what should be the main focus, and you should play a bassline that compliments the lead part and doesn't take people's attention away from it. If people are focusing on the bassline instead of the main melody, then you are overplaying. Again, that's just a generalization."
1. Guitar players get laid easily
:(
0. Slash is a real person