Friday Top: 18 Worst Guitar Solos Ever Recorded
As voted by UG community.
N-D
Ultimate Guitar

N-D
UG editor. Music lover. Constant searcher of something interesting and unique.
Posted Apr 28, 2017 04:09 PM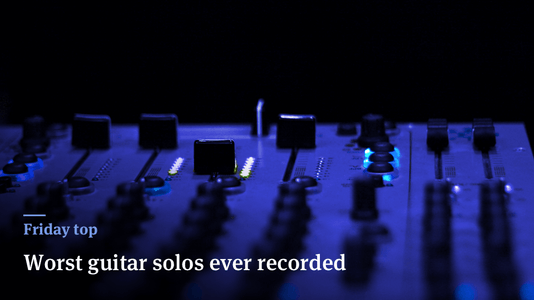 A little while ago we posted our list of 10 Worst Guitar Solos (spoiler: Lil Wayne topped it), and the top suggestion from the community was a list of worst guitar solos, but those actually recorded in studio and not just played live in concert.
Therefore, this week's traditional Wednesday Question saw the people of UG community discussing the matter of worst guitar solos on actual studio recordings. Based on your votes and almost 300 comments, we summed this one up to a Top 18 rundown, make sure to check it out below.
Before kicking things off, check out this week's honorable mention - this band doesn't really exist, but anyway. So... these guys:
And now, the actual list!
18. GG Allin - Bite It You Scum
The badness of this solo fits the song, but it's still really really bad. It starts at 1:34.
17. The Velvet Underground - Sister Ray
People always complaining about how long "Sister Ray" - and it's almost as long as its... solo/solos.
16. DragonForce - Body Breakdown
Many people don't like DragonForce solos. This time around, you chose the last solo that serves as an outro, "Not because it's bad just because it is fucking awkward and unnecessary when it comes in." Check it at 6:40.
15. Dr. Hook - Cover of the Rolling Stone
Of course this solo is made to be ironic (as the whole song), but sounds terrible nevertheless. It kicks in at 1:40.
14. Pixies - Vamos
Pixies are just as cool as this solo is terrible.
13. Led Zeppelin - Heartbreaker
It's one of the most iconic solos ever recorded. But this does not prevent it from being really sloppy. If you still hasn't heard it, check it out at 2:03.
12. Fall Out Boy - Beat It (feat. John Mayer) (Michael Jackson cover)
John Mayer joined Fall Out Boy for their rendition of Michael Jackson's classic, but Mayer's solo on this one is just horrendous - it's not even remotely comparable to the original solo by Eddie Van Halen. It starts at 2:22.
11. Overkill - Changes (Black Sabbath cover)
You would never imagine Overkill would play a ballad - but they actually did it with their rendition of Black Sabbath's classic song, which isn't bad - but this solo... check it at 2:50.
10. The Rolling Stones - Ain't Too Proud to Beg
Keith Richards says he never understood why Mick Taylor left The Rolling Stones, but this solo might have had something to do with his exit. It starts at 1:40.
9. Vinnie Vincent Invasion - Boyz Are Gonna Rock
Vinnie Vincent Invasion were an American heavy metal/glam metal band formed in 1984 by former KISS guitarist Vinnie Vincent. It seems Vinnie had more luck with his original band. Actual solo starts at 2:22.
8. Beastie Boys - (You Gotta) Fight for Your Right (To Party)
This solo, also featured as No. 20 at our Easiest Guitar Solos list should be as fun as the song itself. The legend says it features Slayer's Kerry King on the guitar. Check it at 2:20.
7. Nirvana - Milk It
The solo fits this atonal song 100%. Kurt had a lot of clever anti-rock mannerisms in some songs. But still this solo sounds really bad for an unprepared listener. It starts at 2:34.
6. Slayer - Raining Blood
This Kerry King's solo is definitely not enough to overthrow the heaven. Sounds pretty awesome on the banjo, though. 2:53 for your pleasure.
5. MAGIC! - Rude
Well, not to be rude, but this solo is a very... hmm, strange... piece of music that was created as a labor of love between fuzz and wah. It starts at 2:33.
4. Metallica - ManUNkind
The boys jump into the solo is a little bit too abruptly here, and the solo itself is just... Check it yourself at 4:45.
3. Korn - Haze
This solo is as bad as the Ubisoft video game "Haze" game for which it was recorded. 1:46 - enjoy...
2. Kabát - Burlaci
From the #1 beer-drinking country in the world (Czech Republic) comes a band called Kabát. The song is not that bad and sounds even better after a tallboy, but solo at 2:42... it's just weird.
1. Birdman & Lil Wayne - Leather So Soft
You know the rule: if you look at the list of the worst guitar solos, Lil Wayne will be in the first place. Actual solo for your pleasure at 4:09...
That's all folks; we hope you enjoyed the top, stay tuned until next week for another WQ!