Friday Top: 20 Best Guitar Solos in Pop Songs
As voted by UG community.
david89zemun
Ultimate Guitar

david89zemun
UG writer. Huge Black Sabbath fan and agronomy enthusiast.
Posted Nov 03, 2017 04:34 PM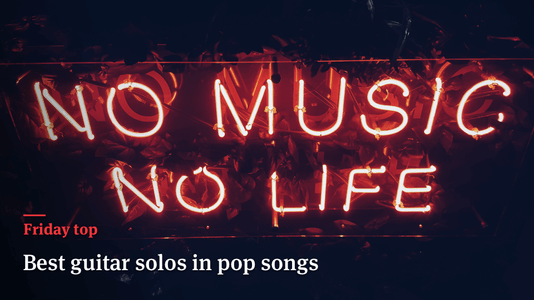 This week's traditional Wednesday Question saw the people of UG community discussing the matter of the greatest guitar solos in pop songs. Based on votes and more than 200 comments, we summed this one up into a Top 20 rundown.
NOTE: Some artists in this week's top are kind of rock (pop rock, etc.), but we decided to include these songs anyway.
But before we say anything, here is a solo so good that we weren't allowed to put it on the list with all these other noobs. Ladies and gentlemen, Nick Jonas:
And before kicking things off, the honorable mentions are:
Falco - Out of the Dark
Huey Lewis and the News - I Want a New Drug
Lionel Richie - Running With The Night
The Knack - My Sharona
Tina Turner - Private Dancer
Commodores - Easy
Mike Oldfield - Moonlight Shadow (feat. Maggie Reilly)
A Flock Of Seagulls - I Ran
Whitney Houston - Queen of the Night
M83 - Go! (feat. Mai Lan)
Joan Osborne - One of Us
Billy Ocean - Loverboy
The full rundown awaits below.
20. Linda Ronstadt & James Ingram - Somewhere Out There
This song was written by James Horner, Cynthia Weil, and Barry Mann who also recorded the guitar. The song was part of the soundtrack for the Don Bluth directed the animated movie "An American Tail."
19. Savage Garden - To the Moon and Back
Savage Garden's "To the Moon and Back" quickly became a hit when it came out in 1996. It features a guitar solo by a session guitarist Rex Goh.
18. Roxette - Listen to Your Heart
Swedish guitarist Jonas Isacsson really did an amazing work for this Roxette's track. Simple and emotional solo for a simple pop song.
17. Shania Twain - Man! I Feel Like a Woman
One of the most famous song by Canadian singer Shania Twain was released in 1999. And no, it's not those guys in the video who recorded guitars on it, it was Dan Huff.
16. Janet Jackson - Black Cat
There are actually four or five different guitar players on different versions of this song, including Extreme's Nuno Bettencourt. But the thematic guitar solo was recorded by Dave Barry. And according to Janet herself, she is the one who wrote the main guitar riff.
And album version:
15. George Michael - Faith
Even though it's George Michael in the video holding the guitar, the solo is actually played by Hugh Burns, who also played the guitar on the George's previous single "Careless Whisper."
14. Tears for Fears - Shout
The legendary pop outfit Tears for Fears have released this song in 1984. And what's interesting is that it included a long guitar solo by the band's Roland Orzabal, which was kind of unusual for their music.
13. Robert Palmer - Addicted to Love
Duran Duran's Andy Taylor provided lead guitar work on this one. So it wasn't these nice girls from the video playing the fingerpicking/fingerstrumming technique.
12. Chris Isaak - Wicked Game
One of the most romantic and most covered songs features guitar work by James Calvin Wilsey. His gentle and subtle vibrato on 1965 Fender Strat and those few opening notes are one of the reasons of this song's popularity.
11. Alannah Myles - Black Velvet
Not only a song with a great groove, but it also has the distinctive and memorable solo by Kurt Schefter.
10. Duran Duran - Ordinary World
User Phaneron said about this solo, performed by guitarist Warren Cuccurullo:
I realize the solo is just a distorted electric guitar recycling the lead acoustic figure from the intro, but I feel it's still really effective.
9. Michael Sembello - Maniac
One of the most famous pop songs of all time has the simple and to the point solo delivered by Sembello himself. The track is best known as the soundtrack to 1983 movie "Flashdance."
8. Tears for Fears - Everybody Wants to Rule the World
The first solo in the song is by the band's guitarist Roland Orzabal, and the second one is by Neil Taylor. These prove that you don't need some shredding to get it to sound good. Amazing performance by both players.
7. David Bowie - Let's Dance
Seems like the best way to make your pop song amazing is to hire a blues-rock guitarist. This Bowie's song, coming from the album of the same name, has the legendary Stevie Ray Vaughn on it.
And here's an album version:
6. Gerry Rafferty - Baker Street
The song was released back in 1978 and it quickly climbed up to top positions on the charts. It features a solo by guitarist Hugh Burns who managed to fit it perfectly in the style of the track.
5. Michael Jackson - Give in to Me
Need a good guitar solo in your pop song? Just call Slash and he will handle it.
4. Prince - Purple Rain
Some fine guitar magic coming from the Prince here. He was not just a great singer and songwriter, he was also a brilliant multi-instrumentalist.
3. Kenny Loggins - Danger Zone
Could easily blame this one on so many speeding tickets. The signature song of "Top Gun" features a solo by Dann Huff of Giant. The song itself was written by Giorgio Moroder.
2. Santana - Smooth (feat. Rob Thomas)
Carlos Santana keeps it the way it should be, not too long, exotic, tasty, and, well, smooth. Completely in the style of the song.
1. Michael Jackson - Beat It
And the absolute winner for this week is Eddie Van Halen's solo for Michael Jackson's hit "Beat It." When the guitarist was contacted by the producer Quincy Jones to do this solo, he thought that it was a prank call. In the end, he was so thrilled that he did this solo for free. One of the best guitar works in modern music.
That's all folks! Feel free to post more great guitar solos in pop songs in the comment section below. And we hope you enjoyed the top, stay tuned until next week for another WQ!