Friday Top: 20 Greatest Uses of Wah Pedal of All Time
As voted by UG community.
N-D
Ultimate Guitar

N-D
UG editor. Music lover. Constant searcher of something interesting and unique.
Posted Jun 09, 2017 04:51 PM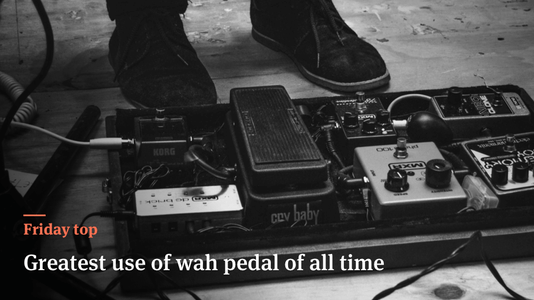 This week's traditional Wednesday Question saw the people of UG community discussing the matter of greatest use of wah pedal of all time.

Based on votes and around 200 comments, we summed this one up to Top 20 rundown.
We also have a notable prank vote for your pleasure: "Every '70s porn movie."
Before kicking things off, the honorable mentions are:
Primus - Those Damned Blue-Collar Tweekers
Chicago - 25 or 6 to 4
Curtis Mayfield - Superfly
Lynyrd Skynyrd - The Needle and the Spoon
Prince - Let's Go Crazy
James Gang - Walk Away
King Gizzard & The Lizard Wizard - Wah Wah
Snot - Snot
Béla Fleck & The Flecktones - Scratch & Sniff
Radiohead - Lucky
Saint Vitus - Dying Inside
The rundown awaits below.
20. Portishead - Glory Box
The highlight of the song is the guitar solo and the wah-wah explosion.
19. Alter Bridge - Blackbird
A whole new flavor is added to "Blackbird" when Mark Tremonti kicks in on his wah pedal.
18. Red Hot Chili Peppers - If You Have to Ask
Frusciante's wah-driven solo was named one of the greatest wah solos of all time, ranking at #18 on Guitar World's 2015 list. Fittingly enough, it's also No. 18 here.
17. Black Label Society - Fire It Up
The wah-driven crunch of "Fire It Up" sure fires you up.
16. Dream Theater - Home
Is this a wah pedal, or a talk box? Either way, the sound is awesomely aggressive and a centrepiece of one of Dream Theater's best albums.
15. Led Zeppelin - Dazed and Confused
Jimmy Page fills first eight bars of the song with eerie, wah-inflected natural harmonics.
14. Dire Straits - Money for Nothing
Mark Knopfler created pure awesomeness in this one and a partially-cocked wah is the crucial part of the equation...
13. Tool - Lateralus
Adam Jones rocks hard in "Lateralus" with his Dunlop 535Q wah.
12. Joe Satriani - Surfing With the Alien
Satriani's use of the wah-wah pedal earned him the #10 spot on Guitar World's list of best wah solos of all time in 2015.
11. Pink Floyd - Echoes
A bit non-traditional, but definitely a masterful way to approach the effect. Gilmour inverts the wah connections to achieve the famed Seagull Effect (originally an accident by a roadie).
10. Funkadelic - Maggot Brain
"Maggot Brain" is just quintessentially Funkadelic – wah-wah guitar, catchy harmonies, inviting message and a special atmosphere all around.
9. Isaac Hayes - Shaft
The ominous, menacing sound Charles "Skip" Pitts created as he fed his driving rhythm chords through the Maestro Boomerang wah pedal matched the gritty visuals and the edgy mood of the Blaxploitation movie's opening sequence and turned the track into one of the most recognisable and enduring records of all time. Actually, this track has lyrics - here's a sample: "Who's the black private dick That's a sex machine to all the chicks? (Shaft!)"
8. Black Sabbath - Electric Funeral
Tony's favorite wah pedal that he uses in "Electric Funeral" is an old Tychobrahe Parapedalthat was made in the earlt seventies. They are very rare nowadays and we have a stable of three complete units and a couple of original circuit boards.
7. Cream - White Room
In "White Room," Clapton played his guitar through a wah-wah pedal to achieve a "talking-effect" which turned out to be a pretty good idea.
6. Guns N' Roses - Sweet Child O' Mine
Slash uses Cry Baby Wah Wah on multiple occassions (not as much as Kirk, of course) and this pedal is greatly incorporated in the "Sweet Child O' Mine" solo.
5. Steve Vai - Bad Horsie
There is a special wah pedal for this song called Bad Horsie! It was developed exactly according to the wishes of master guitarist Steve Vai, and typically, Vai was not satisfied with the achieved (high) standard so a VAI Bad Horsie II had to therefore be created of course!
4. Metallica - Anesthesia (Pulling Teeth)
Not only Kirk is a Master of Wah-wahs in Metallica. Cliff Burton could rock the hell out of it as well.
3. Alice in Chains - Man in the Box
Jerry Cantrell's guitar incorporates a talkbox guitar pedal that gives it that distinct effect. Actually Jerry though that the talkbox parts weren't strong enough, and a wah wasn't either, so he doubled the talkbox with a wah. His guitar is also tuned down a half step which makes the notes appear to be more heavier, a standard tuning that was done by a lot of thrash metal bands at the time.
2. Rage Against the Machine - Bulls on Parade
Tom Morello exploits wah really well here, left pressing it down for the verse, more interestingly useing for the 'wow-wow' riff you hear every now and then and for the solo (that solo).
1. Jimi Hendrix - Voodoo Child (Slight Return)
Basically an anthem for the wah pedal, "Voodoo" Child is a song, where wah potential is used to the full extent.
That's all folks! Feel free to post other songs with wah-wah pedal in the comment section below. And we hope you enjoyed the top, stay tuned until next week for another WQ!