Friday Top: 24 Best Guitarists Behind Solo Artists
As voted by UG community.
jomatami
Ultimate Guitar

jomatami
UG News editor since early 2013. King Crimson fan. I handle the news around here.
Posted Jul 07, 2017 07:30 PM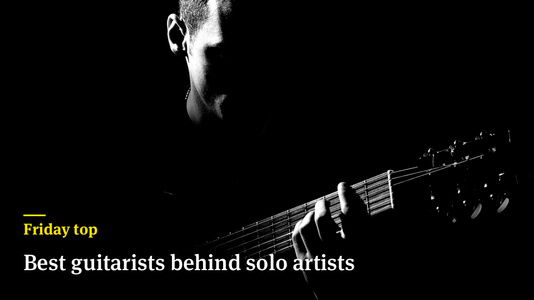 This week's traditional Wednesday Question saw the people of UG community discussing the matter of the greatest guitarists behind solo artists.
Based on votes and about 200 comments, we summed this one up into a Top 24 rundown.
Before kicking things off, the honorable mentions are:
Paul Gilbert (Neal Morse)
Dave Weiner (Steve Vai)
Peter Tosh (Bob Marley)
Marco Sfogli (James LaBrie)
Mike Bloomfield (Bob Dylan, Al Kooper, etc)
Neil Geraldo (Pat Benatar)
Dominic Miller (Sting)
Jeff Beck (Roger Waters)
Eric Clapton (John Mayall)
Dick Wagner (Alice Cooper, Lou Reed)
Junior Marvin (Bob Marley)
Wendy Melvoin (Prince)
Vini Reilly (Morrissey)
Mateus Asato (Tori Kelly)
The full rundown awaits below.
24. Craig Ross (Lenny Kravitz)
23. Andy Larocque (King Diamond)
22. Ike Willis (Frank Zappa)
21. Dave Kilminster (Steven Wilson, Roger Waters)
20. Steve Cropper (Carla Thomas, Otis Redding, Wilson Pickett)
19. Jennifer Batten (Michael Jackson)
18. Steve Lukather (Michael Jackson, Lionel Ritchie, Richard Marx)
17. Nuno Bettencourt (Rihanna)
16. Jimmy Nolen (James Brown)
15. Scotty Moore (Elvis Presley)
14. Myles Kennedy (Slash)
13. Orianthi (Alice Cooper and Michael Jackson)
12. Mike Campbell (Tom Petty)
11. Vivian Campbell (Ronnie James Dio)
10. Zakk Wylde (Ozzy Osbourne)
9. Nile Rodgers (Sister Sledge, David Bowie, Bryan Ferry, Madonna, Britney Spears, Lady Gaga, etc)
8. Jason Becker (David Lee Roth)
7. Jake E. Lee (Ozzy Osbourne)
6. Steve Vai (David Lee Roth, Frank Zappa)
5. Mick Ronson (David Bowie)
4. Steve Stevens (Billy Idol)
3. John 5 (Marilyn Manson, Rob Zombie, David Lee Roth)
2. Guthrie Govan (Steven Wilson)
1. Randy Rhoads (Ozzy Osbourne)
That's all folks! Feel free to post other great guitarists behind solo artists in the comment section below. And we hope you enjoyed the top, stay tuned until next week for another WQ!