Friday Top: 25 Alternative American National Anthems
As voted by UG community.
N-D
Ultimate Guitar

N-D
UG editor. Music lover. Constant searcher of something interesting and unique.
Posted Jun 30, 2017 07:01 PM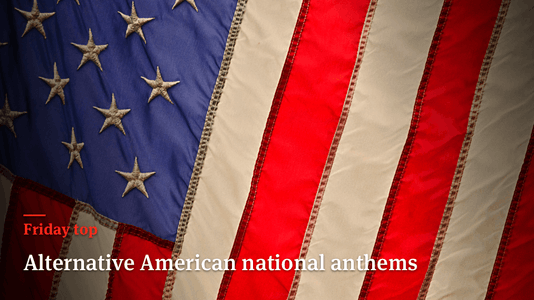 This week's traditional Wednesday Question saw the people of UG community discussing the matter of which song should be the next national anthem, with July 4th around the corner.
Based on votes and around 200 comments, we summed this one up to Top 25 rundown - it turned out to be quite diverse - such as you see it.
And remember - don't take this list too seriously. :)
The full actual rundown awaits below.
25. 'South Park' (alternative national anthem)
You all know the story behind this. So learn: if you hear the national anthem, it's better to stand up.
24. The Goats - Typical American
Alternative hip-hop group The Goats appear with their own vision of the topic, groovy yet clever.
23. Avenged Sevenfold - Critical Acclaim
A7X spread their rage...
22. David Bowie feat. Trent Reznor - I'm Afraid of Americans
David and Trent say the word...
21. Napalm Death - You Suffer
In your own words: "'You suffer... but why?' Perfect for America."
20. 'Curb Your Enthusiasm' theme
As you said: "With the political situation right now." Actually, the song is Luciano Michelini' "Frolic."
19. Bruce Springsteen - Born in the U.S.A.
The Boss offers his own national anthem.
18. Woody Guthrie - This Land Is Your Land
Deep, soulful and sincere, it really can be an unofficial national anthem.
17. Iron Maiden - Run to the Hills
One of the most popular Maiden song, it tells the story from the point of Native American tribes during the days of colonisation.
16. Megadeth - Peace Sells
Peace sells... but who's buying?
15. Green Day - American Idiot
Green Day spread the word with their anti-anthem.
14. Guile theme ('Hyper Street Fighter II')
You know, this song makes failure biologically impossible.
13. Borat - Kazakhstan National Anthem
One word: Borat.
12. Rage Against the Machine - Killing in the Name
This RATM song is already so cult to became an alternative anthem.
11. Samwell - What What (In the Butt)
In all seriousness, we don't know what to say here.
10. Liam Lynch - United States of Whatever
"And this is my United States of Whatever!"
9. Black Sabbath - War Pigs
One of the best anti-war songs ever written.
8. Lynyrd Skynyrd - Freebird
With it being played at almost every significant event, "Freebird" can be nominated for an alternative anthem as well.
7. Jimi Hendrix - The Star-Spangled Banner
Historical Jimi's take on the national anthem.
6. 'Benny Hill' theme
Yes, this song is already timeless so it can fit almost everything. By the way, the actual song's name is "Yakety Sax" and it's performed by Boots Randolph.
5. 'King of the Hill' intro theme
One of the clearest nominations is here. By the way, the actual song is "Yahoos and Triangles" performed by The Refreshments.
4. Hulk Hogan - Real American
"Train, say your prayers, eat your vitamins! Be true to yourself, true to your country, be a real American!"
3. Rammstein - Amerika
"We're all living in Amerika, Amerika, Amerika..."
2. Smash Mouth - All Star
You know: "Sooomebody once..."
1. 'America Fuck Yeah!' ('Team America World Police' theme song)
And the winner is...
That's all folks! And we hope you enjoyed the top, stay tuned until next week for another WQ!