Friday Top: 25 Bad Albums From Otherwise Great Bands
As voted by UG community.
david89zemun
Ultimate Guitar
Posted Jul 14, 2017 04:24 PM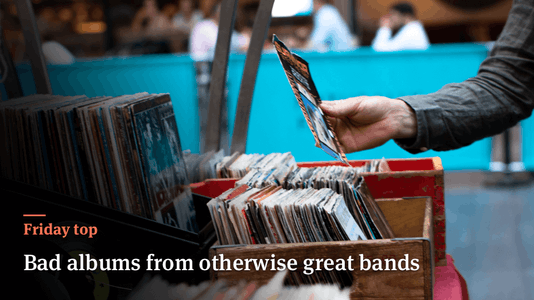 This week's traditional Wednesday Question saw the people of UG community discussing the matter of the worst albums released by an otherwise amazing bands.
Based on votes and about 450 comments, we summed this one up into a Top 25 rundown.
And the best prank votes are: "Buckethead - well, one of them has to be bad, right?" and "Infant Sorrow - African Child".
Before kicking things off, the honorable mentions are:
Boston – Life, Love & Hope (2013)
Judas Priest - Demolition (2001)
The Smashing Pumpkins - Zeitgeist (2007)
The Velvet Underground - Squeeze (1973)
The full rundown awaits below.
25. Helloween - Chameleon (1993)
"Chameleon" name comes from the style changing with each song on this album, with the band adding some pop elements to it. However, the album turned out to be a commercial failure, and it also received negative critics, which led to vocalist Michael Kiske and drummer Ingo Schwichtenberg being fired from the band after the tour in support of "Chameleon".
Another Helloween album that should also be mentioned is "Pink Bubbles Go Ape" from 1991.
24. Foo Fighters - Sonic Highways (2014)
"Sonic Highways" featured eight songs which Dave Grohl wrote while traveling to eight different cities around the U.S. where he interviewed musicians, record producers, engineers and other people about the musical history of each city. Even though the album had quite an interesting concept, and was accompanied by HBO television series, it just didn't sit well with both critics and fans.
23. Emerson, Lake & Palmer – Love Beach (1978)
The 1978's "Love Beach" was met with a huge negative response, with many considering it as the worst album by ELP. At the time Rolling Stone magazine wrote:
"Stale and full of ennui, this album makes washing the dishes seem a more creative act by comparison."
Also, that cover art…
22. Killswitch Engage - Killswitch Engage (2009)
Killswitch Engage's fifth studio album, and their second self-titled one, came out in 2009. And as RustedWithin UG user commented:
Yea, that album was weak as fuck. Lots of internal strife with recording the album and HoJo going through his shit made that album DOA
21. David Bowie - Never Let Me Down (1987)
Commented by SawGuru:
"The man himself even agreed it was problematic. 'Never Let Me Down had good songs that I mistreated. I didn't really apply myself. I wasn't quite sure what I was supposed to be doing. I wish there had been someone around who could have told me.'"
20. Blink-182 - California (2016)
"California" is Blink-182's first album to feature Matt Skiba in the band. And even though the album debuted at top position in the U.S. and few other countries, it was met with some mixed reviews and reactions. As Josh100_3 has put it:
Say what you want about them, at least I can enjoy all their other albums on some level. This one I just find absolutely awful.
19. Mötley Crüe - Generation Swine (1997)
"Generation Swine" Marked the return of vocalist Vince Neil to the band, and was the first album to feature Tommy Lee and Nikki Sixx on lead vocals for songs "Brandon" and "Rocketship" respectively. The album saw the band experimenting with more modern trends for the time, like electronic music, and alternative rock kind of style.
In a review, Jon Wiederhorn of Rolling Stone offered:
A violin-saturated love song like "Brandon" — which is about drummer Tommy Lee's son and features the ludicrous lyrics "Brandon, I love you; I love her; she is your mom" — may touch Pamela Anderson Lee. But the only tears that Motley Crue fans will shed are ones of loss.
18. Muse - The 2nd Law (2012)
It was the sixth album by Muse, and upon being released it got some positive critical reviews. However, fans got some mixed reactions because of dubstep elements. Gregory Heaney of AllMusic gave this description:
"While this certainly keeps with their tradition of always pushing their sound in new directions, their excursions into dubstep and dance music on tracks like "Madness" and "Follow Me" feel more like remixes than original songs. Songs like these definitely have the spine of Muse tracks, but the production that's built up around them feels almost alien."
17. Avenged Sevenfold - Hail to the King (2013)
"Hail to the King" by Avenged Sevenfold was actually pretty successful both critically and commercially, and even reached position no. 1 on the Billboard Top 200. But none the less, there were some mixed and negative reviews of it, even some accusations of ripping off Metallica's "Sad But True". Machine Head's Robb Flynn joked about the album for its similarities with Metallica, Guns N' Roses and Megadeth songs, even calling it "cover album".
16. In Flames - Siren Charms (2014)
In general, any album by In Flames after 2008's "A Sense Of Purpose" wasn't that good, but this one just really didn't sit well with the fans, as well as some critics. Experimenting is always good, but when you get too close to the mainstream style, true metal fans will not be satisfied…
15. Queen - Hot Space (1982)
Fans were not really happy with the album's dance-pop sound, and comment by LastHorizon kinda sums it up:
Even though it is a cool disco album and contains "Under Pressure", it is not on par with their other works.
14. Morbid Angel - Illud Divinum Insanus (2011)
User DissonantTimbre mentioned that "it's the St. Anger of death metal," and some critics actually compared it to the Metallica's album as well. And it's not far from the truth. Many fans felt disappointed with its industrial elements.
13. Black Sabbath - Forbidden (1995)
Jazz1992 explains:
"Even as a diehard fan of the Martin era I have to agree that album is dogshit."
Even Tony Martin disliked the album, with using the word "crap" to describe it. Although it had some interesting riffs and moments on it, overall it was a huge let down for the fans, with boring songs and rushed production and mixing. It also included kind of a forced rap verse by Ice-T on song "The Illusion Of Power".
However, a few years ago, Tony Iommi stated he liked the album, and that he would like to re-mix it.
12. Van Halen - Van Halen III (1998)
UG user turkeyjerky214 shared an interesting story:
"My uncle still talks about when he bought that CD, gave it one listen, then returned it to Blockbuster Music. The guy originally wasn't going to let him since it was opened, but the manager came over and was like "yeah, he can have his money back."
Well, your uncle had all the rights to demand his money back.
11. Iron Maiden – Virtual XI (1998)
The eleventh studio album by legendary Iron Maiden was second, and the last one to feature Blaze Bayley as the lead vocalist in the band. The album has some good tunes on it, like "The Clansman" or "Futureal", which even Dickinson performed when he came back to the band. However, critics and fans didn't respond to the record so well, and it is considered as one of their weakest albums.
10. Dream Theater - The Astonishing (2016)
"The Astonishing" is a concept album, with the idea initiated by John Petrucci, and the music written by Petrucci and Rudess. On top of that, composer Campbell helped the band with orchestrating the strings and choirs on the album. However, some fans just didn't like it, and KBI2113 offered:
"I've tried listening to it 4 times and barely managed to get through it once. I'm a huge DT fan, but this album was a dud in my opinion."
9. Bullet for My valentine - Temper Temper (2013)
Although some fans found music to be decent enough, the lyrics seem to have put the nail on this album's coffin. From the official UG review:
"It's hard to believe frontman Matt Tuck turned 33 this year because at times his lyrics read like the diary of a 13 year-old Pantera fan with ADHD."
Even the band wasn't satisfied with it:
"We got lazy - to be honest - on the last album. We just wanted to go back and enjoy playing music again."
8. Gorillaz - Humanz (2017)
A comment from our very own N-D describes it nicely:
"Comparing to their previous records it was pretty weak for me - only few good songs while other are sound more like fillers."
7. Suicide Silence - Suicide Silence (2017)
Suicide Silence's self-titled album enraged many of the fans for parting ways with the band's deathcore style, among other things the use of clean vocals. A review on Exclaim! reads:
On their self-titled fifth album, Suicide Silence sound like a garage band sloppily covering Korn and Deftones through a microphone they found in a dumpster.
Needless to say, the sales were horrible as well.
Here's a nice tutorial video on how to use this album the right way.
6. Korn - The Path of Totality (2011)
Even though all of their latest albums are not really looked well upon, this one was viewed as the worst one by many. Especially due to dubstep elements.
User Lemorick says:
I give kudos for that album for being a bit risky at the time. The backlash was huge but there are a few nice songs. It's still a meh album overall
5. Pantera - Metal Magic (1983)
First Pantera albums, as we all know, were pretty much different from the ones starting from "Cowboys From Hell" and onwards. The band's debut album, when compared to Pantera as we know it, is just another… Well, cheesy glam metal record. The cover art confirms that.
4. Megadeth - Super Collider (2013)
Another one which was suggested for this list was Megadeth's "Risk" from 1999, but "Super Collider" from 2013 made the cut with more votes. Music critics mostly responded negatively to Mustaine's lyrics and vocals. Whatever it may be, the first single and its music video sure helped this album get on the list.
3. Chris Cornell - Scream (2008)
Even some of the greatest music legends have some albums we find disappointing. As besnardmax says:
A pool of shame in an otherwise perfect career…
The style of the album just doesn't go well with Chris Cornell.
2. Linkin Park - One More Light (2017)
Is there anything to be said about this one that hasn't been said? Yeah, everything except Linkin Park's first two albums is not received well by many, but "One More Light"? There won't be any remarks on it in this article, in fear of Chester Bennington punching somebody.
1. Metallica - St. Anger (2003)
With "Lulu" also being mentioned as the album that should be on this list, that one was actually a collaboration between Metallica and Lou Reed. It was experimental, they always try to come up with something new, but barely anyone actually liked "Lulu".
However, talking about Metallica and bad albums, one cannot simply avoid their infamous 2003 effort by the name of "St. Anger." Yes it had a different approach, and was kind of their way of trying to experiment and change styles, but this one could have at least had a better sounding snare drum.
That's all folks! Feel free to post other bad albums from otherwise great bands in the comment section below. And we hope you enjoyed the top, stay tuned until next week for another WQ!