Friday Top: 25 Best Band Names
As voted by UG community.
david89zemun
Ultimate Guitar

david89zemun
UG writer. Huge Black Sabbath fan and agronomy enthusiast.
Posted Aug 04, 2017 03:53 PM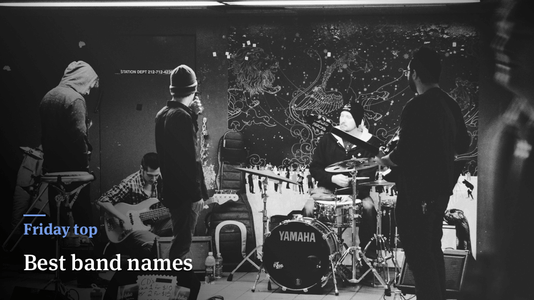 This week's traditional Wednesday Question saw the people of UG community discussing the matter of the greatest band name ever. Based on votes and more than 450 comments, we summed this one up into a Top 25 rundown.
And before kicking things off, the honorable mentions are:
System of a Down
Red Hot Chili Peppers
Meshuggah
Faith No More
Type O Negative
Deftones
Tenacious D
Marilyn Manson
Joy Division
Avenged Sevenfold
Animanls as Leaders
AC/DC
Pearl Jam
Oedipus Rex & the Motherfuckers
The The
A Perfect Circle
Megadeth
Motörhead
Sonic Youth
Sadgasm
The full rundown awaits below.
25. Nirvana
The well known band Nirvana was formed back in 1987 by Kurt Cobain and Krist Novoselic. Before starting Nirvana, Cobain formed some smaller bands with various names, one of them being Fecal Matter. Luckily, he later on found a more appropriate name for his band, and explained in 1992 (via cleveland.com):
"I wanted a name that was kind of beautiful or nice and pretty instead of a mean, raunchy punk name like the Angry Samoans."
24. Muse
Such a simple yet amazing and unique name for a band. UG user doive explained it quite well:
"Can't believe in 50 years of rock music no-one had come up with this one given it's so simple!"
The name of the band was suggested by Samuel Theoun, who was Matthew Bellamy's art teacher. Also, they really liked that it was short and that it would look nice on a poster. (via telegraph.co.uk)
23. Iron Maiden
Legendary British band Iron Maiden was formed in 1975 by bassist Steve Harris. As Harris stated, he got an idea for the name after watching "The Man in the Iron Mask" movie, and was reminded of the medieval torturing device.
22. King Crimson
Progressive rockers King Crimson were formed back in 1968, and the name was an idea of the band's early member and lyricist Peter Sinfield. He explained (via whynameitthat):
"The name King Crimson was mine. I wanted something like Led Zeppelin, something with a bit of power to it. Anything better than Giles, Giles, and Fripp. King Crimson had arrogance to it."
21. Nine Inch Nails
According to the band's mastermind Trent Reznor, the name Nine Inch Nails has no specific meaning, it just "abbreviated easily." Although there are some other interesting rumors, including the one which says that it represents the crucifixion of Jesus with nine-inch speakers.
And no Eferre, it's not a penis.
20. The Tony Danza Tapdance Extravaganza
"That's a name you won't soon forget," commented user Parthan. This catchy name is kind of unusual for a mathcore, grindcore, avant-garde metal band. The guys named their band after the actor Tony Danza. And it happened in their earlier days that some old ladies went to their shows expecting to see Tony Danza himself. Imagine their faces when they heard this...
19. Gojira
The French metallers were first named Godzilla, but then in 2001 changed to Gojira, which is actually the original pronunciation of the well known Japanese fictional monster.
18. Queens of the Stone Age
Josh Homme formed Queens of the Stone Age after leaving Kyuss. The band was first named Gamma Ray, but after the German power metal band of the same name threatened with legal action the name was changed to the one the band has today. Queens of the Stone Age was a nickname of Kyuss, given by their then producer Chriss Goss.
17. Pink Floyd
Legendary Pink Floyd was formed back in 1965 by Roger Waters, Nick Mason, Syd Barrett, and Richard Wright. They first called themselves Pink Floyd Sound, which was Barrett's idea. The name comes form two blues musicians Pink Anderson and Floyd Council.
16. Rammstein
Rammstein is quite a powerful sounding name. However, almost anything in German sounds powerful. The band originally called themselves Rammstein-Flugschau, after the Ramstein air show disaster which happened in 1988, and the extra "m" was actually a spelling mistake. Later on, as they became more popular, they denied that the name has anything to do with the disaster, and claimed that it's actually after giant doorstop-type devices on old gates, which are named Rammsteine. The literal translation of the name is "ramming stone."
15. The Rolling Stones
One spot in front of the Ramming Stones come in The Rolling Stones. According to Keith Richards, one of the founding members Brian Jones actually gave them the name during a phone call with "Jazz News" magazine. When asked for a band name, Jones just glanced at the Muddy Waters record on the floor, and one of the songs was named "Rollin' Stone." The rest is history.
14. The Be Sharps
Well, we need at least one fictional band to check out from time to time. The Be Sharps was formed by our beloved "Simpsons" characters Homer Simpson, Seymour Skinner, Apu Nahasapeemapetilon and Chief Wiggum. They were first mentioned in an episode titled "Homer's Barbershop Quartet." Here is how the show looks at The Grammys, taken from that particular episode:
13. Dream Theater
The band was formed in 1985 by the one and only Jon Petrucci, along with Jon Myung and Mike Portnoy. Their first name was Majesty, which they had to change because another band from Las Vegas had the same name. There were many ideas for their new name, and then Mike Portnoy's father proposed the name of the small theater in California, Dream Theater.
12. Butthole Surfers
On the band's first payed concert, the announcer couldn't remember their name and called them after one of their songs, "Butthole Surfer." After that, the official name Butthole Surfers stuck with them ever since.
11. The Who
After spending the whole night with his roomate, guitarist Pete Townshend suggested one of the names they came up with to Roger Daltrey. And Daltrey simply liked name The Who the most. Really simple and good sounding.
10. Led Zeppelin
One of the remarks that drummer Keith Moon made was that the potential new band with Jimmy Page and Jeff Beck would fly like a "lead balloon," implying that it would end badly. The letter "a" was removed so that people wouldn't pronounce the name as "leed," and instead of "balloon" they put the word "zeppelin." And thus the Led Zeppelin.
9. Alice in Chains
Before Alice In Chains, Layne Staley had his own glam metal band Alice N' Chains. During their short career they considered taking up Alice In Chains, but were worried of potential refferences to female bondage. After this band broke up, Staley, along with guitarist Jerry Cantrell, formed a band and they used the potential name of the singers previous band.
8. Audioslave
Audioslave was formed in 2001 by Chris Cornell, along with Rage Against the Machine's Tom Morello, Brad Wilk, and Tim Commerford. They originally considered the name Civilian, but it was already taken. However, according to Morello these were only rumors. The guitarist stated that this name simply came to Cornell. Even though there was already a band in England called Audioslave, Cornell and his new band bought the name from them for $30,000. Even though it is a simple and good sounding name, it received some negative critics, even calling it dumb.
7. Metallica
Lars Ulrich and his friend were comming up with the name back in the early 1980s for Lars' newly formed band. His friend suggested MetalMania and Metallica, and the latter one was chosen. According to a popular belief, the word "Metallica" itself didn't exist before the band. However, user rw24643 provided an interesting source on the matter. You can read more about that here.
6. Rage Against the Machine
The name comes from the song Zach de la Rocha written for his previous band Inside Out. Kent McClard, who was associated with this band, was the one to come up with the phrase "rage against the machine" in one of his articles.
5. King Gizzard & The Lizard Wizard
This one is a bit of a tongue twister. The Australian psychedelic rockers got together in 2010, and was originally formed as a jam band. The name came as a last minute solution. Stu Mackenzie wanted to name it Gizzard Gizzard, while another member had an idea to reference the nickname of the legendary The Doors vocalist Jim Morrison, by using his nickname Lizzard King. So they mashed it up and got King Gizzard and the Lizard Wizard.
4. Mastodon
UG user nadeau221094 explains Mastodon's name very well:
"I always felt Mastodon really captures the sound and essence of the band."
3. Soundgarden
The band was formed by Chris Cornell back in 1984, and the name was inspired by a wind channeling public art work located next to the Lake Washington in Seattle, WA. The piece of art is simply titled "A Sound Garden."
2. Black Sabbath
The legendary heavy metal pioneers Tony Iommi, Geezer Butler, Bill Ward and Ozzy Osbourne formed The Polka Tulk Blues Band, along with guitarist Jimmy Phillips and saxophonist Alan Clarke. The well known quartet later on played under the name Earth, but had to change it due to another band under the same name. At the time, Italian horror movie "I tre volti della paura" (The Three Faces of Fear) was shown in cinemas in Great Britain under the name "Black Sabbath." So one day Geezer made a remark about how people pay to see scary movies, so why wouldn't they pay to hear scary music? They soon came up with the song "Black Sabbath" which had a completely different musical and lyrical style than anything else they did before. So they changed the name of the band, and gave birth to heavy metal.
1. Anal Cunt
And at the top of this week's list, as voted by the UG community... Well, this one is not very polite. Anal Cunt, also known as A.C. and AxCx, is a grindcore band formed in 1988. Vocalist Seth Putnam just wanted to give his band the most offensive name possible. So he came up with Anal Cunt. Many of the band's lyrics were criticized for being offensive on so many levels. They were even accused of nazism, homophobia, misogyny and many other things. However, they were able to show their sensitive side on their 1998 album "Picnic Of Love."
In 2011 Putnam passed away and the band automatically ended.
That's all folks! Feel free to post more great band names in the comment section below. And we hope you enjoyed the top, stay tuned until next week for another WQ!