Friday Top: 25 Best Rock/Metal Songs With Saxophone
As voted by UG community.
N-D
Ultimate Guitar

N-D
UG editor. Music lover. Constant searcher of something interesting and unique.
Posted Jan 13, 2017 07:18 PM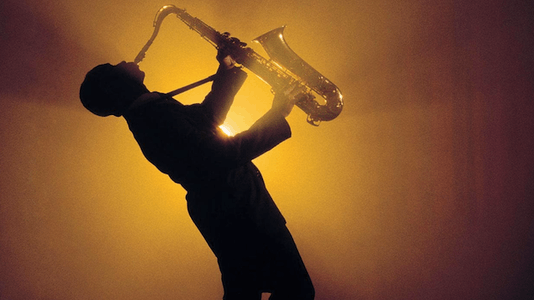 The very first Wednesday Question of 2017 saw the people of UG community discussing the greatest rock or metal songs to feature a saxophone. Based on your votes and almost 400 comments, we summed this one up to a traditional Top 25 rundown, make sure to check it out below.


Once again, the UG community showed its amazing taste in music, posting A LOT of great songs - huge respect! Before kicking things off, this week's honorable mentions are:
Foreigner - Urgent
The Faceless - Deconsecrate
David Bowie - Dollar Days
Kenny Loggins - Danger Zone
Electric Six - Danger! High Voltage
And here's the actual list!
25. Ihsahn - A Grave Inversed
The rundown commences with a rather metal-sounding saxophone in Ihsahn's "A Grave Inversed." In 2010, former Emperor mastermind released his third solo album called "After" - almost all tracks featured saxophone performed by Jørgen Munkeby from Shining.
Ihsahn commented:
"The reason I wanted to do the saxophone was because it was an old idea. I always liked the sound of the saxophone - it's a very solitary instrument. It's also in context with having guest soloists on the previous two albums in the form of vocals, Garm from Ulver and Mikael [Åkerfeldt] from Opeth. I wanted to follow that tradition, but in the concept of the album I didn't want it to be a voice with words. That's why I dug up the old saxophone idea... I think, or at least I hope, it will add to that more epic, open, solitary feeling of 'After.' With Jurgen Munkeby playing it, I definitely think that worked. There was a risk that the saxophone would just be lying on top, almost like a shock effect. That's really not what I was going for. I really wanted it to blend in a similar way as the orchestral strings and brass sections from the past."
24. M83 - Midnight City
Next we're walking on a thin line, but you decided that M83 are "rock" enough to be on the list with their famous tune "Midnight City." The song ends with a saxophone solo played by Fitz and The Tantrums' James King. Commenting on the sax piece, M83's Anthony Gonzalez said: "Sometimes a song needs an element to be finished. You know that this element has been overused in the past and is considered cliched or cheesy, but the song needs it."
23. Mr. Bungle - Carousel
Mr. Bungle are always known for their almost schizophrenic blend of musical styles, including ska, circus music, heavy metal, free jazz, funk, etc. So it's not a surprise that the band's lineup featured 2 saxophonists (Clinton "Bär" McKinnon on tenor saxophone and Theo Lengyel on alto and baritone saxophones), who added even more bizarre atmosphere to the band's music.
22. Aerosmith - Same Old Song and Dance
The lead single of Aerosmith's second studio album, "Same Old Song and Dance," features not one, but two sax players: Stan Bronstein (baritone saxophone) and Michael Brecker (tenor saxophone). It also features a trombone played by Jon Pearson and a trumpet by Randy Brecker.
21. Avenged Sevenfold - A Little Piece of Heaven
"A Little Piece of Heaven" is perharps one of the most complex songs in the A7X opus, featuring strings and horns sections. Among all the guest musicians, 5 saxophonists can be found: Brandon Fields, Bill Liston, Joel Peskin, Dave Boruff and Rusty Higgins.
20. Shining - Last Day
Norway's Shining are one of the most well-known modern bands to feature a sax player. These guys are playing their own unique blend of black metal, industrial and avant-garde jazz they describe as "blackjazz." Shining leader and mastermind Jørgen Munkeby is also known as a session saxophonist for different musicians, including Emperor's Ihsahn and Devin Townsend. "Last Day" is well-known because of its live video, which shows Shining performing on a narrow Norwegian mountain ledge called "Trolltunga," 700m (2,300 ft) above the ground.
19. The Rolling Stones - Brown Sugar
Often ranked as one of the greatest guitar songs of all time, "Brown Sugar" is the lead single from The Rolling Stones' 1971 album "Sticky Fingers." It features a distinctive sax playing by Bobby Keys, who also recorded with Lynyrd Skynyrd, George Harrison, Eric Clapton, Joe Cocker, and many more.
18. The Doors - Touch Me
"Touch Me" was release on The Doors' staple album "The Soft Parade." Written by Robby Krieger, the tune is notable for its extensive usage of brass and string instruments, including a solo by Curtis Amy.
17. George Thorogood & The Destroyers - Bad to the Bone
Apart from the meanest guitar riff of all time, George Thorogood & The Destroyers' "Bad to the Bone" also features a mean sax solo from Hank Carter.
16. Radiohead - The National Anthem
On the verge of a breakdown after the massive success of "OK Computer," "Kid A" saw Radiohead radically changing their direction, replacing rock sound with synthesisers, drum machines, a thing called ondes Martenot, string orchestras and brass instruments, as well as incorporating influences from genres such as electronic music, krautrock, jazz, and 20th-century classical music.
Among all that stuff, "The National Anthem" track features a free jazz-style wind section including trumpet, trombone, bass trombone and as much as 5 saxophone players: Andy Hamilton, Steve Hamilton, Stan Harrison, Martin Hathaway and Mark Lockheart.
15. Soundgarden - Room a Thousand Years Wide
"Room a Thousand Years Wide" comes off Soundgarden's staple release "Badmotorfinger." The song is also known for its trumpet part performed by Ernst Long, and of course the signature sax solo by Scott Granlund.
14. Supertramp - The Logical Song
Another hit song on the list - Supertramp and "The Logical Song." Being the band's most recognizable tune, the tune is also known for its saxophone parts, performed by the band's woodwind player/keyboardist John Helliwell.
13. Thin Lizzy - Dancing in the Moonlight (It's Caught Me in Its Spotlight)
And next on the list is... John Helliwell - this time performing for Thin Lizzy on the "Dancing in the Moonlight" tracj off the band's 1977 album "Bad Reputation."
12. Porcupine Tree - Don't Hate Me
"Don't Hate Me" was released on Porcupine Tree's fifth album "Stupid Dream" - and it features a flute and saxophone part played by Theo Travis, a distinguished musician from Mr. Wilson's band who's also worked with such icons as Robert Fripp, David Gilmour, Gong, Dave and Richard Sinclair, David Sylvian and many others.
11. Mad Season - Long Gone Day
Seattle grunge supergroup Mad Season are next on the list with "Long Gone Day." The sax bit in the song is performed by Eric "Skerik" Walton, who was credited on the album as "Nalgas Sin Carne."
10. The Edgar Winter Group - Frankenstein
"Frankenstein" is an instrumental song by The Edgar Winter Group from their album "They Only Come Out at Night." The band's leader Edgar Winter played many of the instruments on the track, including keyboards, timbales and, of course, saxophone.
The song's title, coined by the band's drummer Chuck Ruff, derives from the fact that the original recording of the song was much longer than the final version, as the band would often deviate from the arrangement into less structured jams. The track required numerous edits to shorten it. The end result was pieced together from many sections of recording tape using a razor blade and splicing tape. Winter frequently refers to the appropriateness of the name also in relation to its "monster-like, lumbering beat."
9. Incubus - Summer Romance (Anti-Gravity Love Song)
Up next - the year is 1997, the album is  "S.C.I.E.N.C.E.", the song is "Summer Romance (Anti-Gravity Love Song)", and the band is of course Incubus. Among other things, the record's eclectic mix features a quite unexpected saxophone solo at the end of the tune, performed by Mr. Jeremy Wasser.
8. Dire Straits - Your Latest Trick
"Your Latest Trick" by Dire Straits is up next. The saxophone intro and solo are played by Michael Brecker, while the live version features Chris White.
Fun fact: the saxophone intro is widely used when people are trying out saxophones at music shops, it's kinda the "Stairway to Heaven" or "Sweet Child O' Mine" or "Smoke on the Water" of the Sax Center or whatever those stores are called.
7. TesseracT - Calabi Yau
British progressive metallers TesseracT are next on the list with "Calabi Yau" from the "Altered States" album. The track features a saxophone part played by Chris Barretto, also known for his work for Periphery, Monuments, Ever Forthright and The HAARP Machine.
6. Bruce Springsteen - Born to Run
The title song from Bruce Springsteen's album "Born to Run" coming up next at No. 6 featuring the one and only Clarence Clemons.
5. Bob Seger - Turn the Page
"Turn the Page" was originally released by Bob Seger in 1973 on his "Back in '72" album. Though never released as a single, Seger's live version of the song on the 1976 "Live Bullet" album became a staple tune of album-oriented rock radio stations. Both Seger's studio and live versions of "Turn the Page" feature a saxophone part played by founding Silver Bullet member Alto Reed. Reed has also performed with many bands and musicians, such as Grand Funk Railroad, The Blues Brothers, The Ventures, George Thorogood, etc.
4. Dream Theater - Another Day
"Another Day," the fourth single from Dream Theater's 1992 album "Images and Words," brings us a step away from the Big 3 with a mighty sax solo by Jay Beckenstein from the fusion band Spyro Gyra.
3. Gerry Rafferty - Baker Street
The bronze goes to Mr. Gerry Rafferty "Baker Street," with its prominent eight-bar saxophone riff played as a break between verses. Performed by Raphael Ravenscroft, the saxophone part led to what became known as "the 'Baker Street' phenomenon," a resurgence in the sales of saxophones and their use in mainstream pop music and television advertising.
Funnily enough, Ravenscroft thought the solo was out of tune. Asked during a live radio interview on BBC Radio London, "What do you think when you hear [the sax solo] now?" Ravenscroft replied, "I'm irritated because it's out of tune; yeah it's flat; by enough of a degree that it irritates me at best," and admitted he was "gutted" when he heard it played back. He added that he had not been able to re-record the take, as he was not involved when the song was mixed. The sax track sounds to be about 11 cents flat from standard tuning.
2. King Crimson - 21st Century Schizoid Man
The second place is taken by the mighty King Crimson and their "21st Century Schizoid Man." The saxophone part is played by the band's founding member Ian McDonald. McDonald is also known for his work with Foreigner as well as a session musician for many rock bands.
1. Pink Floyd - Shine on You Crazy Diamond
And the gold is taken by the almighty Pink Floyd! Many Floyd tunes with sax parts have also gathered a lot of votes, but the one that grabbed the prize is "Shine on You Crazy Diamond." The song was conceived and written as a tribute and remembrance to the band's original vocalist Syd Barrett. It was intended to be a side-long composition, but was ultimately split into two sections (Parts I–V and Parts VI–IX) and used to bookend the album.
And "Part V" of the song features a baritone saxophone played by Dick Parry, which changes from a baritone to a tenor saxophone during a song.
0. George Michael - Careless Whisper
Wrapping things up, we have a special nomination here - as lifeinshambles put it: "Calling it a rock song is a judgement call, still an honorable mention!"
"Careless Whisper" is first solo single of George Michael, featuring an iconic saxophone line played by Steve Gregory, also known for his work for Screamin' Jay Hawkins, Fleetwood Mac, The Rolling Stones, etc.
Rest in piece, George.
That's all folks; we hope you enjoyed the top, stay tuned until next week for another WQ!