Friday Top: 25 Best Slow Guitar Solos Ever
As voted by UG community.
N-D
Ultimate Guitar

N-D
UG editor. Music lover. Constant searcher of something interesting and unique.
Posted Feb 03, 2017 09:37 PM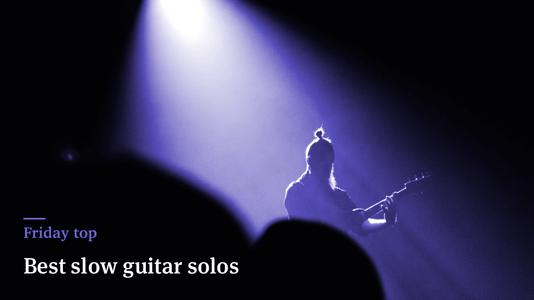 This week's traditional Wednesday Question saw the people of UG community discussing the matter of greatest slow guitar solos of all time. Based on your votes and more than 300 comments, we summed this one up to a traditional Top 25 rundown, make sure to check it out below.
Before kicking things off, this week's honorable mentions are:
The Beatles - While My Guitar Gently Weeps
Rainbow - Catch the Rainbow
Mastodon - The Hunter
Jeff Beck - Cause We've Ended as Lovers
Queens of the Stone Age - Make It Wit Chu
Let's start the list!
25. Carlos Santana - Samba Pa Ti
Kicking things off is a "Samba Pa Ti" by guitar master Santana. This great instrumental was released back in 1970 on Carlos' classic album "Abraxas."
24. System of a Down - Psycho
"Psycho" by System of a Down is often referred to as Daron Malakian's best guitar work - and mainly because of the song solo. SOAD's infamous live performance at Big Day Out 2002 festival shows a lot of passion from Malakian playing his guitar during this song.
23. Genesis - Firth of Fifth
Progressive rock masterpiece "Firth of Fifth" has become a favourite among Genesis fans - and firstly because of Steve Hackett's outstanding guitar solo. Check out it on 5:47.
22. Audioslave - Getaway Car
Up next is "Getaway Car" from Audioslave's self-titled debut. Tom Morello, known for his signature effects-driven guitar work in Rage Again the Machine showed his other side with this amazing solo, which kicks in at 3:03.
21. Alter Bridge - Blackbird
Alter Bridge's "Blackbird" actually features two back-to-back guitar solos, which are respectively played by vocalist and guitarist Myles Kennedy and lead guitarist Mark Tremonti, and collectively it very often praised as one of the greatest guitar solo of all time. Myles Kennedy's first solo starts at 4:37.
20. Portishead - Glory Box
Not so usual for guitar-driven lists, next are Portishead with their classic trip-hop track "Glory Box." Guitar solo by Adrian Utley starts at 2:07.
19. Nirvana - Sappy
And next on the list is "Sappy" by Nirvana. Though never released on any official album, it features one of the most emotional guitar solo by Kurt Cobain. It starts at 1:40.
Note: the song is often confused with Nirvana's "Verse Chorus Verse," which is actually is just another song. "Sappy"'s working title was originally "Verse Chorus Verse," but then it was changed to "Sappy," and later Kurt wrote ANOTHER song under the name "Verse Chorus Verse."
18. Tool - Jambi
Tool's "Jambi" lands at no. 18. The guitar solo's sound was reached by Adam Jones' using of a talk box effect during his playing. Solo kicks in at 4:09.
17. Soundgarden - Blow Up the Outside World
And next is Soundgarden's "Blow Up the Outside World". Kim Thayil commented on the song's guitar solo: "A blues-type thing, exactly. And after I recorded it, the rest of the band loved it, and the assistant engineer loved it, but I kept feeling like it was too stiff. I was using a Tele with .011's. I was listening to it, going, 'You know, it doesn't have my trademark finger vibrato,' like you can hear on 'Ultramega OK' and 'Badmotorfinger.' I wasn't quite satisfied with it, but because everyone else really enjoyed it, eventually I let it go...I finally had to relax and trust the guys that it was cool." Actual solo starts at 3:09.
16. Prince - Purple Rain
Performed by Prince and The Revolution, "Purple Rain" shows real talent of Prince as a composer and as an outstanding guitar player. It's also often praised as the Prince's best guitar solo.
15. Scorpions - Still Loving You
Classic Scorpions ballad "Still Loving You" lands at no. 15. In most Scorpions songs, guitar solos are performed by lead guitarist Matthias Jabs and rhythm guitars are performed by Rudolf Schenker, but "Still Loving You" is one of the notable exceptions and features trademark solo playing by Schenker.
14. Frank Zappa - Watermelon in Easter Hay
"Watermelon in Easter Hay," which became known as one of Frank Zappa's signature songs after he died, includes one of the greatest solos by Frank. The songs' title is thought to have come from a saying used by Zappa while recording the album: "Playing a guitar solo with this band is like trying to grow watermelon in Easter hay."
Also, solo for "Watermelon in Easter Hay" is the only guitar solo recorded for the "Joe's Garage" album - every other guitar solo on the album was "xenochronous." Xenochrony is a studio-based musical technique developed by Zappa, which executed by extracting a guitar solo or other musical part from its original context and placing it into a completely different song, in order to create an unexpected but pleasing effect. He said that this was the only way to achieve some rhythms.
13. Red Hot Chili Peppers - Californication
Classic hit by RHCP, "Californication" is this week's Lucky 13. John Frusciante's signature guitar solo starts at 3:22.
12. Steven Wilson - Drive Home
Steven Wilson and "Drive Home" are next on the list. And the solo on this tune was played by no other than Guthrie Govan, who did this solo in one take, no rehearsal, on a guitar (custom made "jazzmaster" type guitar with a sustainiac) that had been delivered to the studio for Steven the same day.
After Steven received the guitar in studio Guthrie ask if he could test it out to see if it was any good, when it came time to record "Drive Home" Guthrie ultimately decided he wanted to try tracking the song with that custom guitar a couple times and if it turned out crappy he'd switch back to his standard guitar.
As the solo was recorded in one take, towards the end you can hear a bend where the E-string popped out of the nut and you can hear it on the album - as well as some of the subsequent bends and notes choking out slightly. In studio Steven Wilson and Guthrie tried to retake the track, but afterwards Steven Wilson decided that the original take of the solo had the perfect feel and emotion, so he kept it.
Guthrie Govan commented on the solo: "I'm sure I could have recorded a more 'perfect'-sounding solo by piecing something together in the studio, one lick at a time, but with that approach you always seem to sacrifice something in terms of the overall flow. I think the 'stream of consciousness' type of solo really needs to be improvised in one take, in real time, otherwise the finished product will somehow lack a coherent 'narrative arc.'" The actual solo starts at 5:08.
11. Funkadelic - Maggot Brain
"Maggot Brain" is one of the most recognizable tunes by Funkadelic, especially because of its solo. According to legend, the band's mastermind George Clinton, under the influence of LSD, told guitarist Eddie Hazel during the recording session to imagine he had been told his mother was dead, but then learned that it was not true. The result was the 10-minute guitar solo, recorded in one take. Though several other musicians began the track playing, Clinton soon realized how powerful Hazel's solo was and faded them out so that the focus would be on Hazel's guitar. Critics have described the solo as "lengthy, mind-melting" and "an emotional apocalypse of sound."
10. Pantera - Floods
Kicking off the top 10, Pantera's "Floods" features one of Dimebag Darrell's most popular solos. Originally this solo was just a riff written by Dimebag in the late 1980s. It starts at 3:50.
Dime commented on the solo: "That particular solo was thought-out in a more orchestrated fashion than some of the others I play where I just start ripping right off the bat. The thing that really makes the 'Floods' solo come across like it does is [bassist] Rex's playing behind it. He's using his fingers and he plays a whole bunch of cool licks and shit in there. He definitely adds to the vibe and feel of my lead because I'm playing off his part a lot - it was a great foundation for me to build on, man."
9. Metallica - The Unforgiven
A classic piece from Metallica's "Black Album," "The Unforgiven" is next. And the tune's solo is considered by many to be one of Kirk Hammett's finest. Check out it at 3:25.
Kirk commented: "I enjoy playing the solo on 'The Unforgiven' because it's such a dynamic solo. And a lot of times live, I'll change around my guitar solo because I end up not liking what I recorded, or I get bored with what was recorded - or I just want to play something completely different. But with 'The Unforgiven,' as a guitar solo it has changed very little over the years. It's probably one of the only guitar solos that I play just like the album."
8. Dire Straits - Brothers in Arms
Dire Straits' "Brothers in Arms," originally written in 1982, the year of the Falklands War, is next. There are two studio recorded versions of this song: the album version which is 6:55 minutes, and the shorter version which is 6:05 minutes and features slightly different (and shorter) solos at the beginning and end of the song. Mark Knopfler recorded and usually played the iconic solo on a Gibson Les Paul Standard guitar, rather than his usual Schecter "Stratocaster."
7. B.B. King - The Thrill Is Gone
"The Thrill Is Gone" was originally written by West Coast blues musician Roy Hawkins and Rick Darnell in 1951. But B.B. King's version of the song, recorded in 1969, became a real major hit, especially because of King's signature guitar playing.
6. Pearl Jam - Yellow Ledbetter
Originally an outtake from Pearl Jam's debut album, "Ten," "Yellow Ledbetter" is one of the first songs Pearl Jam wrote as a group. Mike McCready plays his Stratocaster on the track in the style of Jimi Hendrix, using the guitar's whammy bar during the solo, bending notes to create a vacuum-like sound. The solo starts at 1:49.
5. Led Zeppelin - Since I've Been Loving You
Timeless Led Zeppelin piece "Since I've Been Loving You" was one of the first songs prepared for the "Led Zeppelin III" album, recorded live in the studio with very little overdubbing. Jimmy Page's famous solo was recorded in one take in a studio in Memphis, whereas the whole album was recorded in Headley Grange and in Island Studios.
4. The Jimi Hendrix Experience - Little Wing
"Little Wing" was written by Jimi Hendrix and recorded by The Jimi Hendrix Experience in 1967. The song has become one of Hendrix's most popular songs and a standard, showing Hendrix's amazing guitar skills.
3. Alice in Chains - Nutshell
Alice in Chains are taking the bronze with "Nutshell." Although never released as a single, it is still today one of the band's best-known songs, and Jerry Cantrell guitar work along with the trademark solo made this this even more deep and emotional.
2. Guns N' Roses - November Rain
Guns N' Roses and "November Rain" take the silver medal this week. Written by Axl Rose, the song became one of the biggest hits for GN'R, being also one of their longest songs. And according to Slash, the solo he played in the album version of the song was the same solo he played to the song when he heard it for the first time. The piece takes place around 4:11.
1. Pink Floyd - Comfortably Numb
And Pink Floyd took the throne this time! To quote ErnestoFidel, "You could do a Top 10 with Gilmour solos exclusively," but it's "Comfortably Numb" you voted for. The song is one of Pink Floyd's most famous, and is renowned especially for its two guitar solos by David Gilmour in the middle and at the end of the song, which bothe are often cited as one of the greatest guitar solos ever.
That's all folks; we hope you enjoyed the top, stay tuned until next week for another WQ!