Friday Top: 25 Best Songs for Vacation
As voted by UG community.
david89zemun
Ultimate Guitar

david89zemun
UG writer. Huge Black Sabbath fan and agronomy enthusiast.
Posted Jul 21, 2017 05:47 PM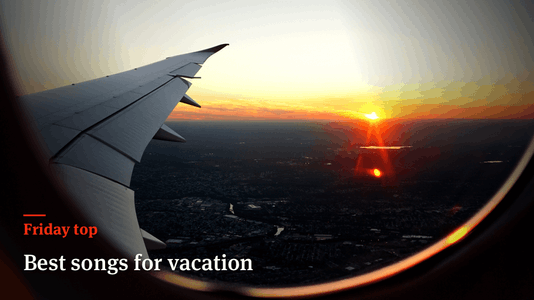 This week's traditional Wednesday Question saw the people of UG community discussing the matter of the greatest songs for a vacation.Based on votes and more than 150 comments, we summed this one up into a Top 25 rundown.
Before kicking things off, the honorable mentions are:
Alice Cooper - School's Out
Crazy Town - Revolving Door
Dick Dale & His Del-Tones - Misirlou
Don Henley - The Boys of Summer
Jerry Reed - East Bound and Down
Canned Heat - Going up the Country
Eddie Cochran - Summertime Blues
No Doubt - Hey Baby
Santo & Johnny - Sleep Walk
The full rundown awaits below.
25. Kid Rock - All Summer Long
Yeah, it is basically a cover of Lynyrd Skynyrd's classic "Sweet Home Alabama", but this one just can't be avoided on the list of the best vacation songs. It just has that summer break taste going with it. Gets you back into that careless highschool mode right away.
24. The Go-Go's - Vacation
Comes from the album of the same title, released at the right time, right at the beginning of the summer of 1982. The video sums up the feel of this song. "Vacation" is one of the highest charting singles by The Go-Go's.
23. Cypress Hill - Tequila Sunrise
One of the perfect songs to watch the sunrise after those long (and drunk) summer nights. Or perhaps for those who want to get up really early in the morning during summer vacations, but those are quite rare.
22. The Ventures - Wipe Out
"Wipe Out" was originally recorded by The Surfaris and has appeared in many movies and TV shows throughout the decades. Many cover versions have emerged ever since it came out in 1963, with one of the most popular being by The Ventures. The classic surf song with that basic 12 bar blues structure we all love.
21. Fun Lovin' Criminals - Love Unlimited
"Love Unlimited" comes from Fun Lovin' Criminals' 1988 album "100% Colombian" and is their tribute to Barry White. As our own N-D explains:
"Their funky sound is sooo great - and this song will give you smooth mood!"
20. Otis Redding - (Sittin' on) The Dock of the Bay
The Otis Reddings' "(Sittin' on) The Dock of the Bay" was released after he died in a plane crash back in December of 1967. It was the first posthumous single ever to reach the top position on US charts. Otis began writing the song in the summer of 1967 while sitting on a houseboat in California.
19. Bob Marley & The Wailers - Stir It Up
"Stir It Up" was first recorded in 1967 by Marley and his band The Wailers, and it came out originally as a single. It was re-recorded and released again on 1973's "Catch A Fire" album. It is not a real vacation if it goes without a reggae song...
18. Sublime - 40 Oz. to Freedom
"40oz. to Freedom" is the title track of Sublime's 1992 debut album. Besides being a laid back sounding song, it has that verse that goes "And I know that oh, I'm not comin' back," which somehow always goes through our minds while going on a vacation.
17. Palms - Tropics
This song comes from the self titled debut album by Palms, the rock band featuring Chino Moreno of Deftones and members of ISIS. ISIS the band that is, not those other guys.
16. Queens of the Stone Age - Feel Good Hit of the Summer
It is the opening track of QOTSA's "Rated R" album. "Feel Good Hit of the Summer" was created during Josh Homme's three day long Millenium party, and the theme of the song (pretty much what is expected to come out of such a long celebration) revolves around drugs.
15. The B-52's - Rock Lobster
"Rock Lobster" by The B-52's totally has that 70s going into the 80s kind of feel to it, and is the band's first single and a well known hit. The song pretty much has lyrics about a beach party, but they kind of make no real sense, like this part:
"There goes a dogfish, chased by a catfish, in flew a sea robin, watch out for that piranha, there goes a narwhal, here comes a bikini whale!"
14. Sum 41 - Fat Lip
"Fat Lip" is one of Sum 41's most popular songs, and was the first single to be released from the band's "All Killer No Filler" album from 2001. The lyrics are about partying, growing up in the suburbs, and hanging out with friends and causing some trouble. It's what we all did during those long summer breaks.
13. Lindsey Buckingham - Holiday Road
And what other song to be featured on the best vacation songs than the one that was included in soundtracks of movies such as "Vacation" from 2015 and "National Lampoon's European Vacation" from 1985. "Holiday Road" by Lindsey Buckingham's was released as a single in 1983.
12. Smash Mouth - All Star
"All Star" didn't make the list for the 10 Famous Songs That Became Memes, but this time you get to see it on 25 Best Songs for Vacation. It is one the catchiest and most cheerful songs we can hear, and it became widely popular as a soundtrack in "Shrek" franchise.
11. Steppenwolf - Born to be Wild
The obvious choice. Riding your motorcycle in the middle of nowhere (or a convertible, maybe a safer choice), clear blue sky, wind in your hair, and not a single care in the world.
10. Incubus - Drive
This mellow and predoninantly acoustic song was released in 2000 as a single from Incubus' "Make Yourself" album. Lead singer Brandon Boyd explains the lyrics as being about fear, and how all of our decisions in life come from it.
9. Lenny Kravitz - Fly Away
The song was released in 1998 and was an instant success. It's still one of his most popular songs and definitely a symbol of running away from an everyday hustle and bustle and tedious work. One can just imagine an open road on the way to the seaside while listening to "Fly Away."
8. The Beach Boys - Kokomo
A plain old simple song about two lovers on their way to an island off the Florida Keys, named Kokomo. What else do you need than this:
"Bodies in the sand, tropical drink melting in your hand
We'll be falling in love to the rhythm of a steel drum band
Down in Kokomo"
7. The Mamas & The Papas - California Dreamin'
"California Dreamin'" was originally recorded by Barry McGuire, but the most popular version is by The Mamas & The Papas. It was written when John Phillips heard the song in his dream, and then woke up his wife Michelle so she could help him write it (songfacts.com).
6. Red Hot Chili Peppers - Scar Tissue
The song comes from one of the RHCP's critically acclaimed album "Californication." The mellow Frusciante's riff makes "Scar Tissue" one of the band's most popular songs.
5. Van Halen - Panama
Van Halen song "Panama", even though it has some suggestive lyrics, was written about a car David Lee Roth saw in Las Vegas. It is one of their absolute classics.
4. Weezer - Island in the Sun
Weezer's "Island in the Sun" comes from their 2001 self-titled album, and was one of their most successful songs. Giving a glance at the lyrics justifies this track's position on the list:
On an island in the sun
We'll be playing and having fun
And it makes me feel so fine
I can't control my brain
3. 311 - Amber
As the UG user Absolute Rock-O puts it:
"Any song from any 311 record.
Period."
Well, we can't really have all of them on the list, so "Amber" will do just fine.
2. SpongeBob SquarePants OST
And on the second place of this list comes not just one song, but the entire soundtrack for the SpongeBob SquarePants. The music of the show features some amazing Hawaiian and surf music. Musical editor and main composer Nicolas Carr describes the style (cartoonician.com) as "Hawaiian music à la Roy Smeck meets Pee-wee Herman."
1. Mr. Bungle - Sweet Charity
This one is the first track from Mr. Bungle's 1999 album "California", which incorporated various musical styles (not really unusual for Mike Patton to do) including Hawaiian music, doo-wop, and surf rock, a lot of which can be heard in "Sweet Charity." A perfect choice voted by the UG community.
That's all folks! Feel free to post other great songs for a vacation in the comment section below. And we hope you enjoyed the top, stay tuned until next week for another WQ!