Friday Top: 25 Best Songs With Guitar Duels
As voted by UG community.
N-D
Ultimate Guitar

N-D
UG editor. Music lover. Constant searcher of something interesting and unique.
Posted Mar 11, 2017 12:14 AM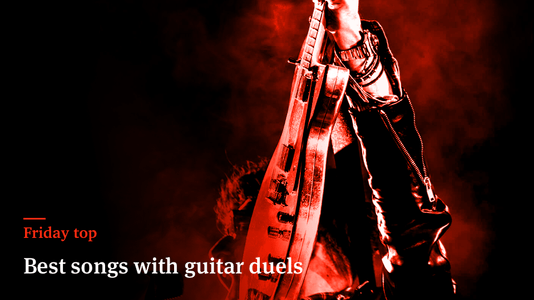 This week's traditional Wednesday Question saw the people of UG community discussing the matter of songs with greatest guitar duels ever. Based on your votes and almost 200 comments, we summed this one up to traditional Top 25 rundown.
Before kicking things off, the honorable mentions are:
Steve Vai - "Crossroads" guitar duel [actually Steve duelling with himself]
Eric Weissberg and Steve Mandell - Dueling Banjos [guitar/banjo duel]
Mr. Big - Addicted to That Rush [guitar/bass duel]
The Charlie Daniels Band - The Devil Went Down to Georgia [guitar/violin duel]
And here's the list!
25. Death - Voice of the Soul
This emotional masterpiece doesn't need any lyrics to feel how deep it is. "Voice of the Soul" show real genius of Chuck Schuldiner, backed by Shannon Hamm.
24. Sinergy - Midnight Madness
"Midnight Madness," this song by Synergy features two great guitarists, also known from their other band Children of Bodom - Alexi Laiho and Roope Latvala.
23. Alice Cooper - Feed My Frankenstein
Alice Cooper's "Feed My Frankenstein" was co-written with Mark Manning, whose band, Zodiac Mindwarp and the Love Reaction, recorded the original version in their 1991 album "Hoodlum Thunder." The track includes guest appearences from Elvira (portraed by Cassandra Peterson), Nikki Sixx on bass, and guitar masters Joe Satriani and Steve Vai, who show their skills in their guitar duel.
22. KISS - Detroit Rock City
Written by Paul Stanley and Bob Ezrin, "Detroit Rock City" has a really sad backstory - it's about a real KISS fan who was killed in a car accident on his way to the band's concert. And this trubute inludes Ace Frehley and Paul Stanley playing their epic duel.
21. Trivium - A Gunshot to the Head of Trepidation
Written by Matt Heafy and Corey Beaulieu, both of whom perform vocals and guitars on the track, Trivium's "A Gunshot to the Head of Trepidation" is often cited as one of the band's most popular songs and features great playing both by Matt and Corey.
20. Boston - Hitch a Ride
Taken from the band's debut, "Hitch a Ride" features perhaps one of the great guitar solos ever, performed by Tom Scholz and backed by Barry Goudreau and Brad Delp.
19. April Wine - Roller
Great upbeat classic from Canadians April Wine, "Roller" includes a massive duel between 3 guitars, performed by Myles Goodwyn, Brian Greenway and Gary Moffet.
18. Roadrunner United - In the Fire
Roadrunner United was a heavy metal all-star project organized by Roadrunner Records to celebrate its 25th anniversary, featurung And the track "In the Fire" includes 56 artists from 45 bands. And "In the Fire" includes King Diamond on vocals, Mike D'Antonio (Killswitch Engage) on bass, Dave Chavarri (M.O.D., Ill Niño, Pro-Pain) and Trivium's Matt Heafy and Corey Beaulieu, performing their amazing solo parts.
17. Slayer - Dead Skin Mask
One of the darkest songs from "Seasons in the Abyss," "Dead Skin Mask" features Kerry King and Jeff Hanneman showing their best.
16. The Allman Brothers Band - Whipping Post
First appeared on The Allman Brothers Band's 1969 self-titled debut, "Whipping Post" only manifested itself in concert, when it was the basis for much longer and more intense performances. This was captured in the band's classic 1971 double live album "At Fillmore East" with a 22-minute rendition of the song. Guitar parts on both versions were performed by Duane Allman and Dickey Betts.
15. Judas Priest - Ram It Down
Released as a single in 1988, this fast classic by the Priest features natable dual guitar solo by Glenn Tipton and KK Downing.
14. Nevermore - The Psalm of Lydia
Fast and progressive, "The Psalm of Lydia" off Nevermore's "This Godless Endeavor" album shows amazing talents of Jeff Loomis, paired with Steve Smyth.


13. The Beatles - The End
"The End" was the last song recorded collectively by all four Beatles. All of The Beatles members have a solo in "The End," including a Ringo Starr drum solo. Starr disliked solos; he preferred to cater drumwork to whoever sang in a particular performance. The take in which he performed the solo originally had guitar and tambourine accompaniment, but other instruments were muted during mixing giving the effect of a drum solo.
12. Machine Head - Halo
Being the third single from the Machine Head's album "The Blackening," "Halo" is the only song on the album to be written by all four band members. And Robb Flynn and Phil Demmel show their best on this track.
11. Alter Bridge - Blackbird
At nearly eight minutes long, "Blackbird" is the Alter Bridge's longest song to date. And the track's iconic guitar solo, which is performed by both Myles Kennedy and Mark Tremonti, already took its place in many lists of the greatest guitar solos of all time.


10. Iron Maiden - The Trooper
This song and that duel between Adrian Smith and Dave Murray are so good we made a complete guide to it!
9. Avenged Sevenfold - Bat Country
Dueling solos like this Synyster Gates and Zacky Vengeance is the reason why so many people listen to A7X. This song is based on a book called "Fear And Loathing In Las Vegas" by Hunter S. Thompson.
8. DragonForce - Through the Fire and Flames
The song features a very rapid dual-guitar solo by Herman Li and Sam Totman. During the recording of the song, guitarist Herman Li snapped one of his guitar strings. Despite this, the band decided to keep this recording and left it on the final album version.
7. Coheed and Cambria - Welcome Home
Everyone knows this one song, even if they don't know the band. This song's scorching lyrics and battling guitar solo by Claudio Sanchez and Travis Stever are timeless.
6. Thin Lizzy - Emerald
"Emerald" sends the Jailbreak album off on a high note with a thoroughly satisfying extended guitar duel between Brian Robertson and Scott Gorham. Gorham later recalled during an interview with Songfacts: "It's got the real sort of Irish-y feel in it. Brian Robertson and I, we came up with the harmony guitars in there. But the main riff came straight out of It's a song about ancient times in ancient Ireland, talking about the warring clans and all that."
5. Cacophony - Concerto
Jason Becker and Marty Friedman almost outperform themselves in this one. It's a straightforward nod to classical music with a lot of distortion and a speed metal backdrop, sounding almost like an answer to Malmsteen's "Far Beyond the Sun" minus the symmetrical songwriting.
4. Dethklok - The Duel
How do you know if the guitar Duel is gonna be good? The answer is when it's played by Dethklok and the song is titled Duel! Brendon Small and Mike Keneally ahem... We mean Skwisgaar and Toki really show off their skills here. The scene shows the two characters ascending through an ethereal realm and taking on alternate forms. Skwisgaar continues to test Toki's abilities until Toki finally cracks under the pressure. The outcome convinces the rest of Dethklok to let Skwisgaar be their sole guitarist, however, Skwisgaar changes his own mind and asks Toki to join them.
3. Lynyrd Skynyrd - Free Bird
Not only the lengthy solo in this wistful ballad became classic, but the song itself also has intelligent lyrics and a perspective that belied Southern redneck stereotypes. Allen Collins and Gary Rossington did a really good job on this one. [Note: Technically, "Free Bird" was Allen Collins alone, he did two takes and they were compiled into one solo. Gary Rossington played the slide guitar part in the intro.]
2. Eagles - Hotel California
Although credit for the guitar majesty of "Hotel California" is often given to Joe Walsh, who toughened up the Eagles' laid-back California sound when he joined the band just prior to the "Hotel California" album's recording, the primary guitar heard throughout the solo belongs to Don Felder, who wrote the music for the track and actually conceived and played the solo's intricate harmonies on his initial, instrumental demo and made this duel one of the most famous in the world.
1. Megadeth - Hangar 18
This masterpiece by Dave Mustaine and Marty Friedman takes the first place on our list. In this duel Dave is rocking the guitar as always while Marty demonstrates his Eastern influences. The main riff of this song is similar to Metallica's "The Call Of Ktulu" which appeared on their "Ride the Lightning" album. Mustaine had composer credits on that song, but he left Metallica before the album was released.
That's all folks! Know more great songs with duelling guitars? Feel free to post them in the comment section below. And we hope you enjoyed the top, stay tuned until next week for another WQ!