Friday Top: 25 Greatest Comeback Albums
As voted by UG community.
N-D
Ultimate Guitar

N-D
UG editor. Music lover. Constant searcher of something interesting and unique.
Posted Apr 07, 2017 05:46 PM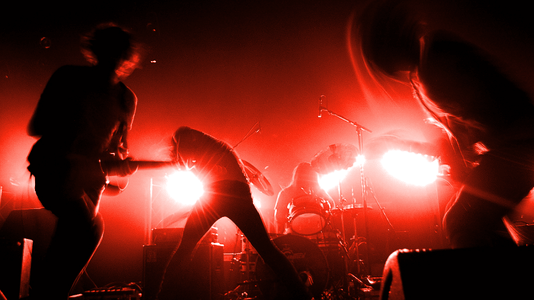 This week's traditional Wednesday Question saw the people of UG community discussing the matter of greatest comeback albums ever. Based on your votes and more than 250 comments, we summed this one up to traditional Top 25 rundown.
NOTE: though the exact definition of "comeback album" is debatable, hence we left it to you to determine (within reason).
Before kicking things off, the honorable mentions are:
SikTh - Opacities
Deep Purple - Perfect Strangers
Cynic - Traced in Air
Leonard Cohen - Live in London
Aerosmith - Permanent Vacation
Rush - Vapor Trails
Daft Punk - Random Access Memories
Refused - Freedom
Anthrax - Worship Music
Van Halen - A Different Kind of Truth
Pink Floyd - The Endless River
Judas Priest - Angel of Retribution
Sleater-Kinney - No Cities to Love
Blur - The Magic Whip
Failure - The Heart Is a Monster
Celtic Frost - Monotheist
The Jesus and Mary Chain - Damage and Joy
Eve 6 - Speak in Code
Morrissey - You Are the Quarry
Thrice - To Be Everywhere Is to Be Nowhere
Celtic Frost - Monotheist
Swans - My Father Will Guide Me Up a Rope to the Sky
Garbage - Not Your Kind of People
Arcturus - Arcturian
Creed - Full Circle
Bad Religion - Suffer
Breaking Benjamin - Failure

And now - the list!
25. Aphex Twin - Syro (2014)
"Syro" is the sixth studio album by cult electronic musician Aphex Twin, being his first studio album under the name Aphex Twin in 13 years since "Drukqs" (2001). Recorded over a period of several years in various studios - including James' own studio in rural Scotland - the album also features edited vocal tracks provided by James and his family. Upon its release "Syro" received widespread acclaim from music critics and placed in several international charts, as well as earning a nomination for the Choice Music Prize and winning the 2015 Grammy Award for Best Dance/Electronic Album. It was also nominated for the 2015 Mercury Music Prize.
24. At the Gates - At War With Reality (2014)
Swedish melodic death metal band At the Gates released their fifth album "At War with Reality" in 2014, and it was their first album since "Slaughter of the Soul" (1995). The band previously broke up in 1996, then reunited several times, but they decided to release new material only 19 years later since their previous record. "At War with Reality" was At the Gates' first album to chart in multiple countries.
23. Death From Above 1979 - The Physical World (2014)
Canadian rock duo Death From Above 1979 released their critically acclaimed debut "You're a Woman, I'm a Machine" back in 2004, but it took them almost 10 years to release a full-length follow-up. The album was a long-listed nominee for the 2015 Polaris Music Prize. It was also named Rock Album of the Year for 2015 at the Juno Awards.
22. Johnny Cash - American Recordings (1994)
American Recordings is Johnny Cash's 81st (!) album, and despite someone's fears about its production (the records was produced by Rick Rubin, who is better known for rap and heavy metal records than for country music), it was made an amazing comeback for someone who never really left us.
21. Guns N' Roses - Chinese Democracy (2008)
Though it still raises controversy among the band's fans, "Chinese Democracy" is undeniably one of the most known comeback albums in the world of music. Released in 2008, the album was the band's first studio album since "The Spaghetti Incident?" in 1993, and their first album of original studio material since the releases of "Use Your Illusion I" and "II" in 1991. When Slash, Duff McKagan, Matt Sorum, and Gilby Clarke all resigned or were fired from the band in the mid-1990s, Axl Rose and Dizzy Reed were the only members from the previous lineup remaining by the time production had started.

A new lineup, consisting of Rose, Reed, guitarists Robin Finck and Paul Tobias, bassist Tommy Stinson, drummer Josh Freese, and keyboardist Chris Pitman began working on the album in 1997. The album was worked on by multiple lineups of the band, including later members Bryan Mantia, Buckethead, Richard Fortus, Ron "Bumblefoot" Thal, and Frank Ferrer. Personnel and legal reasons, as well as Rose's alleged perfectionism, caused the album to be delayed multiple times. The album missed an announced March 2007 release date (though initially it was intended to be released in 1999 or 2000), before being released in November 2008. With production costs reportedly eclipsing $13 million, the album is the most expensive rock album ever produced.
20. Dr. Dre - 2001 (1999)
Originally released his debut solo album "The Chronic" back in 1992, Dr. Dre was really busy with his producer's duties since that. And only 7 years later, in 1999 he released his second album titled "2001." The record features several guest contributions from fellow American rappers such as The D.O.C., Hittman, Snoop Dogg, Kurupt, Xzibit, Nate Dogg, and Eminem.

The album debuted at number two on the U.S. Billboard 200 chart, selling 516,000 copies in its first week. It produced three singles that attained chart success and has been certified sextuple platinum in sales by the RIAA; as of August 2015 the album has sold 7,800,000 copies in the United States.
19. Carcass - Surgical Steel (2013)
Death metal/grindcore masters Carcass disbanded in 1996, prior to the release of their album "Swansong," but were reformed in 2007 as touring-only band. And finally in 2012 Carcass decided that they're ready to record someting new, released "Surgical Steel" in 2013. The record is also their first to reach the Top 50 in UK album charts.
18. Lamb of God - VII: Sturm Und Drang (2015)
Though Lamb of God never were officially disbanded, "VII: Sturm Und Drang," released in 2015, marked the band's comeback from their brief hiatus due to Randy Blythe's imprisonment and manslaughter trials. Randy Blythe stated that people shouldn't expect a prison record, and that instead he would "write about things that affect me very deeply," such as going to prison in a foreign country and being charged with manslaughter, as stated by Blythe.
17. A Tribe Called Quest - We Got It From Here... Thank You 4 Your Service (2016)
"We Got It From Here... Thank You 4 Your Service," the sixth studio album by cult hip-hop group A Tribe Called Quest, was released in 2016 and was the first since "The Love Movement" (1998). The album features guest appearances from André 3000, Kendrick Lamar, Jack White, Elton John, Kanye West, Anderson Paak, Talib Kweli, and the group's most frequent collaborators Consequence and Busta Rhymes.

The album features contributions from member Phife Dawg, who died eight months prior to the album's release. The record received widespread critical acclaim and became A Tribe Called Quest's second album to chart atop the Billboard 200.
16. Primus - Green Naugahyde (2011)
Being the band's first album since 1999's "Antipop," "Green Naugahyde" was released in 2011. It is the only Primus album to feature Jay Lane on drums, as he left the band in September 2013. Lane had previously been a member for a brief period in 1988 with Claypool and original guitarist Todd Huth, and has been involved with a number of Claypool's side projects.

Claypool has stated that "[Lane] coming back has just breathed life back into the project. We did some touring, and we decided, "Let's go make a record," because we were creating things on the road." He also stated: "I wasn't that excited about doing Primus again, but Larry and I were hanging out, and that friendship was rekindled. It was very apparent that it wasn't going to happen with Tim [Alexander], and he wasn't that excited about doing things again. So, we talked to Jay Lane, and we actually had a jam with Jay Lane, and he brought this huge ball of energy back into the room from the very second he started playing, and that's the main reason we're doing it again. There's this creative flow again that hasn't been there in a long time."
15. AC/DC - Back in Black (1980)
Normally, when a band replaces a lead singer, it just feels not so comfortable. SIt's just too hard to recreate that special magic that one voice has with one group of musicians. It's doubtful that anyone expected much from AC/DC when Bon Scott passed - his voice was really iconic. But luckily for the remaining members, they stumbled upon Brian Johnson, and his attitude was different but still awesome. It led the band to the recording of "Back in Black," one of the greatest rock records and their best selling album ever.


14. Portishead - Third (2008)
Bristol-based trio Portishead, one of the pioneers of trip-hop music, released 2 iconic records in the 1990s, "Dummy" (1994) and "Portishead" (1997), and then went on hiatus in 1998. And in 2008 they released "Third," their first studio album in 11 years. It moved away from the trip-hop style the band had popularised, incorporating influences such as krautrock, surf rock, doo wop, etc. "Third" was listed as one of the best albums of 2008 by several publications, entered the top ten of several countries' music charts, and has Gold certification in the UK.
13. My Bloody Valentine - m b v (2013)
My Bloody Valentine, one of the most influential shoegaze bands, self-released their third album "m b v" in 2013. It was the band's first full-length release of original material since "Loveless" (1991). Part of the album was recorded prior to My Bloody Valentine's breakup in 1997, additional recording took place prior to the band's reunion in 2007. The record's opening track, "She Found Now," was the only song to be recorded "completely from scratch" in 2012. The album was recorded and mixed on analogue equipment, similar to their first records. It was recorded on 2–inch 24–track tape and mixed on half-inch tape, and the post-production process involved "no digital processing," according to the band.
12. Megadeth - The System Has Failed (2004)
"The System Has Failed" was the first album released after Dave Mustaine recovered from his arm injury sustained in 2002 which prevented him from playing guitar. The album features session players, including former Megadeth guitarist Chris Poland on lead guitar. However, Poland only provided lead guitar parts and solos on a contractual basis and did not rejoin the band. To date, it is the only Megadeth album where the only official/certified member of the band was the sole Mustaine.
11. Santana - Supernatural (1999)
Seven years after "Milagro" (1992), Santana returned with their breakthough album, "Supernatural," the most successful album by the band, hitting the number one spot in ten countries, including the United States. It features many special guests such as Matchbox Twenty singer Rob Thomas, Eric Clapton, Eagle-Eye Cherry, Lauryn Hill, Everlast, Dave Matthews, Maná, The Product G&B, KC Porter and Cee-Lo Green.

"Supernatural" went 15 times platinum in the U.S. and won eight Grammy Awards, including Album of the Year as well as three Latin Grammy Awards including Record of the Year.
10. Metallica - Death Magnetic (2008)
Though Metallica were never on a hiatus, musically, "Death Magnetic" was a radical departure from "St. Anger" (2003) and a comeback to their more classical "metal" sound. The album was the first by the band to feature Rob Trujillo. "Death Magnetic" and its songs were nominated for five Grammy Awards at the 51st Grammy Awards on February 8, 2009, including Best Rock Album and Best Rock Instrumental Performance for "Suicide & Redemption," winning Best Metal Performance for "My Apocalypse." Rick Rubin also received the award for Producer of the Year, Non-Classical, and art directors Bruce Duckworth, David Turner & Sarah Moffat were awarded Best Recording Package.
9. Deftones - Diamond Eyes (2010)
Originally an album tentatively titled "Ero"s was intended to be Deftones' sixth full-length release and follow-up to "Saturday Night Wrist" (2006), but was not released due to bassist Chi Cheng entering a coma after a serious car accident that occurred in November 2008, eventually resulting in his death in 2013. The release of "Eros" was put on hold in favor of "Diamond Eyes" in June 2009.

Deftones may have risked releasing a throwback album to a niche audience of now thirty-somethings who used to rock out to "White Pony," but they've taken a chance with "Diamond Eyes" and the results are generally pretty damn good.
8. Green Day - American Idiot (2004)
In 1994, punk trio Green Day released its major-label debut, "Dookie" which was a major success. The next decade saw increasing tension and friction among the band members, the release of less-successful records and an entire album's worth of master tapes stolen out of the band's studio. But the theft of that stillborn album lit the spark that would become their comeback: instead of attempting to re-create it, the band embarked on a rock opera. An angry, political rock opera about the decline of America, which dropped about a month before George W. Bush was re-elected, "American Idiot" worked and became a massive hit - allowing new listeners to discover the band.
7. Faith No More - Sol Invictus (2015)
Comeback albums are not usually ones that make a career or have a band reinventing the wheel. More often than not they do not live up to the hype of previous material and are seen as a blemish on a discography. Faith No More's "Sol Invictus" does not fall into that negative trend though. Their first studio album since 1997's "Album of the Year," "Sol Invictus" is a compact record clocking in at under 40 minutes.

It's a short but equally awarding journey. They kept the best 10 tracks they could come up with and trimmed the fat. In these 40 minutes, there is the variety that you have come to expect from FNM but it's obvious there is a higher maturity to the album. All the musicians know exactly what to do to get the job done and they feed off each other throughout.
6. Black Sabbath - 13 (2013)
This was the hard time for the band when Tony Iommi was diagnosed with cancer. Looking back, Iommi believes that his illness affected the sound of the "13" album. "I think it made the music a bit more intense as well, because feeling that... 'Oh, God, this could possibly be the last time we do an album and play. Or maybe not even be on a tour,'" he said. "So it was very emotional for everybody, I think, at that time, 'cause nobody knew what was... Well, we never know anyway, but it was just that feeling...

And then, of course, when we went to record the album, and producer wanted to do it in his studio in L.A., I had to come over, and we did the same again -we'd record for a bit, and I'd have to go back to England, have a treatment, wait there for a month and then come back to carry on recording. We had to work around it." It's the first studio album released by Black Sabbath since "Forbidden" (1995), and was their first studio recording with original singer Ozzy Osbourne and bassist Geezer Butler since the live album "Reunion" (1998), which contained two new studio tracks. It was also the first studio album with Osbourne since "Never Say Die!" (1978), and with Butler since "Cross Purposes" (1994).
5. Soundgarden - King Animal (2012)
After 15 years, Seattle grunge titans Soundgarden had returned with their sixth studio album, "King Animal." The band reunited at the beginning of 2010, and there have been flashes of what was to come since then: the re-recorded 1991 outtake "Black Rain" was released in 2010, and the band contributed the song "Live to Rise" for "The Avengers" soundtrack. These were good songs, but the quality of a full comeback album was still in doubt. While it is not on the level of classics like "Superunknown" or "Badmotorfinger", "King Animal" is a comeback that is surprising in just how solid it is.
4. David Bowie - The Next Day (2013)
David Bowie worked in secret on this comeback LP for two years and managed to pull off the biggest surprise the pop industry has seen in years. Nobody really expected anything from David Bowie at this point, let alone his best album in 30 years. After virtually disappearing following the release and aborted tour in support of 2003's underwhelming "Reality," even the rock 'n' roll changeling's biggest fans figured he was finished. He was rarely seen in public, and there certainly were no rumors swirling about a new record or anything like that.

So when Bowie announced on his 66th birthday that his 24th album, "The Next Day," was all ready to go, it was both surprising and thrilling. How does someone like Bowie record an entire album without anyone knowing about it in an era where photos of celebrity genitals are washed down with our morning coffee? Short answer: He's David Bowie.
3. Iron Maiden - Brave New World (2000)
"Brave New World" is called their "comeback" album for a reason; the band took a return to their original roots. One thing you notice right away is Bruce Dickinson's voice. It seemed that his solo project had resuscitated his voice back from the dead. Unlike some of releases that were made before, "Brave New World" has tracks that are truly memorable.
2. Red Hot Chili Peppers - Californication (1999)
It was the ressurection of the West Coast's original surf-punk party band, slightly long in the tooth a decade after their breakthrough "Mother's Milk." On their previous album, "One Hot Minute," the Chili Peppers had brought in Dave Navarro to replace a key member, guitarist John Frusciante. Then Frusciante returned to help the band put together this gem, slam-packed with singles: "Scar Tissue," "Otherside," "Around the World," "Road Trippin'" and the title track. Classic RHCP's record.
1. Alice in Chains - Black Gives Way to Blue (2009)
This is one of the greatest comeback albums, and that is because rather than trying too hard to go back to their roots, Alice in Chains just continued to do what they do best as if they never broke up, only then, they are armed with better production, a guitarist with some excellent solo albums under his belt and a more-than-worthy replacement for their irreplaceable late and great iconic frontman Layne Staley.
That's all folks! Know more great comeback albums to add? Feel free to post them in the comment section below. And we hope you enjoyed the top, stay tuned until next week for another WQ!