Friday Top: 25 Greatest Guilty Pleasure Songs
As voted by UG community.
N-D
Ultimate Guitar

N-D
UG editor. Music lover. Constant searcher of something interesting and unique.
Posted Jun 02, 2017 05:44 PM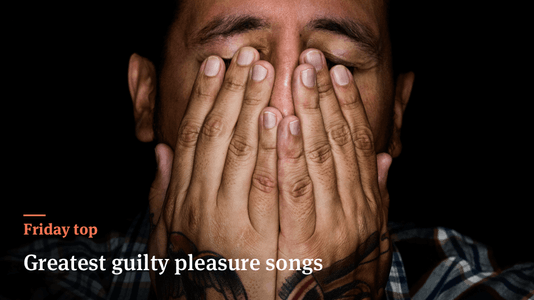 This week's traditional Wednesday Question saw the people of UG community discussing the matter of greatest guilty pleasure songs ever. Based on your votes and more than 350 comments, we summed this one up to traditional Top 25 rundown.
Before kicking things off, the honorable mentions are:
Vanilla Ice - Ice Ice Baby
Lady Gaga - Bad Romance
Goo Goo Dolls - Name
Roxette - The Look
Dr. Alban - It's My Life
Gloria Gaynor - I Will Survive
Backstreet Boys - I Want It That Way
Wham! - Wake Me Up Before You Go-Go
Busta Rhymes & Mariah Carey - I Know What You Want (feat. Flipmode Squad)
No Doubt - Hey Baby
Crush Test Dummies - Mmm Mmm Mmm Mmm
Usher - Yeah! (feat. Lil Jon & Ludacris)
And yes, you can't actually be ashamed of your musical taste - because as Nietzsche said, "Without music, life would be a mistake."
The rundown awaits below.
25. Nelly Furtado - Say It Right
To be honest with its minimalistic beat and melody this song still sounds more fresh and innovative than most pop songs nowadays. Plus unforgettable lyrics from Timbaland: "HEY!"
24. Kylie Minogue - Can't Get You Out of My Head
You heard this melody once - and you can't get it out of your head now. Boy, it's all you think about.
23. Dexys Midnight Runners - Come on Eileen
If your name is Eileen, everyone will always sing this song to you.
22. Aqua - Barbie Girl
Actually, if you'll took the song's lyrics seriously for a minute, you'd be surprised how prophetic it is.
21. Ricky Martin - Livin' La Vida Loca
Livin' the crazy life - with this song!..
20. MC Hammer - U Can't Touch This
The ultimate winning song!
19. Seal - Kiss From a Rose
It's not a shame to listen to such soulful songs again and again...
18. Crazy Town - Butterfly
No matter the riff is borrowed from John Frusciante - "Yoma butterfly, sugah, bebeh!"
17. Savage Garden - I Want You
"I don't know if I need you - But, ooh, I'd die to find out"
16. Maroon 5 - This Love
Now THIS is Maroon 5 - funky, simple and catchy.
15. Bomfunk MC's - Freestyler
F-f-f-f-f-freestyler!..
14. Creed - Higher
Creed are generally a guilty pleasure for many - including Mr. B. Hinds - but you can't deny the cathiness of their songs. First verse lyrics transcription: "When dreameneh gad-adto-ello-lahwer time-antime ageeee-ayeeeeah-ye-e-ah-nn."
13. OutKast - Ms. Jackson
"I'm sorry Ms. Jackson - Woooooooo!.."
12. Smash Mouth - All Star
"Sooooomebody once told me..."
11. Britney Spears - Toxic
Yeah, it's a guilty pleasure - but it's catchy as hell!
10. Limp Bizkit - Nookie
Even if you aren't ready to do everything for it, you still will like this most epic song about the nookie.
9. Natalie Imbruglia - Torn
Catchy melody, great lyrics that are sad enough - do you need more?
8. Coolio - Gangsta's Paradise
The almighty Coolio at No. 8.
7. Bloodhound Gang - The Bad Touch
Catchy and simple music + dumb yet clever lyrics = all-time hit song.
6. Haddaway - What Is Love
You can't listen to this and not bop your head... Forever hit.
5. No Doubt - Don't Speak
'90s at its best. "Tragic Kingdom" is a really dope album.
4. Bee Gees - Stayin' Alive
Just... epic.
3. Rick Astley - Never Gonna Give You Up
No further comment needed.
2. Scatman John - Scatman (Ski-Ba-Bop-Ba-Dop-Bop)
Skibadbadkgjsflgnsdljfnsejlkfdjnsdlrfdsdfsgfdhtfnyugoptrkajliwhejnzxfbfxgd IMMAAA SCAATMAAAAAAAN!
1. A-ha - Take on Me
Maybe one of the most essential songs from the '80s - it's still catchy today!
That's all folks! Feel free to post personal guilty pleasure songs in the comment section below. And we hope you enjoyed the top, stay tuned until next week for another WQ!