Friday Top: 25 Greatest Modern Frontmen
As voted by UG community.
N-D
Ultimate Guitar

N-D
UG editor. Music lover. Constant searcher of something interesting and unique.
Posted May 19, 2017 07:14 PM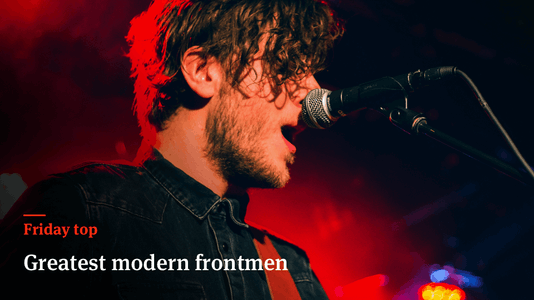 This week's traditional Wednesday Question saw the people of UG community discussing the matter of greatest modern frontmen ever. Based on your votes and almost 400 comments, we summed this one up to traditional Top 25 rundown.
NOTE: We had special rule: the debut album of the artist/band in question must be released in 2000 or later. So the following musicians are definitely great frontmen, but they have started their professional musician careers in the 1990's:
Corey Taylor (Slipknot/Stone Sour)
Devin Townsend (Devin Townsend Project/Strapping Young Lad)
Jacob Bannon (Converge)
Jens Kidman (Meshuggah)
Josh Homme (Queens of The Stone Age/Kyuss)
Matt Bellamy (Muse)
Serj Tankian (System of a Down)
And before kicking things off, the honorable mentions are:

Ben Kowalewicz (Billy Talent)
Julian Casablancas (The Strokes)
Kevin Parker (Tame Impala)
Jake Luhrs (August Burns Red)
Joakim Broden (Sabaton)
Brent Smith (Shinedown)
Sam Carter (Architects)
Josh Scogin (ex-Norma Jean/The Chariot/'68)
Joel O'Keeffe (Airbourne)
Christian Lembach (Whores.)
25. Sebastien Grainger (Death From Above 1979)
Just amazing example of powerful drummer-frontman!..
24. Stu Mackenzie (King Gizzard & the Lizard Wizard)
Great guitarist, vocalist - and frontman!..
23. Frank Carter (Gallows/Pure Love/Frank Carter & the Rattlesnakes)
Frank Carter is nothing but absolutely incredible to watch, regardless of which band he is in - and his interaction with the crowd is great as well. Pure energy.
22. Keith Buckley (Every Time I Die/The Damned Things)
Fucking crazy on stage with ETID, has tons of charisma, is an impressive screamer and an excellent clean singer (especially with The Damned Things), and also writes cool lyrics. The whole package is here!
21. John Baizley (Baroness)
Amazing vocals, great guitar parts - and of course charisma!..
20. Jay Buchanan (Rival Sons)
A new generation of great blues rock vocalists is here!..
19. Mitch Lucker (Suicide Silence)
Even if you don't like deathcore, you can't deny that Mitch Lucker was a really great frontman. Rest in peace.
18. Rody Walker (Protest the Hero)
His unique approach fits the band's progressive metalcore sound really well.
17. Matt Schultz (Cage the Elephant)
He can be gently and calm - and really crazy and energetic!..
16. Einar Solberg (Leprous)
Very commanding personality, great vocals, and all that behind keyboards.
15. Alex Turner (Arctic Monkeys)
Definitely one of the most charismatic indie rock frontmen.
14. Lzzy Hale (Halestorm)
Vocalist, guitarist, keyboardist - definitely among the greatest modern frontwomen.
13. Claudio Sanchez (Coheed and Cambria)
Everything about him (from his vocals to his guitar playing) is, at least, very unique.
12. Justin Hawkins (The Darkness)
The epitome of a rock 'n' roll vocalist.
11. Jason Butler (letlive.)
Definitely crazy and full of pure energy!.. Also add great clean vocals - and it becomes a really explosive combination!
10. Andrew Stockdale (Wolfmother)
Even if you don't like Andrew and the boys (looking at you, Mr. Patton), you can't deny that he's an amazing frontman.
9. Stefan Burnett aka MC Ride (Death Grips)
The embodiment of the pure energy and craziness from the experimental hip-hop group Death Grips.
8. Papa Emeritus (Ghost)
Papa Emeritus is a great frontman that likes to give speeches about orgasms at his concerts. Shame that lawsuit affected the band so much.
7. Randy Blythe (Lamb of God)
Just great vocalist and performer! Few frontmen can command the crowd as Lamb of God vocalist Randy Blythe.
6. Matt Heafy (Trivium)
Even after he was forced to change his vocal style following a health scare, he still rocks as hard as he can.
5. Greg Puciato (The Dillinger Escape Plan)
Who can sing at a concert while hanging head down from the ceiling? Greg Puciato. (And though TDEP released their debut in 1999, but technically Greg's first album with the band was "Miss Machine" (2004)).
4. Troy Sanders (Mastodon/Gone Is Gone)
Everybody is frontman in Mastodon, but for this one we'll go with Troy Sanders.
3. M. Shadows (Avenged Sevenfold)
M. Shadows can really make a beast out of himself. And that's most definitely a good thing.
2. Joe Duplantier (Gojira)
Joe plays guitar, writes songs, screams like a lion and has insane stage presence!
1. Myles Kennedy (Alter Bridge/Slash)
Great frontman, guitarist, songwriter, singer and generally a great dude.
That's all folks! Know more great modern frontmen to add? Feel free to post them in the comment section below. And we hope you enjoyed the top, stay tuned until next week for another WQ!