Friday Top: 25 Greatest Singing Drummers
As voted by UG community.
N-D
Ultimate Guitar

N-D
UG editor. Music lover. Constant searcher of something interesting and unique.
Posted Jun 16, 2017 03:51 PM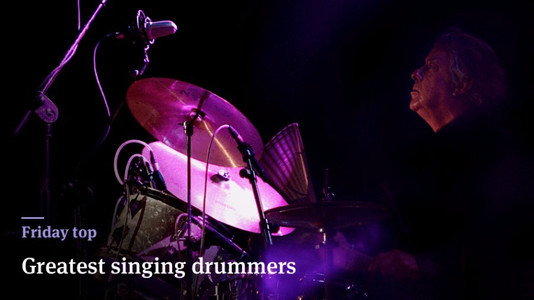 This week's traditional Wednesday Question saw the people of UG community discussing the matter of greatest singing drummers of all time.
Based on votes and around 200 comments, we summed this one up to Top 25 rundown.
NOTE: our list is centered around drummers who can play drums and sing at the same time, not around drummers-who-became-singers, so with all respect we haven't include Dave Grohl in the actual list (though he rarely did backing vocals while drumming with both Nirvana and Them Crooked Vultures).
Before kicking things off, the honorable mentions are:
Albert Bouchard (Blue Öyster Cult)
Terry Bozzio (Frank Zappa, Missing Persons)
Micky Dolenz (The Monkees)
Remu Aaltonen (Hurriganes)
Steven Ansell (Blood Red Shoes)
Coady Willis (Melvins, Big Business)
Mike Browning (Morbid Angel, Nocturnus)
Chris Reifert (Autopsy)
El Duce (The Mentors)
Greg Saunier (Deerhoof)
Fred LeBlanc (Cowboy Mouth)
Maya Tuttle (The Colourist)
Grant Hart (Hüsker Dü)
Bela B.
Carla Azar (Autolux)
Francis Mark (From Autumn to Ashes)
Duncan from Snuff (Snuff)
Phoenix Arn-Horn (Courage My Love)
Nick Gaffney (Cairo Knife Fight)
Jerry Gaskill (King's X)
John Garner (Sir Lord Baltimore)
Leo Margarit (Pain of Salvation)
Peter Hoorelbeke (Rare Earth)
Pat Torpey (Mr. Big)
Eric Carr (KISS)
Sheila E. (Prince)
Nao Kawakita (Maximum the Hormone)
Meg White (The White Stripes)
Nick D'Virgillio (Spock's Beard)
Barry Stern (Zoetrope)
Morgan Rose (Sevendust)
Stewart Copeland (The Police)
Dennis Wilson (The Beach Boys)
Stefanie Mannaerts (Brutus)
Jürgen "Ventor" Reil (Kreator)
Mark "Kram" Maher (Spiderbait)
And one more honorable mention - Rick Astley. You definitely know him as a vocalist, but his also a great drummer:
And the actual rundown awaits below.
25. Kelly Keagy (Night Ranger)
Not only Keagy is a great drummer for Night Ranger, but he also sang lead vocals on several of their hits, such as "Sister Christian," "Sing Me Away" and "Sentimental Street."
24. Matt Helders (Arctic Monkeys)
As drummer for Brit world conquerers Arctic Monkeys, Matt Helders has amassed an army of fans. The most comprehensive backing vocalist of the band, his vocals have been featured on many of the group's songs.
23. Donovan Melero (Hail the Sun)
Drummer and vocalist for the post-hardcore band Hail the Sun who also began performing vocals for a group called Sianvar in 2013.
22. Dan Beehler (Exciter)
Vocalist and drummer Dan Beehler is sure an Exciter for his fans.
21. Matt Cameron (Pearl Jam, Wellwater Conspiracy)
Matt Cameron laid the foundation for the nineties rock revolution, reconciling proggy technicality with overwhelming force of his vocals.
20. Brian Chippendale (Lightning Bolt)
Brian Chippendale of an experimental noise rock duo Lightning Bolt combines his mad drumming and vocals, distorted through various effects. Chippendale also has used a Line 6 delay pedal to delay and repeat his vocals while drumming.
19. Deen Castronovo (Journey, Bad English)
A drummer Deen Castronovo admitted that the idea of doing a whole album where he would be the featured vocalist was daunting, but everything turned out well in the end.
18. Anderson .Paak
Anderson Paak is a singing, apping, drumming Grammy nominee who sings sings and raps amid the utopian grooves of 1970s soul and numerous other genres.
17. Jen Ledger (Skillet)
This English drummer and co-vocalist for the American Christian rock and hard rock band Skillet does her job like a true rockstar.
16. Buddy Miles (The Electric Flag, Band of Gypsys, Buddy Miles Express)
Buddy Miles played with a brisk, assertive, deeply funky attack and sang like a boss, which made him an apt partner for Hendrix. With his luxuriant Afro and his American-flag shirts, he was a prime mover in the psychedelic blues-rock of the late 1960s, not only with Hendrix but also as a founder, drummer and occasional lead singer for the Electric Flag.
15. Brandon Saller (Atreyu)
Drummer and clean vocalist for Southern California metallers Atreyu does his job well.
14. Peter Criss (KISS)
Gene Simmons remembers seeing Criss for the first time: "The drummer started to sing, and this Wilson Pickett-style voice came out of him. Paul and I said 'That's it, that's our drummer."
13. Sebastien Grainger (Death From Above 1979)
Drummer Sebastien Grainger and bassist Jesse Keeler created a unique sound together that was bigger than most would ever expect from a bass-and-drums duo, equal parts noisy punk and fist-pumping dance-rock, but beyond easy categorization.
12. Gil Moore (Triumph)
Underrated drummer as well as an underrated vocalist.
11. Aaron Gillespie (Underoath)
Aaron Gillespie is the long-time drummer in Underoath, one of the most popular hardcore bands in the world. In early 2010 he also started his more melodic side project, The Almost, for which Gillespie fully handles the vocal duties.
10. Karen Carpenter (The Carpenters)
Though her skills as a drummer are less known among drumming luminaries and peers, nevertheless, she is best known for her vocal performances.
9. Mike Portnoy (Dream Theater, Flying Colors, Transatlantic, Adrenaline Mob)
Besides being a living drumming legend, Mike Portnoy also does backing vocals with many of his bands and projects.
8. Levon Helm (The Band)
Levon Helm, The Band's legendary singing drummer, was a powerful figure. Bob Dylan said of Helm after his death, "one of the last true great spirits of my or any other generation."
7. Ringo Starr (The Beatles)
"Not even the best drummer in The Beatles" is actually really good singer overall.
6. Taylor Hawkins (Foo Fighters, Taylor Hawkins and the Coattail Riders)
Aside from drumming and singing in Foo Fighters, he also has his own side project called Taylor Hawkins and the Coattail Riders, in which he plays the drums and sings.
5. The Rev (Avenged Sevenfold)
The Rev is one of the greatest singing drummers, and "A Piece of Heaven" and "Critical Acclaim" are a proof to that.
4. Roger Taylor (Queen)
Although best known for his powerhouse role in Queen, Roger Taylor is much more than just a drummer confined to his kit.
3. Don Henley (Eagles)
As a founding member of Eagles, a band that boasts five No. 1 singles, four No. 1 albums, numerous Grammy Awards and a place in the Rock and Roll Hall of Fame, Don Henley ranks among the most important figures in modern American pop music.
2. Brann Dailor (Mastodon)
Drummer, singer, and lyricist with the progressive metal band Mastodon who also founded the math metal group Lethargy. Brann can do drumming and sing at the same time really great!
1. Phil Collins (Genesis)
You may hate him with the power of 100000000 suns, but you gotta admit that he's a really talented guy.
That's all folks! Feel free to post other singing drummers in the comment section below. And we hope you enjoyed the top, stay tuned until next week for another WQ!