Friday Top: 29 Greatest Blues Guitarists of All Time
As voted by UG community.
david89zemun
Ultimate Guitar

david89zemun
UG writer. Huge Black Sabbath fan and agronomy enthusiast.
Posted Oct 20, 2017 06:42 PM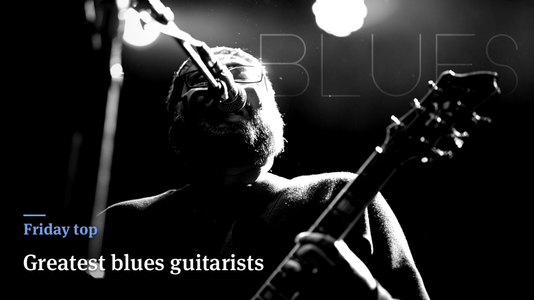 This week's traditional Wednesday Question saw the people of UG community discussing the matter of the greatest blues guitarists of all time. Based on votes and more than 250 comments, we summed this one up into a Top 29 rundown.
And before kicking things off, the honorable mentions are:
Howlin' Wolf
Jack White
Roy Buchanan
Gary Clark Jr.
George Thorogood
Jorma Kaukonen
Robben Ford
Mike Bloomfield
Clarence "Gatemouth" Brown
Albert Collins
Sonny Landreth
Les Paul
Blind Lemon Jefferson
Charley Patton
Jeff Healey
The full rundown awaits below.
29. Sister Rosetta Tharpe
One of the pioneers of modern music, Sister Rosetta Tharpe was best known by her gospel recordings from the 1930s and 40s. Referred to as "the godmother of rock and roll" and "the original soul sister," she influenced musicians such as Johnny Cash, Little Richard, Chuck Berry, and Elvis Presley.
28. Alvin Lee
Best known as the lead guitarist and vocalist of Ten Years After, Alvin Lee grew up in a family that listened to jazz and blues, but was inspired the most by rock 'n' roll music. He was praised for his fast playing and is considered by many as the pioneer of shredding.
27. Warren Haynes
Gregg Allman chose Warren Haynes for The Allman Brothers band for a reason. The guy really feels his music. User domea comments:
He can play a song by Neil Young one minute then get onstage with Jason Newsted and play Black Sabbath the next... One of the most versatile musicians ever in my opinion.
26. Jimmy Page
Heavy metal comes directly from the blues music, and Jimmy Page proves it. He is not only a master of heavy riffs but is also a man who singlehandedly (or twohandedly, since you need two hands to play guitar) pushed the boundaries of blues music and gave it its own different twist.
25. Lightnin' Hopkins
Samuel John Hopkins, or Lightning Hopkins, discovered the power of music at the age of 8 when he first met the legendary Blind Lemon Jefferson. After some difficult times, he finally managed to do a recording with a pianist named Wilson Smith, and two of them got nicknames "Thunder" and "Lightning."
24. John Lee Hooker
Born in Mississippi as the youngest of 11 children, John Lee Hooker got introduced in blues music by his spet father. As a teenager, he ran away from home and performed in various clubs in Memphis, Tennessee. He adapted delta blues to electric guitar and developed his driving-rhythm boogie style of playing.
23. Hubert Sumlin
He is best known as being a member of Howlin' Wolf's and Muddy Waters' band. Our own N-D comments:
Second guitar of Howlin' Wolf and Muddy Waters, real legend
22. Duane Allman
After playing in various bands, as well as a session musician, Duane and his brother Gregg founded The Allman Brothers Band in 1969. He was praised for his improvisation abilities and slide guitar playing. Even though he died at the age of 24, he is still an inspiration to many guitar players around the world.
21. Joe Bonamassa
Joe Bonamassa is where old and modern playing meets in the best way possible. While being only 12 years old, Bonamassa started touring with his band and under the nickname of Smokin' Joe. And now he has 12 studio albums, 15 live albums, and has set the bar so high for all the other guitar players of today. He is also one of the biggest guitar nerds and guitar collectors.
20. T-Bone Walker
Aaron Thibeaux Walker, known as "T-Bone" Walker, is a multi-instrumentalist who pioneered the electric blues music. He was raised in a family of musicians who's friend was Blind Lemon Johnson. Imagine having Blind Lemon in your home as a visitor. Who wouldn't be inspired to become a blues musician?
19. Leadbelly
Another multi-instrumentalist on this list. Huddie William Ledbetter, known as Leadbelly, a nickname he earned while serving his time in prison, also played piano and accordion besides guitar. He is also known for his unique and strong vocals.
18. Elmore James
UG user horseman308 commented:
Without him, we don't get Duane Allman, Derek Trucks, Warren Haynes, or any of the top tier slide guitarists that we think of today. He did more to set the stage, so to speak, for that aspect of blues guitar playing than anyone.
17. Son House
Delta blues guitarist and singer who became known for his slide playing and emotionally charged vocals, something he learned after spending years as a preacher and church pastor. At the age of 25 Son House turned to blues music and channeled all his intensity of preaching to the genre which was new to him.
16. Johnny Winter
Johnny, along with his brother Edgar started playing blues at a very young age. But the first time Johnny got a big break when he was invited to sing and play guitar with Mike Bloomfield and Al Kooper in 1968 at the Fillmore East. One of his most recognizable traits is his slide and his thumb pick techniques.
15. Peter Green
B.B. King's comment about Fleetwood Mac founder pretty much sums it up:
"He has the sweetest tone I ever heard; he was the only one who gave me the cold sweats."
14. Derek Trucks
Even at young age Derek Trucks played blues and felt it like he was decades older. By the age of 20, he already managed to accumulate a lot of experience in performing, even with some really big names like Bob Dylan. In 1999 he became the official member of The Allman Brothers Band and recorded three albums with them. He is best known for his outstanding slide guitar skills.
13. Rory Gallagher
User *Stranger* explains very well:
His sense of melody and pure raw emotion in both singing and playing is insane. Listened to calling card and deuce last week. Amazing records, especially calling card which is still one of the most diverse albums I know.

An underrated genius.
12. Freddie King
One of The Three Kings, Freddie King started his career in the 1950s and has been known for his distinctive style of playing and singing which made a huge impact on many guitarists who came after him.
11. Muddy Waters
While growing up Muddy Waters looked up to blues musicians like Robert Johnson and Son House. His first recordings come from 1941, and two years later he moved from Clarksdale, Mississippi to Chicago. Most of his success comes from the 1950s and 1960s.
10. Billy Gibbons
Thick, groovy, tasty. Pretty simple and straight to the point. What else could be said about the man who founded ZZ Top?
9. Albert King
Born in 1923, one of the Three Kings grew up on a cotton plantation as one of the 13 children in the family. Even though his youth was rough, nothing stopped him to take up the guitar and through the years easily popularize Gibson's Flying V model. He was left-handed but played right-handed guitars flipped over. He is also known by the nickname of "The Velvet Bulldozer."
8. John Mayer
Now here is a young guitarist who combined some modern styles with the good old blues. User local_hero commented:
The guy has complete control over his instrument and does what he wants with it. Even if I do not always agree with the direction he chooses, I still have to admit that he is a master guitar player
7. Buddy Guy
And here is a guy so great that inspired greats like Hendrix, Clapton, Jimmy Page, and many others. And even though he is 81 years old, he still performs live to this day.
6. Eric Clapton
The legendary Slowhand is not only a guy who changed guitar playing but one of the most influential musicians in modern music. He is the only one to be inducted into the Rock and Roll Hall of Fame three times, as a solo artist, as a member of Cream, and as a member of Yardbirds. After all, Clapton is God.
5. Jimi Hendrix
Although he died too early, Hendrix could easily be credited for popularising guitar and heavier music around the world. Even to this day, he is an inspiration for guitar players, and musicians in general, of all genres.
4. Gary Moore
Northen Irish guitarist Gary Moore needs no further introduction. His music spanned throughout different genres but is most recognized as a blues guitarist. During his solo career, he has recorded 21 studio albums and has worked with Thin Lizzy. And not anyone can work with Thin Lizzy.
3. Robert Johnson
The King of the Delta blues. Without Johnson's recordings from 1936 and 1937, which heavily influenced rock and roll, we wouldn't have music we have now today. His guitar playing was revolutionary because he did kinda sell his soul to the devil so he could play some amazing blues.
2. B.B. King
Coming in second is the best known of the three kings of blues guitar, B.B. King. A musician with such a huge legacy that spans even way outside blues music. Born way back in 1925, he started his life on a cotton plantation, but at a young age was inspired by music in Pentecostal Church of God in Christ. There he started learning guitar, and the rest is just history. During his lifetime he recorded 43 studio albums.
1. Stevie Ray Vaughan
And the absolute winner as voted by UG community is the legendary Dallas, Texas-born Stevie Ray Vaughan. By far one of the best (if not the best) interpreters of Jimi Hendrix. He was not only a great guitar player but also an amazing vocalist and a frontman of his band Double Trouble. He was also known for working with various artists, including David Bowie, Johnny Copeland, Stevie Wonder, Bob Dylan, and many others. His life was cut short in August of 1990 in a helicopter accident, but his music still lives on and inspires generations of musicians worldwide.
That's all folks! Feel free to post more great blues guitarists in the comment section below. And we hope you enjoyed the top, stay tuned until next week for another WQ!