Friday Top: 30 Greatest Bassists of All Time
As voted by UG community.
david89zemun
Ultimate Guitar

david89zemun
UG writer. Huge Black Sabbath fan and agronomy enthusiast.
Posted Nov 10, 2017 07:18 PM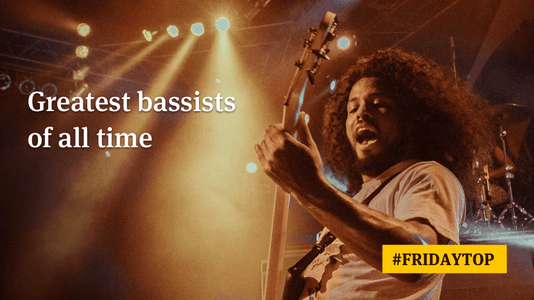 This week's traditional Wednesday Question saw the people of UG community discussing the matter of the greatest bass guitarists of all time. Based on votes and more than 450 comments, we summed this one up into a Top 30 rundown.
And before kicking things off, the honorable mentions are:
Lemmy (Motörhead)
Sam Rivers (Limp Bizkit)
Steve DiGiorgio (Death, Testament, etc)
Krist Novoselic (Nirvana)
Trevor Dunn (Mr. Bungle, Fantômas, Melvins, Tomahawk, Secret Chiefs 3, etc)
The full rundown awaits below.
30. Larry Graham (Sly and the Family Stone, Graham Central Station)
Larry Graham is known for working with Sly and the Family Stone, as well as his own band Graham Central Station and he also played with the legendary Prince. Oh, and he is considered as the inventor of slapping.
29. Doug Wimbish (Living Colour)
Doug Wimbish is a groovy bass guitarist of Living Colour, also known for working with Tackhead and his own solo band. He's been with Living Colour from 1992 to 1995 and from 2000 to now.
28. Nick Schendzielos (Cephalic Carnage, Job for a Cowboy, Havok, etc)
Schendzielos played with various death and thrash metal bands, like Job for a Cowboy and Cephalic Carnage. Man, just look at that right-hand shredding...
27. Carol Kaye
Not many musicians can say that they played on around 10,000 different recordings. Well one of them is Carol Kaye, and she still rocks to this day even though she is more than 80 years old. Rock 'n' roll legend.
26. James Jamerson
James Jamerson is a guy who recorded most of the bass on Motown Records hits during the 60s and early 70s. He performed on 30 Billboard No. 1 hits, but being a session musician he was not credited on most of the songs.
25. Alex Webster (Cannibal Corpse)
Besides being a bassist of Cannibal Corpse, Alex Webster is also known for working with Blotted Science and Conquering Dystopia. And this is how a death metal bassist should sound like.
24. Robert Trujillo (Suicidal Tendencies, Infectious Grooves, Ozzy Osbourne, Metallica)
Not anyone can be a rhythm section of such renowned names in metal, like Metallica and Ozzy Osbourne. Trujillo is also known for working with Suicidal Tendencies and has played bass in Jerry Cantrell's band.
23. Stanley Clarke
One of the Return to Forever founding members, Stanley Clarke is a jazz fusion musician who also uses bass as a solo instrument. And he does it quite well.
22. Marcus Miller
The groove, the slaps, the solos, songwriting... This guy just does it all. Besides his solo career, Miller has also worked with legends like Miles Davis and Herbie Hancock and has been a part of bass supergroup SMV with Stanley Clarke Victor Wooten and Marcus Miller.
21. Tony Levin (King Crimson, Peter Gabriel, Liquid Tension Experiment, etc)
Levin has worked with various different musicians and bands, going through different genres, from jazz, pop, prog rock, and even metal. And all that while playing on Chapman stick. How cool is that?
20. Bootsy Collins (Parliament-Funkadelic, James Brown)
Funky. Really funky. After all, Collins played with the legendary James Brown.
19. Jack Bruce (Cream)
User TN444 explains:
He played baselines that were still baselines, if you know what I mean. They were the solid foundation of the song, yet so interesting to listen to.
18. Colin Greenwood (Radiohead)
Our own N-D, who nominated Greenwood, said:
Because Colin is quiet enough he's often underlooked in Radiohead, but he's a truly amazing bass player!
17. Paul McCartney (The Beatles)
Besides being one of The Beatles, Sir James Paul McCartney is an amazing bassist with tasteful playing, just like rock 'n' roll should be.
16. Ryan Martinie (Mudvayne)
User smutherd commented:
His bass playing is what I miss the most from mudvayne.
We all miss that. Martinie is definitely someone who made Mudwayne sound so full and rich.
15. John Myung (Dream Theater)
What else can be said about the guy who just keeps quiet and plays bass in Dream Theater? The true master of his instrument.
14. Tim Commerford (Rage Against the Machine)
Tim Commerford is the guy behind the groove in RATM and Prophets of Rage. Everything always sounds so huge with him in the band.
13. Chris Squire (Yes)
He is the original member of the progressive rock band Yes and is present on all the band's albums from 1968 to 2014. His dynamic and distinct playing gave the band its unique sound. He passed away aged 67 in 2015.
12. Billy Sheehan (Mr. Big, Talas, David Lee Roth, etc)
Well, what can you say about the guy who played with Steve Vai, Paul Gilbert, David Lee Roth, Mike Portnoy and other renowned names in rock 'n' roll? As user schecterhellraz said:
The guy is more technical on his Bass than most bands lead guitarists.
11. Victor Wooten
Well, Wooten is a beast. Besides his solo career, he has played with Béla Fleck and the Flecktones, as well as Stanley Clarke and Marcus Miller in SMV. He is currently a session member of Michael Angelo Batio's band Nitro.
10. Justin Chancellor (Tool)
User Robfreitag said:
Tool is basically all rhythm section, and I love it!
Damn right. Well, except Maynard, he sings.
9. John Entwistle (The Who)
Entwistle, considered by many as Jimi Hendrix of bass guitar, was the only member of The Who to have the formal musical training. And that can be heard in his playing.
8. Jaco Pastorius
Unfortunately, some music legends passed away too early, and that is the case with Jaco Pastorius. In 1970 he removed the frets from '62 Fender Precision, and according to some, he was the first one to do this, practically inventing the fretless electric bass.
7. Steve Harris (Iron Maiden)
Besides being a bad ass heavy metal bassist, Steve Harris is a driving force and the main songwriter in the legendary Iron Maiden. He's been changing the music world ever since 1975.
6. Cliff Burton (Metallica)
Cliff is what made first three Metallica albums so unique. Even to this day his former bandmates in Metallica pay respect to him and honor his legacy. One of his most notable works is on Metallica's song "Orion" from "Master of Puppets" album.
5. Flea (Red Hot Chili Peppers)
UG user Agar4life explained it quite well by saying:
While he might not be the most technically outstanding player in the world or the most versatile or flexible player in the world. I think no other bassist matches the overall package of his charisma, on-stage presence, persistent relevance, and inspiration to aspiring players.
4. John Paul Jones (Led Zeppelin)
Led Zeppelin wasn't just about Jimmy Page and his riffs. John Paul Jones is an extremely talented songwriter and multi-instrumentalist. Definitely the most underrated musician in Led Zeppelin.
3. Geezer Butler (Black Sabbath)
Coming in third is the guy thundering away on his bass behind Tony Iommi's riffs and solos. Geezer Butler's playing was as dark as the most of the lyrics he wrote for Black Sabbath. Quiet and introverted guy, the typical trait of most bass players. And that sound on "13" album... True metal bassist.
2. Geddy Lee (Rush)
And the second place goes to Rush's Geddy Lee. Besides being a monster bassist he is also one of the most influential musicians of rock 'n' roll. User hudsonstradlin said:
This question should be rephrased to "Greatest Bassist of all time who isn't Geddy Lee"
Well, he didn't win this week's vote, but your statement has some truth in it.
1. Les Claypool (Primus)
And the winner of this week's list is Les Claypool of Primus. His crazy style of playing works hand in hand with his crazy music ideas and weird songs. Certainly one of a kind musician that incorporates funk, metal, and prog rock into one insane thing called Primus.
That's all folks! Feel free to post more great bassists in the comment section below. And we hope you enjoyed the top, stay tuned until next week for another WQ!