Friday Top: 31 Best TV Show Songs
As voted by UG community.
N-D
Ultimate Guitar

N-D
UG editor. Music lover. Constant searcher of something interesting and unique.
Posted Mar 04, 2017 12:47 AM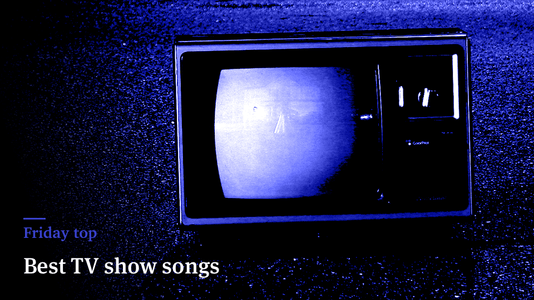 This week's traditional Wednesday Question saw the people of UG community discussing the matter of greatest TV show songs ever. Based on your votes and more than 250 comments, we summed this one up to an extended Top 31 rundown - yes, again, there are A LOT of tunes written for TV shows and it's hard to choose only 31, but we did our best.
Also, we must mention that one of our rules was "Original songs only"! The other rule was "No cartoons" (because we already have Top 25 Best Cartoon Songs).
And before kicking things off, here are honorable mentions (feel free to check these great tunes too):
"Psych" theme (The Friendly Indians - 'I Know You Know')
"Three's Company" theme (Ray Charles & Julia Rinker - "Three's Company, Too")
"Sesame Street" closing theme (Joe Raposo, Jon Stone & Bruce Hart - "Can You Tell Me How to Get to Sesame Street?")
"MacGyver" theme by Randy Edelman
"ALF" theme by Alf Clausen & Tom Kramer
"Californication" theme by Tree Adams & Tyler Bates
"Kommissar Rex" theme (Kathy Sampson - "A Good Friend")
"Renegade" theme by Mike Post
"Weird Science" theme (Oingo Boingo - "Weird Science")
"Doctor Who" theme by Ron Grainer
And here's the list!
31. 'Agatha Christie's Poirot' theme by Christopher Gunning
Amazing saxophone line along with keyboards sound are preparing you to this mystery drama television series about Hercule Poirot, fictional Belgian detective, created by Agatha Christie, famous English crime novelist. The whole score has won 1990's British Academy Television Awards for "Best Original Television Music."
30. 'Airwolf' theme by Sylvester Levay
Yes, it's all about that synth. You hear it - and immediately imagine "Airwolf," a high-tech military helicopter from the classic '80s TV series. Also, the the whole show's distinctive musical score, which was originally orchestral but shifted to more synthesizer-based arrangements early in the second season, was composed and mainly conducted by Sylvester Levay.
29. 'Mission: Impossible' (TV series) theme by Lalo Schifrin
We all know this tune, but first it appeared in its original form as an opening theme for the '60s/'70s TV series "Mission: Impossible." You hear it and you know - it's all about spies and action.
28. 'Unsolved Mysteries' theme by Gary Malkin
"Unsolved Mysteries"' original goosebump-inducing theme was written by Gary Malkin, who also served as the show's main composer. "One of the things that really worked was the music," one of the show's creators John Cosgrove said. "I had a lot of friends whose kids would run out the room because the music scared them so much." Producer Raymond Bridgers agreed: "The music was so distinctive that you didn't even have to be in the room to know that 'Unsolved Mysteries' was on," he said. The theme was updated four times, and when the show was revived in 2008, it came back with a new theme (and new logo) altogether.
27. 'The Munsters' theme by Jack Marshall
This surf rock-inspired theme song for the sitcom about a family of benign monsters was composed by Jack Marshall. The theme song's lyrics, which the sitcom's co-producer Bob Mosher wrote, were never aired on CBS. Described by writer Jon Burlingame as a "Bernard-Herrmann-meets-Duane-Eddy sound," the theme was nominated for a Grammy Award in 1965. Also, theme from the first season and theme from the second one are slightly differentю
26. 'Narcos' theme (Rodrigo Amarante - 'Tuyo')
Being a Netflix exclusive, "Narcos" is an American crime web television series that tells the story of drug kingpin Pablo Escobar. And the show's main theme, "Tuyo," written by Rodrigo Amarante, creates right mood for it.
25. 'Better Call Saul' theme by Little Barrie
Another crime drama series on the list, "Better Call Saul," a spin-off prequel of "Breaking Bad." And the main theme for it was written by an English rock band Little Barrie.
24. 'Game of Thrones' theme by Ramin Djawadi
"Game of Thrones" theme was composed by Ramin Djawadi in 2011, after series creator David Benioff and D.B. Weiss approached him requesting a theme. Asked to avoid flutes and violins, which the producers felt were overused in fantasy themes, Djawadi used the cello as the lead instrument. According to Djawadi, the show creators wanted the main title theme to be about a journey as there are many locations, characters in the show and involves much traveling.
23. 'Firefly' theme (Sonny Rhodes - 'The Ballad of Serenity')
Theme song for space western drama TV series "Firefly" was written by the show's writer and director Joss Whedon and performed by Sonny Rhodes. John Whedon wrote the song before the series was greenlit and a preliminary recording performed by Whedon can be found on the DVD release. Also, "The Ballad of Serenity" was used by NASA as the wake-up song for astronaut Robert L. Behnken and the other crewmembers of STS-130 on February 12, 2010.
22. 'How I Met Your Mother': 'Nothing Suits Me Like a Suit'
"Nothing Suits Me Like a Suit" is a single performed by Neil Patrick Harris (as his character "Barney Stinson") and the cast of the comedy series "How I Met Your Mother" from the 100th episode "Girls Versus Suits." The song writers Carter Bays and Craig Thomas were nominated for the Primetime Emmy Award for Outstanding Original Music and Lyrics for it. The whole musical number featured 75 dancers and a 50-piece orchestra.
21. 'The Andy Griffith Show' theme (Earle Hagen & Herbert W. Spencer - 'The Fishin' Hole')
Even if you can't whistle at all, it's almost impossible not to whistle along to this tune. The song was written specifically for "The Andy Griffith Show" by the composers Earle Hagen and Herbert Spencer, who teamed up to form the Spencer-Hagen Orchestra and write music for films and TV shows. According to Hagen, "The Andy Griffith Show" called for "a simple tune," so that's what they delivered. He says it was written in about 15 minutes. Hagen did the famous whistling. Also, there were lyrics written for this song, but they weren't used on the show. The words were composed by the actor Everett Sloane (who appeared on an episode of the show in 1962), and are about killing time at the fishin' hole.
20. 'Hawaii Five-O' by The Ventures
The Ventures recorded this instrumental theme for the long-running police procedural drama (1968-1980) about detectives Steve McGarrett (Jack Lord) and Dan Williams (James MacArthur). The surf rock tune was composed by Morton Stevens, who started out as an arranger/conductor for Sammy Davis Jr. and became director of music for CBS on the West Coast.
19. 'Magnum, P.I.' theme by Mike Post & Pete Carpenter
We all remember Tom Selleck as Thomas Magnum, a private investigator living on Oahu, Hawaii (Hawaii again). As the show's distinctive theme is also associated with Tom. But the original, lesser known theme music for the opening credits of the pilot episode was a mid-tempo jazzy piece by Ian Freebairn-Smith. This music was also used for the next nine regular episodes. Beginning in Episode 12, it was replaced by a more uptempo theme typical of 1980s action series by Mike Post and Pete Carpenter with guitar by Larry Carlton and we all know this tune.
18. 'Miami Vice' theme by Jan Hammer
This theme was written and performed by Jan Hammer for the television series "Miami Vice." It was first presented as part of the television broadcast of the show in September 1984 and released as a single in 1985, peaking at the number one spot on the Billboard Hot 100. In 1986, it won Grammy Awards for "Best Instrumental Composition" and "Best Pop Instrumental Performance." This song, along with Glenn Frey's number-two hit "You Belong to the City," put the "Miami Vice" soundtrack on the top of the US album chart for 11 weeks in 1985.
17. 'Knight Rider' theme by Stu Phillips & Glen A. Larson
And again, it's all about that '80s synth and groove! The tune was released in 1982 and credited to composers Stu Phillips & Glen A. Larson, though you can hear a lot of similarities with the song "Sphynx" by musician Harry Thumann, which was also released in 1982, but before the official "Knight Rider" release. But according to Stu Philips nether are related in anyway.
16. 'My Name Is Earl' theme (Nescobar-A-Lop-Lop and the Camden County Band - 'What Goes Around Comes Around')
When you have realized what karma is, the only way is to make a list of everything bad you've ever done and one by one to make up for all your mistakes. This is the main plot of "My Name Is Earl." And "What Goes Around, Comes Around" is the title of the vocal version of the theme tune to the show. The song is sung by Nescobar-A-Lop-Lop and the Camden County Band, which name is inspired by the character Nescobar-A-Lop-Lop and the rest of the recurring characters of "My Name Is Earl," all of whom reside in Camden County. Although the band is supposedly led by Nescobar, clearly Abdoulaye N'Gom, who plays the character, is not singing.
15. 'The A-Team' theme by Mike Post & Pete Carpenter
Hannibal Smith, Mr T, the Face Man, and Howling Mad Murdoch... they are The A-Team, one of the best teams ever. Anyone who watched TV in the '80s likely recognizes its theme song when they hear it. If they were kids at the time, they probably know it by heart. The tune was written by the composer team of Mike Post & Pete Carpenter, who already appeared on the list with their "Magnum, P.I." theme.
14. 'Cheers' theme song (Gary Portnoy - 'Where Everybody Knows Your Name')
"Nobody knows what I look like or sound like," says musician Gary Portnoy, who was 26 when he recorded the song that would become one of the most iconic and recognizable TV themes of all time. Portnoy and his co-writer Judy Hart Angelo were commissioned to write the song based on the producers of "Cheers"' fondness for their Broadway song "People Like Us" for the musical "Preppies." After a few months of trying out about four different songs, the "Cheers" theme we know today - "where everybody knows your name, and you're always glad they came" - came to be.
13. 'Drake & Josh' theme song (Drake Bell - 'I Found a Way')
"Drake & Josh" TV series follows the lives of two teenage boys with opposite personalities, Drake Parker (Drake Bell) and Josh Nichols (Josh Peck), who become stepbrothers. And the series' opening theme song, "Found a Way," is written by Drake Bell and Backhouse Mike and performed by Bell.

12. 'Twin Peaks' theme by Angelo Badalamenti
Just timeless tune, composed by Angelo Badalamenti for the now cult television serial drama "Twin Peaks," created by Mark Frost and David Lynch. Dark and beautiful, the main theme song to "Twin Peaks" received a Grammy Award for Best Pop Instrumental Performance at the 1991 Grammy Awards.
11. 'It's Always Sunny in Philadelphia': The Nightman Cometh - 'Dayman'
In this episode of "It's Always Sunny in Philadelphia," the show's character Charlie Kelly stages a rock opera based on his song "Nightman" with the help and support of his friends. But the best part of the opera is not a song about Nightman himself, but about his counterpart, The Dayman, and this hilarious song about a master of "karate and friendship for everyone."
10. 'Parks and Recreation': Mouse Rat - '5000 Candles in the Wind'
Mouse Rat (formerly Scarecrow Boat, Ninja Dick) is Andy Dwyer's (portrayed by Chris Pratt) band in TV series "Parks and Recreation." In the "Li'l Sebastian" episode Andy seeks to write a song for famous miniature horse Li'l Sebastian that is 5,000 times better than Elton John's "Candle in the Wind," which inspires him to write the original song "5,000 Candles in the Wind."
9. 'M*A*S*H' theme song ('Suicide Is Painless')
The song was written by Johnny Mandel (music) and Mike Altman (lyrics). The director of "M*A*S*H" Robert Altman tried to write the lyrics himself, but found that it was too difficult for his 45-year-old brain to write "stupid enough". Instead he gave the task to his 14-year-old-son, Michael, who wrote the lyrics in five minutes. During an appearance on The Tonight Show Starring Johnny Carson in the 1980s, Robert Altman said that while he only made $70,000 for having directed the movie, his son had earned more than $1 million for having co-written the song.
8. 'The Addams Family' theme song
The famous catchy and spooky theme for the TV series "The Addams Family" was written and arranged by longtime Hollywood film and television composer Vic Mizzy. The song's arrangement was dominated by a harpsichord and featured finger-snaps as percussive accompaniment. Actor Ted Cassidy, reprising his "Lurch" voice, punctuated the lyrics with words like "neat," "sweet," and "petite." Mizzy's theme was popular enough to enjoy a single release, though it failed to make the national charts.
7. 'The X-Files' theme by Mark Snow
Mark Snow was bashful about the origins of the iconic theme, saying it was no bright idea that struck him in the middle of the night. Rather, the first material came about accidentally when he "haphazardly" lowered his elbow onto his keyboard.
6. 'Stranger Things' theme by Kyle Dixon & Michael Stein
One of the best things about this Netflix science fiction-horror is atmospheric smooth and spooky synth tones of its theme song and though their originality has been questioned a number of times it still takes an honorable 6th place on our list.
5. 'Malcolm in the Middle' theme song (They Might Be Giants - 'Boss of Me')
This song not only became an early 2000's hit, but also got the band their first Grammy Award, in the category of "Best Song Written for a Motion Picture, Television or Other Visual Media." The song was originally written with the chorus "Who's gonna guess the dead guy in the envelope" for a contest presented by the "Preston & Steve" show during their Y-100 days.
4. 'Friends' theme song (The Rembrandts - 'I'll Be There for You')
One of the most recognizable TV show tunes, "I'll Be There for You" was co-written by "Friends" producers David Crane and Marta Kauffman, Kauffman's husband, composer Michael Skloff, and songwriter Allee Willis, along with Phil Solem and Danny Wilde, both of The Rembrandts. Fun fact: "I'll Be There for You" was actually the SECOND choice for the popular sitcom. R.E.M.'s catchy tune "Shiny Happy People" was almost used for the opening credits. It was only when producer Kevin Bright made a new suggestion that the song was switched out.
Also actress Jennifer Aniston admits the "Friends" cast didn't like the show's theme song at first - but the theme song was stuck in second gear. "No one was really a big fan of that theme song," the actress said on BBCs "The One Show." "I don't mean to say that, but we felt it was a little, I don't know - dancin' in a pond, or like, a fountain felt a little odd. But we did it."
3. 'Seinfeld' theme by Jonathan Wolff
The show's producers were having difficulty finding music that wouldn't overpower the comedian's opening routines. "Jerry, you've already given me the melody and theme," director Art Wolff told Jerry Seinfeld, the show's co-creator. "My job is going to be to support you and the organic nature of your voice." Wolff sampled his own mouth noises and slapped some funky bass over it and the rest is history. He built the theme to be manipulated - the rhythm of the mouth pops, shakers, and bass notes (played with a Korg synth, the M1) changed ever so slightly to fit the different monologues that opened every show.
2. 'Mighty Morphin Power Rangers' theme song (Ron Wasserman - 'Go Go Power Rangers')
"Go Go Power Rangers" is a single by Ron Wasserman who recorded the song as "Aaron Waters - The Mighty RAW" in 1994. The song was written, composed, and produced within a few hours after Wasserman viewed early footage of the original series. Interesting fact: for the 1995 film adaptation Mighty Morphin Power Rangers: The Movie a new Dr. Strange arrangement of "Go Go Power Rangers" was recorded for the film's soundtrack. The song was performed by "The Power Rangers Orchestra:" a collaboration that featured credits of Mr. Big frontman Eric Martin, guitarist Tim Pierce, former Pablo Cruise bass player John Pierce, singer-pianist Kim Bullard, and former Guns N' Roses drummer Matt Sorum.
1. 'The Fresh Prince of Bel-Air' theme song
Is it us or does The Fresh Prince of Bel-Air look like Will Smith? :) Yes, the show stars Will Smith as a fictionalized version of himself, a street-smart teenager from West Philadelphia who is sent to move in with his wealthy aunt and uncle in their Bel Air mansion after getting into a fight on a local basketball court. According to credits, the catchy rapping tune was composed by "The Fresh Prince in association with A Touch of Jazz, Inc.," actually being DJ Jazzy Jeff & The Fresh Prince, an American hip-hop duo, formed in 1985 by DJ Jazzy Jeff and Will Smith.
That's all folks; we hope you enjoyed the top, stay tuned until next week for another WQ!