Friday Top: 8 Worst Posthumous Albums Ever
As voted by UG community.
jomatami
Ultimate Guitar

jomatami
UG News editor since early 2013. King Crimson fan. I handle the news around here.
Posted May 26, 2017 03:30 PM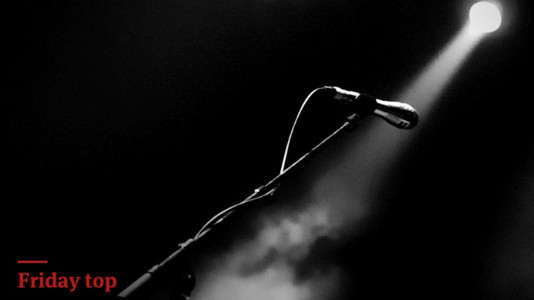 This week's traditional Wednesday Question saw the people of UG community discussing the matter of worst posthumous albums ever released.

Based on your votes and nominations, we rounded up the Top 8, you can check it out below.
8. John Lennon & Yoko Ono - Milk and Honey (1984)
Released four years after John Lennon was murdered, "Milk and Honey" features recordings made in the last months of John's life. It was met with mixed reviews.
7. Elvis Presley - Christmas Duets (2008)
Unveiled in 2008, "Christmas Duets" features archive footage of the King's vocals mixed up with with fully re-recorded instrumental parts and new vocals by contemporary country and gospel vocalists.
6. Johnny Cash - Johnny Cash Remixed (2009)
Released in 2009, this one is a tribute record to late Mr. Cash, featuring remixes of his staple tunes by a variety of artists. In the words of LoseTheGenre, "Fuck that album." 
5. The Doors - Full Circle (1972)
You folks insist The Doors died with Jim Morrison, hence it's "Full Circle" - their second album without Jim - at No. 5.
4. Motörhead - Clean Your Clock (2016)
Featuring Lemmy's last pro-shot, live shows, "Clean Your Clock" was released last June.

starfire666 noted: "I mean, it is kinda cool to see the last time Lemmy was on stage but it is also super sad to watch the man in the condition he was in at the time."

Oh_My_Goth replied: "I don't know. Of course it's not a very good album - but as a posthumous monument of what Lemmy stood for, it's perfect. It's the downright proof of his neverending love and passion for his music. He stood up there til the very last second and in this sense, to me, the album is the pure essence of Lemmy and his lifestyle."
3. Kurt Cobain - Montage of Heck: The Home Recordings (2015)
Released in 2015, this one is a compilation of Kurt Cobain's home recordings.
2. Michael Jackson - Xscape (2014)
The silver medal goes to Michael Jackson's second posthumous album, 2014's "Xscape."
1. All 12 posthumous albums by Jimi Hendrix
During his lifetime, Jimi Hendrix released three albums with the Jimi Henrdix Experience and one live record with the Band of Gypsies. After Jimi's death, 12 posthumous records were released under his name.

As ScreamingMatch noted: "Not bad material; just bad ethics. Whoring out his brand for quick cash grabs."

The albums in question are:

The Cry of Love (1971)
Rainbow Bridge (1971)
War Heroes (1972)
Loose Ends (1974)
Crash Landing (1975)
Midnight Lightning (1975)
Nine to the Universe (1980)
Radio One (1988)
First Rays of the New Rising Sun (1997)
South Saturn Delta (1997)
Valleys of Neptune (2010)
People, Hell and Angels (2013)