Gig Like a Pro Part Two: Bring a Big Crowd
Getting a decent audience shouldn't be a nightmare.
alecplowman
Ultimate Guitar

alecplowman
Posted Jan 24, 2017 09:39 AM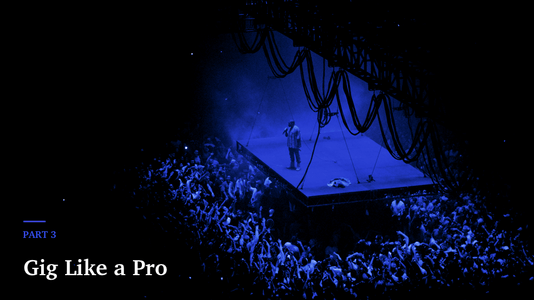 Welcome to Gig Like a Pro, the series that teaches you how to maximize your band's gigging potential, to get shows that will improve your reputation and to avoid the mistakes that many young acts make.
Assuming you followed the advice from last week's edition, you've got a great gig coming up. That's awesome, but now you face what is perhaps the biggest hurdle: getting people to attend the show.
Bringing crowds to shows is something that many bands, but especially young bands, tend to struggle with. You got into this rock and roll business because you wanted to play music, not because you wanted to be an ad man, and this promotional stuff might not come naturally. But, fear not. Beefing up gig attendance doesn't need to be herculean struggle. Follow these three rules and you'll start bringing the crowds in.
Make it manageable
Bands often get overwhelmed when promoting. There's a lot of pressure to get people to come to a show, and inexperienced groups often don't know where to start.
Successful promoting involves breaking down the tasks at hand into manageable chunks. Say your band is expected to bring 25 people to a show. Achieving that goal is much easier if each band mate aims to sell six or seven tickets (assuming that there are four of you). They make a list of ten to fifteen people they know that are likely to attend, then make their way through that list systematically and before you know it, you've reached and breached that 25 ticket goal that seemed so impossible before.
The same applies to flyering, putting up posters and all the rest. Come up with a promotional battle plan and delegate responsibility to your bandmates. You'll find that promoting a show is much easier than you expected.
Start promoting as early as possible
If you leave promoting your gig until the week before the gig, you can pretty much guarantee that no-one will attend.
People have lives that don't revolve around your band. Social schedules fill up and money gets tight. So make sure that you get in and guarantee their attendance as early as possible.
As soon as the gig is confirmed, start selling tickets. Give yourself the time to build up a reasonable audience and get in there before your friends start making other plans.
Oh, and one other thing on that note, make sure that you get a physical ticket in that person's hand, rather than a vague promise that they'll be there on the night. Vague promises are easy to flake out of at the last minute. But, having spent the money on the ticket already means that friend or fan is pretty much a dead cert for coming to the show. Even if they do pull out, you've still made a bit of money, and that's good news for you and the promoter.
Don't rely solely on social media
Social media is a great tool for promoting gigs, but you can't use it exclusively.
Too many bands are guilty of posting about upcoming shows extensively on Facebook, Instagram and Twitter while neglecting other, more traditional forms of promotion. As a result, few people end up attending their shows, the reasons for which they don't understand.
There are two main problems with a social media exclusive approach to promotion. Firstly, there is a lot of content vying for peoples' attention on social media, and the news of your gig risks getting lost amidst that content. Secondly, when you're promoting on social media, you're broadcasting to whoever may follow you, rather than targeting those people that are the most likely to attend your show.
Social media needs to be used in combination with good old-fashioned grassroots promoting. It can strengthen your promotional campaign, but using social media alone won't get butts on seats.