Guitar Center 28th Annual Drum-Off
The event brought together the five finalists.
StevenRosen
Ultimate Guitar

StevenRosen
I've written thousands of stories and each one I do blows my mind all over again.
Posted Jan 20, 2017 02:19 PM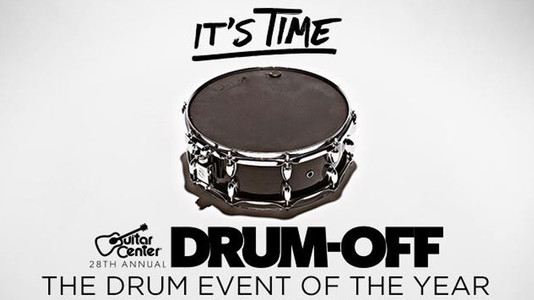 Guitar Center hosted the 28th Annual Drum-Off on January 14th at the Novo [formerly the Nokia] at LA Live in downtown Los Angeles. The event brought together the five finalists - Anthony Burns, Fred Boswell Jr., Hilario Bell, Kwesi Robinson and Mark Pacpaco - who made their way through a series of competitions to perform on Saturday night.
Hosted for the third year running by former David Lee Roth drummer Gregg Bissonette [formerly emceed by Stephen Perkins] and including a coterie of some of the industry's most prominent drummers on the judging panel including Queen Cora Coleman [Beyonce, Prince], Aaron Spears [Usher], Gil Sharone [Marilyn Manson], Dave Elitch [The Mars Volta, Justin Timberlake], and Gerald Heyward [Michael and Janet Jackson], the two-hour show was highlighted by an appearance from Sheila E and her father Pete Escovedo. Additionally, legendary James Brown drummers John "Jabo" Starks and Clyde Stubblefield were inducted into Guitar Center's Rock Walk.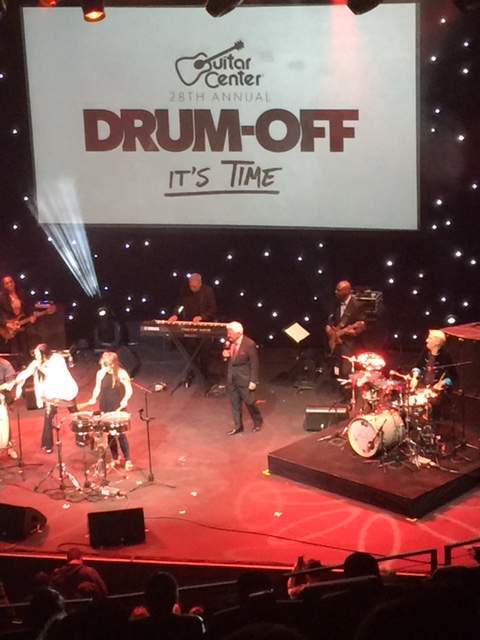 Each of the five drummers was given a five-minute solo spot to run this arsenal of fills, flams, and funky grooves. All the musicians were exceptional players but following his set, it was more than obvious that West Covina, California native Mark Pacpaco had all the qualities necessary to walk away with the trophy. According to Guitar Center's rules page, each player was judged on the following set of criteria:
"Your performance will be judged on skills & technique, groove, originality, stage presence and overall performance. Very important, we are not just looking for who can play the fastest and fill every second with non-stop chops and tricks. Make sure to show some musicality. There should be a flow and feel to your performance."
Each participant played on a kit provided by Guitar Center. Here is exactly what the five finalists used: Finals Grand Prize
"A five-piece drum kit complete with cymbals, hardware, cowbell, tambourine, blast block, a drum throne set up for your performance. The brand and model of the drum set, hardware, throne and cymbals will vary by region. See stores for details.
"The Roland BT-1 Bar Trigger and Octapad SPD-30 will NOT be a part of the competition kit this year.
[Note: The reason Guitar Center did away with the Bar Trigger and Octapad was because in past Drum-Offs, the finalists spent more time triggering sounds and playing on these drum synths than they did concentrating on their solos].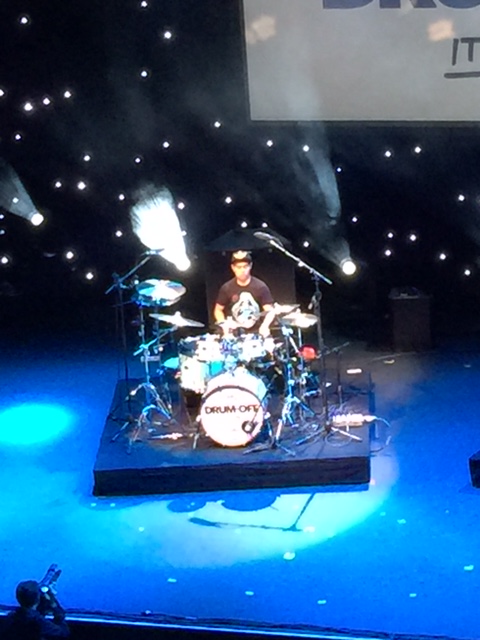 "In your five-minute set-up time, you will be allowed to remove or reconfigure any of the above. However, you will not be allowed to add anything to the competition kit set-up other than the personal pieces of gear listed below."
According to Guitar Center, each participant was allowed to use his own snare drum, drum sticks, bass pedal and drum throne. These are the only personal pieces of gear you may use during your performance. Do not attempt to bring anything other than what is listed above.
This was an extraordinary show that revealed the massive amounts of unknown talent trying to find a way to break into the business and make a living out of music. It is not an easy thing and is probably one of the most difficult challenges anyone could ever face. But Drum-Off winner Mark PacPaco is well on his way to breaking down that first door and announcing his presence. Cue the drum roll...