Guitarists Who Forged Their Own Axes
Here is about The Frankenstrat, Red Special and Delorean.
meme578
Ultimate Guitar

meme578
Joel Bennett www.electricherald.com
Posted Feb 04, 2017 02:30 PM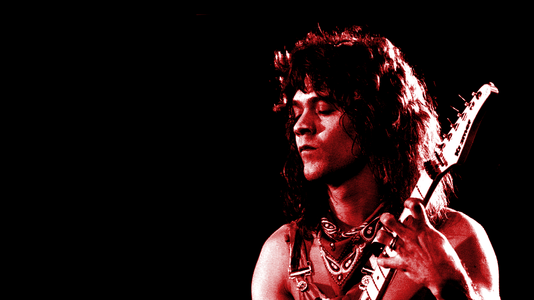 In the world of successful bands and professional guitarists, getting an endorsement from a big name company is a dream come true –and getting a signature model from your endorser would definitely be the best part. These days though, it seems like everyone's got a signature guitar on the shelves. One can't help but think that it's become less about the artist's talent and style, and more about capitalizing off of their popularity by slapping on a paint job and an inflated price to create a "custom signature" instrument.
But some guitarists take their signature models very seriously, working with a company's luthiers, researching and testing parts, and in some cases building their instruments from the ground up.
Today we're going to look at a few popular musicians who went the extra mile to create their own guitars, and subsequently adding a truly unique signature model to the Guitar Center racks.
Eddie Van Halen – The Frankenstrat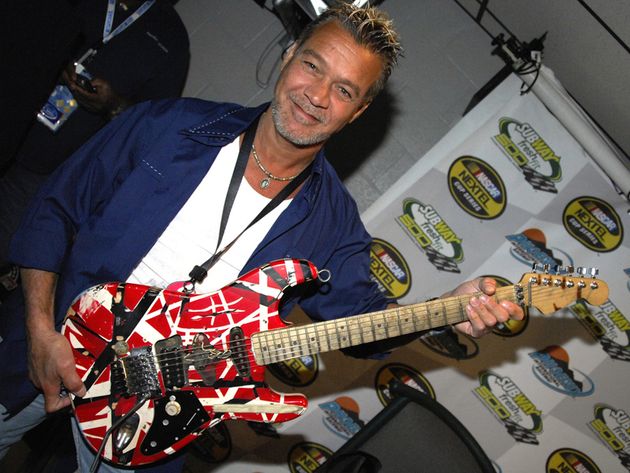 Ask any guitarist what the Brown Sound is, and you're very likely to get an enthusiastic diatribe about Eddie Van Halen beautiful tone. In the late 70s, Eddie's catchy riffs and hallmark finger-tapping leads were propelling Van Halen toward stardom, and by the early 80s, pretty much all of the rock world was fawning over the band.
Peavey's 5150 amps released in 1992 are a major part of the Brown Sound, Eddie's Frankenstrat guitar is a crucial ingredient too. It was first built in 1978 as a result of Eddie's desire to combine elements of a Gibson and a Fender. He wanted the fat sound of a Gibson's humbucker setup with the scale length and playability of a Strat.
With the help of Wayne Charvel (of Charvel Guitars fame), he acquired a maple neck with jumbo frets and a swamp ash Stratocaster-style body.
From there, Eddie installed a PAF pickup from a Gibson ES-335 (UG Score 8.4) that he wax-potted to reduce feedback. The PAF was installed at a slanted angle to account for the smaller string spacing on the Fender bridge so the pole pieces aligned properly.
After experimenting for some time with the electronics, he eventually settled on a simple circuit with one 500k volume pot and the tone knob removed. Finally, the guitar was finished with plain white paint and masked off lines of black underneath.
This original incarnation of the now famous Frankenstrat was immediately copied by guitar companies (particularly the paint job), and underwent a few modifications to the pickup set over the years. It was also refinished with a layer of red, which is the version of the guitar that's most often copied. There's quite a few websites dedicated to recreating the Brown Sound, and a number of tutorials and journals detailing the process of constructing your own. Try as you might, you're never going to be able to do what EVH did with that thing though.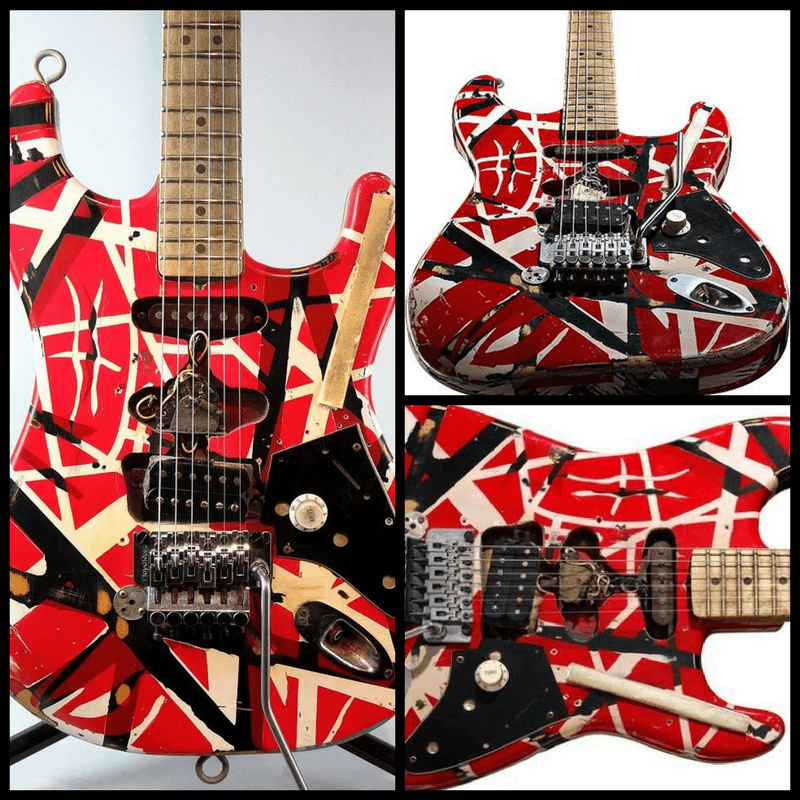 Brian May – Red Special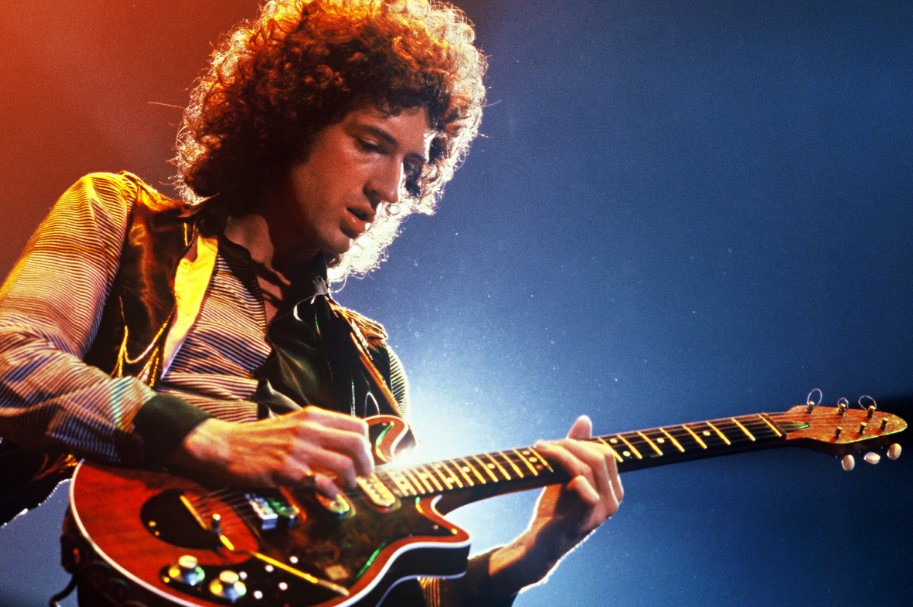 Queen's guitar solos are some of the most memorable and beautiful sounds in the entire world. Brian May has the honor of being the only musician on this list to have built his instrument from the ground up. Even more impressive is that he did it while he was a teen (with some help, of course).
They say that necessity is the mother of all invention, and since Brian came from a fairly poor family, the idea of buying a new Stratocaster was out of the question. Luckily, his father possessed the ingenuity to help create a truly unique instrument.
Later known as the Red Special, Brian had designed the guitar with some very specific results in mind. His intention was to create an instrument that created a feedback loop (the opposite of what people are usually trying to achieve), and this successful endeavor became an important factor in Queen's sound.
The guitar's neck is carved from a 100 year-old fireplace mantle, and the body is a piece of an old table and some block-board (sort of like plywood). He even designed his own tremolo system at a time when they weren't even available in the shop to buy first-hand – the whammy bar is made from a piece of a motorcycle and one of his mother's knitting needles! The Red Special is seriously an ingenious work – take a look at this video for a quick run-down on it from the man himself: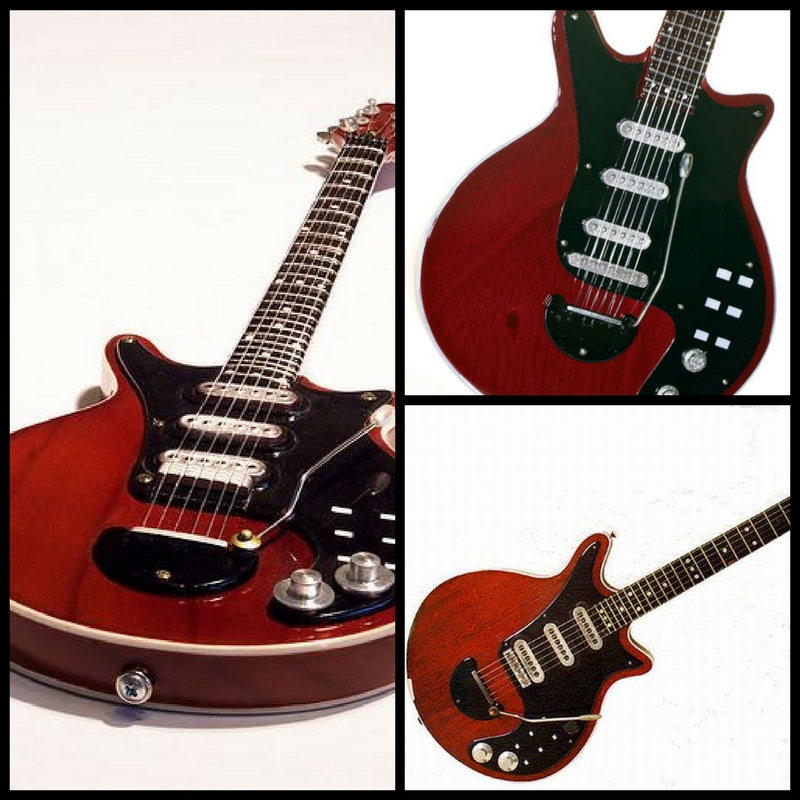 Matt Bellamy - Delorean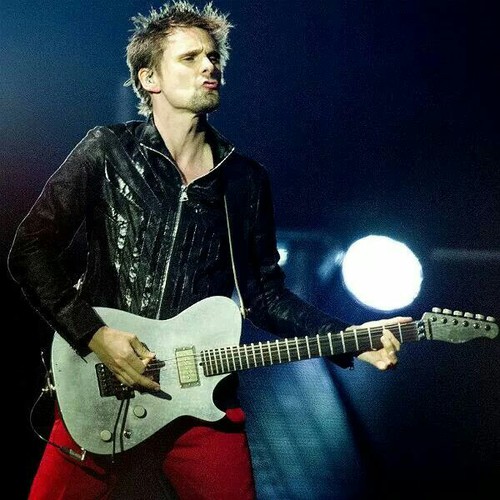 Matt has to be one of the more innovative modern rock guitarists out there, endlessly searching for new sounds to incorporate into Muse's already eclectic catalogue of guitar solos. He got the itch at an early age – while he was a teen, he and his parents used to visit Manson's Guitar Shop in Exeter, which became his base of operation in his tone-searching journey. He and famed-luthier Hugh Manson formed a friendship, and when Matt was ready to have his first custom guitar built, they developed it together.
The result was unique to say the least. While he's more famed for his chaos pad / sustainer combo Manson signature, the Delorean (Back to the Future reference) was impressive in its own right. The aluminum body plating is purely aesthetic (and even caused issues with the sustainer pickup's function), but its electronic circuit was definitely not. It held Seymour Duncan Hot P90 at the neck, a Kent Armstrong Motherbucker at the bridge, and also had a Roland GK-2a MIDI pickup installed just before the saddle.
The circuitry after the pickups is the most impressive part though – there were a couple pedal effects built right into the back (Z.Vex Fuzz Factory & MXR Phase 90). It also featured a preamp system for the Graphtech Ghost acoustic saddles (so really there're four pickups, if you're counting). And to top it all off, a killswitch.
I'd say it's an impressive addition to the world of custom guitars, but it wouldn't be worth all the effort if it weren't being properly put to use – thankfully, Matt has that covered.