Guy Has Made a Custom 1962 Stratocaster Tribute, but Doesn't Know Its Worth
The guy can't be objective about its value. Perhaps you can help him?
Mainlente
Ultimate Guitar
Posted Dec 30, 2016 09:46 AM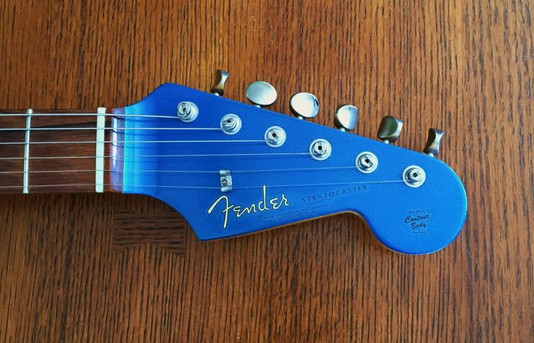 I need your help assessing my Strat. I am proud of my accomplishment. To call my custom-made Stratocaster a mere reproduction would be an insult to the guitar. This guitar is more accurate than a new Custom Shop 1962 re-issue, inside and out. Besides, Custom Shop guitars are mass produced; they have quotas to meet. Mine is a one-off, handcrafted guitar that I took as much time as I needed to complete.
To find an authentic 1962, you'd have to pay $10,000 and up for one in poor condition and more than $30,000 for one in excellent shape. Even a new Custom Shop re-issue would be $4,000-$5000; and it wouldn't have the detailing that this one has.
I started this project 10 years ago, and my goal was to re-create the most accurate '62 Strat that I could. Since then, it's been my pet project and a labor of love. I've been perfecting it as I went along. Every time I come across an authentic piece or a high-end replacement part, I'd add it to this guitar (e.g., finding a NOS Red Dime .1µF 50V capacitor; it was worth it for the tone). Since this is my own personal guitar, the cost of finding the right parts was not an issue. That's why this guitar has the best of the best and everything on this guitar is accurate to the period.
As you can see in one of my profile pics, the American-made Alder wood body has the same pickup routing and cutout pattern as a 1962 Strat, including that secondary curved groove between the controls and the bridge pickup. The guitar has a nitrocellulose finish in classic Lake Placid Blue Metallic on both the body and headstock (an option in '62).
The custom neck was made for me by the B. Hefner Company in California, a licensed Fender contractor known for their outstanding quality. This neck was specially made to 1962 specs. Mr. Hefner, himself, took the order from me. It has the traditional "slab" Brazilian rosewood fingerboard (FYI: '62 was the last year Fender used Brazilian rosewood before switching over to an Indian rosewood veneer). The fret markers are genuine clay. And, of course, the truss rod is located at the bottom end of the neck, right where it's supposed to be (see photo). As I said about the parts, there was no cutting corners. B. Hefner charged $400 for this custom neck without tuners. (Check it out for yourself: bhefner.com/index.php?l=product_detail&p=102.)
The '62 Strat came with single-line Kluson Deluxe slotted safety tuners, and that's what I put on this guitar.
The pickguard is the famous "mint" color with full aluminum shielding. It even has the small neck cutaway for truss rod adjustments.
I installed those incredible re-issued Fender '59-'62 alnico 5 magnet single-coil waxed pickups for a truly classic Strat sound.
But, it doesn't end there. As you can see from my profile pic, the wiring is true to the original, right down to the cloth insulated wires, CTS pots, and the Red Dime capacitor. And, as with all Strats prior to 1964, the tremolo ground is attached to the output jack and not to the volume pot like later model Strats. The one concession I made is I installed a Fender 5-way switch, even though Fender still offers the original 3-way switch. It still has the look of the original.
The bridge has the old style "Fender Pat. Pending" saddles.
With all the time and attention I've put into this guitar, I can't step back and evaluate it objectively. If you were to put a price on it, what would it be?