Iggy Pop's Guide to New Music
Female vocals, exotic tunes, and awkward melodies.
meetmeatseven
Ultimate Guitar
Posted Aug 19, 2017 11:49 AM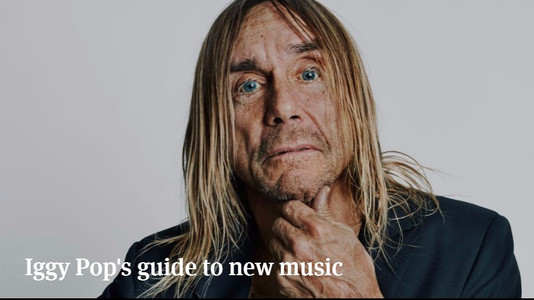 In the 21st century, it's really easy to find any information you need at any given time. If you want to know the details of an early life of a favorite artist — you're only a few clicks away from it. Tons of interviews and articles are waiting for you. So nowadays we know a lot about the inspirations behind famous musicians' art. Bands that they've listened to, films that they've watched, books they've read. The more interesting question is what keeps genius minds going right now, in terms of contemporary music? In that piece, I'm going to find out what Iggy Pop's been listening to in the last few years. In the recent interview to Rolling Stone magazine which arrived last month he talked about why he wants to stop making records, how was it — to write "Post-Pop Depression" together with Joshua Homme and about his life in general. James Osterberg also hosts a radio show called "Iggy Confidential" on BBC Radio 6 Music where he puts on not only all-time classics from the 70's jazz, blues, and rock tunes but also modern bands that he personally liked. Here are some of them.
Mitski
Mitski Miyawaki is a Japanese-American singer and songwriter with a powerful voice who has released four solo records until the present day. She started her musical career while studying at SUNY Purchase Conservatory of Music. Her last one, "Puberty 2" is filled with sharp tunes. It actually gave her universal acclaim, high positions in the charts and even joint tour with The Pixies. Iggy not only played her songs during his "Iggy Confidential" radio show but also mentioned that he liked her music while answering to the question about ways of searching new music:
"I think I found [it] because I was looking up Mitski songs – I like her – on YouTube, then the computer started to figure me out."
Femina
Iggy said:
"There are three girls named Fémina from the Andes in Patagonia that are just terrific. They're just starting their U.S. tour, they actually landed in Miami today, and I might call and see if they want to have coffee after I hang up with you. I played them on my radio show the other day, and I don't think they're used to being all over the radio in the English-speaking world. But they're really, really good."
All I have to add is only the fact that their music with Spanish motives can really brighten up a rainy day.
Sleaford Mods

Sleaford Mods are a duo from Nottingham, England, which creates a strange but exciting mix of hip-hop, post-punk and electronic music. In their interviews, they describe their music as "electronic munt minimalist punk-hop rants for the working class." They are not that young — the beginning of their career is the year 2007. One of the highlights of their career is 2015's collaborative track with The Prodigy called "Ibiza." The most recent album by Sleaford Mods came out in March 2017 and was acclaimed by the critics from all over the world. Listening to their music is a tough but rather exciting experience.
"I love Sleaford Mods. I think they're just about the most credible new group going that don't rely on the old conventions to make the music feel good."
Songhoy Blues

Songhoy Blues is a bunch of guys who play an exotic mix of "desert blues" (as they call it) and punk-rock. Originally they are from Timbuktu, Mali. They have released two albums in their career, in 2015 and 2017. Even Julian Casablancas from The Strokes was so amazed by their music that helped Atlantic Music with his own label Cult Records to release their debut in North America. Iggy himself sang on one of their songs from this year's album, "Resistance." If you are looking for something exotic, you should definitely try them.
I'd like to add some words about the sources of getting new music.
James Osterberg, being
not a big fan of Internet and
social networks,
mentioned that he is reading a lot of musical reviews in American newspapers and has five or six friends who send him music from time to time. He noted that at the moment he is profoundly interested in what is going on in a French musical scene.
New music — that is one of the things which keeps us going.