Is Emo Revival Really a Thing?
The generation of outcasts subculture renaissance.
Maria_Pro
Ultimate Guitar
Posted Jul 13, 2017 08:40 AM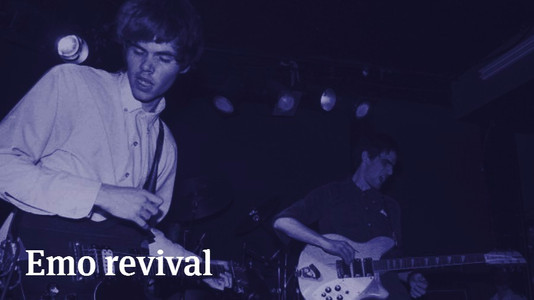 Emo seems to be one of the most misunderstood subcultures of the past century. Up to this day, the word 'emo' is often used as a stereotype, which is insulting to one if not self-proclaimed. Nevertheless, one of the most frequently asked questions during the nostalgic conversations of the ex-90's teens arguably stays, 'Were you a scene kid?.'
Emo is a subculture that rejected the traditionally hardcore masculine values and opened up the mic for the bands to talk about traditionally feminine subjects such as heartbreak and disappointment in a confessional and poetic manner. These lyrics, combined with the loud, melodic punk music, definitely hit the spot for the young hardcore kids who were struggling with their own emotions at the time.

According to Andy Greenwald, the author of 'Nothing Feels Good: Punk Rock, Teenagers, and Emo,' 'The origins of the term 'emo' are shrouded in mystery ... but it first came into common practice in 1985. If Minor Threat was hardcore, then Rites of Spring, with its altered focus, was emotional hardcore or emocore.' The style was soon dubbed 'emo-core.' The 'emocore' label quickly spread around the Washington, D.C. punk scene and became attached to many of the bands associated with the Dischord Records label.

Formed in 1984, Rites of Spring band broke free of hardcore's self-imposed boundaries in favor of melodic guitars, varied rhythms, and deeply personal, impassioned lyrics. Their performances became public emotional purges where audience members would sometimes weep. This was one of the first hardcore scenes ever to attract a significant amount of females.

The Washington emo scene lasted only a few years and by 1986 most of the major bands of the movement (including Rites of Spring, Embrace, Gray Matter, and Beefeater) had broken up.
The second wave of the genre was the so-called 'Midwest Emo.' Chief among the second wave scene were Jawbreaker and Sunny Day Real Estate, both of whom fostered cult followings and brought 'emo' a step closer to the mainstream.

As for many people, the subculture embodied powerlessness and adolescent frustration at the world that made them want to scream, during the second wave a more aggressive offshoot of emo called 'screamo' developed in San Diego.
The third wave was the Emo's commercial peak. Emo broke into the mainstream media in the summer of 2002 with a number of notable events, such as Jimmy Eat World's 'Bleed American' album reached #1 on Billboard's Modern Rock Tracks chart and New Found Glory's album 'Sticks and Stones' at #4 on the Billboard. Emo Pop becomes the genre's dominant sound. The record label Fueled by Ramen became a center of the movement, releasing platinum selling albums from bands like Fall Out Boy, Panic! at the Disco, and Paramore.
The fourth wave, which is considered to be the 'emo revival,' is a 2010s development in the genre in which bands have taken inspiration from the sounds and aesthetics of emo from the '90s and early '00s. For quite a while now some great things are going on in the underground scene, especially all over Philadelphia and its big house shows. The sound itself is different from bands of the second wave and seems to be more of a fusion between the post-hardcore scene, math rock, and pop-punk. The lyrics mainly focus on themes of nostalgia and adulthood. Some people, perhaps, can call it twinklecore. The new emo bands seem to satisfy the alternative mindset desire for some raw guitar DIY sound. However, most of the public is skeptical about the term 'revival.' Most of the people involved in the scene seem to be sure that the revival is an illusion and that the genre has always been going strong. Some of them, though, feel thankful for the media's attention to the genre. For example, Evan Weiss from Into It. Over It. tweeted: 'I appreciate the 'revival' coverage. It's encouraging and positive. Gives me a sense of validation seeing as I've been doing this since 1999.'

Here are a few underground movement bands for you to get a taste of what's going on in the scene.
The Hotelier
The band released their second album in 2014 titled 'Home, Like Noplace Is There,' which brought the band to attention in the emo revival scene. After releasing the album, vocalist Christian Holden stated in a blog post on the band's Tumblr: 'Our new album deals with some real dark stuff. So to all my brooding and slightly damaged friends, have your a happy album or Rugrats in Paris nearby. It's partly about my experience with friends and loved ones in the past three years which were very complicated, toxic, and abusive. But laid within is a lot about the deconstruction of self for personal growth and transformation. I hope it helps you live and stuff. Apparently, we are emo now.'
CSTVT
Originally formed in 2007 under the name Castevet, the band is from Chicago, Illinois.

The band has two studio albums.
Pianos Become the Teeth
Pianos Become the Teeth is an American rock band from Baltimore, Maryland, formed in 2006. Their musical style has been inspired by post-rock and early screamo acts, and they are a part of a post-hardcore music movement also represented by Touché Amoré, La Dispute, Defeater, and Make Do and Mend. The group reissued their well-received debut album Old Pride in 2010 through Topshelf Records.
Touché Amoré
An American post-hardcore band from Los Angeles, California, formed in 2007. They released their fourth studio album titled 'Stage Four' in 2016.
Everyone Everywhere
Everyone Everywhere is an American emo band from Philadelphia, Pennsylvania formed in 2007. They have released two self-titled albums, two EPs, and one split with Into It. Over It. since then.
Into It. Over It.
This is a solo project of the Chicago, Illinois-based musician Evan Thomas Weiss. It is considered one of the leading acts in the emo revival scene of the '10s.
Snowing
An American emo band from Lehigh Valley and Philadelphia, Pennsylvania.

In 2011 Snowing announced they were breaking up. In 2016 they reunited for two the final shows at the Broken World Fest in Pittsburgh and the Square of Opposition Records' 15th year anniversary.
Moose Blood
Moose Blood are an English emo band based in Canterbury, Kent. They formed in 2012 and are currently signed to Hopeless Records.
The World Is a Beautiful Place & I Am No Longer Afraid to Die
TWIABP is an American band formed in Willimantic, Connecticut in 2009. According to their Facebook page, their 'lineup is constantly expanding and contracting. Recording and live performance lineups vary.'
A Great Big Pile of Leaves
An American indie rock band from Brooklyn, New York, currently signed to Topshelf Records.
Sorority Noise
An American indie rock band from Hartford, Connecticut formed in 2013. Their latest album is called 'You're Not As _____ As You Think It' was released in 2017 by Triple Crown Records.
Citizen
AllMusic biographer Jason Lymangrover called the band's sound a merge of 'bombastic emo pop, post-hardcore, and thick, chunky indie rock.'

Their 2015 album called 'Everybody Is Going to Heaven' charted at number 2 on the Billboard Vinyl Albums chart.
Glocca Morra
Glocca Morra was an American indie rock/emo band from Miami, Florida, formed in 2009. Before breaking up in 2015, the band announced their plans to release a final two song EP on Ice Age Records.
Title Fight
An American rock band from Kingston, Pennsylvania, formed in 2003. They have released three studio albums.
Algernon Cadwallader
Was an American emo band from Philadelphia, Pennsylvania, formed in 2005. The band split in 2012.
The Front Bottoms
An American band that originated in Woodcliff Lake, New Jersey was formed in 2007. They have five studio albums, the latest of which is the 'Back on Top' released on 2015.
Tiny Moving Parts
An American emo/math rock band from Benson, Minnesota formed in 2010.

In 2016 they released their latest album 'Celebrate.'
Modern Baseball
An American band from Philadelphia, Pennsylvania formed in 2011.

The band has three studio albums.
You Blew It!
An American emo quintet based in Orlando, Florida. The band was formed in 2009.
Foxing
An American rock band from St. Louis, Missouri formed in 2011 following the end of the group Hunter Gatherer. Their 2015 album 'Dealer' was ranked at number 2 on AbsolutePunk's top albums of 2015 list.