Jazz Saxophone Virtuosos
'If you like an instrument that sings, play the saxophone.' Stan Getz.
Maria_Pro
Ultimate Guitar
Posted Jun 27, 2017 06:10 PM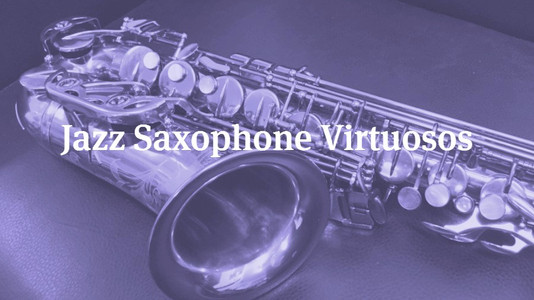 The first saxophone was made by Belgian instrument maker Adolphe Sax in 1846. First, it was used by military bands, and it took a while for the instrument to become a staple piece in jazz bands. In 1914 the saxophone entered the world of jazz. Here are some of the iconic sax virtuosos whose contribution to jazz music cannot be understated.
Ornette Coleman
Coleman was an American jazz saxophonist, violinist, trumpeter, and composer born in 1930 in Texas, USA. Looking forward to moving out of his hometown, he took his tenor saxophone, found a job in a traveling show and started touring with the rhythm and blues performances. After one of his shows in Louisiana, he was assaulted, and his saxophone was destroyed. After the accident, he switched to alto sax, which remained his primary instrument for the rest of his life. He became one of the major innovators of the free jazz movement of the 1960s. Actually, he was the one to invent the term. His 'Broadway Blues" has become a standard and has been cited as a key work in the free jazz movement. His album "Sound Grammar" received the 2007 Pulitzer Prize for music.
Sonny Rollins
Sony Rollins is an American jazz tenor saxophonist, widely recognized as one of the most important and influential jazz musicians was born in New York, USA in 1930. He made his first recordings in early 1949 as a sideman with the bebop singer Babs Gonzales.

At the beginning of 1950, Rollins was arrested for armed robbery and spent ten months in Rikers Island jail before being released on parole. After the prison time he recorded with Miles Davis, the Modern Jazz Quartet, Charlie Parker, and Thelonious Monk. Two years later he was arrested again for violating the terms of his parole by using heroin. In 1954 he recorded his famous compositions 'Oleo', 'Airegin,' and 'Doxy' with a quintet led by Miles Davis. He was just in his mid-twenties when he released his 'Saxophone Colossus.' Rollins has an astonishing ability to rarely repeat himself when improvising, even during lengthy solos. Inspired by Lester Young, Coleman Hawkins, and Charlie Parker, Sonny Rollins developed a bold and quirky melodic style. To this day, Rollins is evolving and seeking out styles of jazz that will best express his musical character.
Charlie Parker
Charlie Parker, a jazz saxophonist and composer, also known as 'Bird,' was born in Kansas, USA in 1920. Some hail him as the best jazz saxophonist ever, and with good reason. One of the primary founders of bebop, Parker was also an incredibly fast virtuoso and an extraordinary improviser. He introduced revolutionary harmonic ideas including rapid passing chords, new variants of altered chords, and chord substitutions. His style of composition is called contrafact. It stays common in jazz today.

Bird could play at breakneck speeds like on 'Kim,' or he could lay back and play ballads like 'Lover Man.' Unfortunately, throughout his adult life, Parker battled with heroin addiction, alcoholism and mental illness which caused turbulence in his career and personal relationships.
John Coltrane
John Coltrane, also known as 'Trane,' was a jazz saxophonist and composer born in North Carolina, USA in 1926. Coltrane helped pioneer the use of modes in jazz, and his influence is one of the most remarkable in jazz. Trane was practiced ten to twelve hours a day and led at least fifty recording sessions during his career.

In the 1950s, he found exposure through his gigs with Miles Davis and Thelonious Monk. His piece 'Giant Steps,' on the album of the same name, featured a harmonic structure he had invented that sounded like nothing before it. Coltrane influenced countless musicians, and his presence is even heard in younger
Cannonball Adderley
Julian Edwin 'Cannonball' Adderley was a jazz alto saxophonist of the hard bop era born in Florida, USA in 1928. He left Florida initially to seek graduate studies at New York conservatories, but one night in 1955 he brought his saxophone with him to the Café Bohemia. After the evening he was asked to play for the saxophonist in Oscar Pettiford's band, who was late for the gig, Cannonball became famous. He got noticed by Miles Davis because of his blues-rooted alto sax. Davis asked him to play with his group. He joined the Davis band in October 1957. However, after leaving Davis' group, he formed another, with his brother, which had even more success.
Songs made famous by Adderley and his bands include 'This Here,' 'The Jive Samba,' 'Work Song,' 'Mercy, Mercy, Mercy' and 'Walk Tall.'
Lester Young
Lester Young, known as the 'President of Jazz' or simply 'Prez,' was an American jazz tenor saxophonist and occasional clarinetist, born in Mississippi, USA in 1909. Lester Young played in his family's band, the 'Young Family Band,' in both the vaudeville and carnival circuits. He left the band at the age of 18 because he refused to tour in the Southern United States, where Jim Crow laws were in effect.

In 1933 Young started playing with the Count Basie's orchestra. In contrast to many of his hard-driving peers, Prez played with a relaxed, cool tone and used sophisticated harmonies. He was rapidly gaining popularity. Known for his hip, he invented or popularized much of the jargon which came to be associated with the music. After the World War II Young joined Norman Granz's Jazz at the Philharmonic troupe and toured regularly with them over the next 12 years. Lester Young made his final studio recordings and live performances in Paris in 1959. He died in March 1959, at the age of 49, due to many years of alcohol dependence.
Dexter Gordon
Dexter Gordon was an American jazz tenor saxophonist born in Los Angeles, USA in 1923.

He was also known as 'Long Tall Dexter' and 'Sophisticated Giant' because of his height (6 feet 6 inches or 198 cm). His studio and live performance career spanned over 40 years.

A big man with a big sound, Dexter was a bebop pioneer. Everything in Gordon's life, starting from heroin addiction to an extended stay in Europe to a successful return home, screamed 'jazz legend.' Between 1940 and 1943 he played sax in Lionel Hampton's band, by late 1944 he was a featured soloist in the Billy Eckstine big band. In the '50s he was struggling with his heroin addiction and spent his time in Folsom Prison. In 1961 Gordon signed to Blue Note Records which was a beginning of a renaissance for his career. His sound was spacious and witty, and he was known for his tendency to play behind the beat. Soon after, he was offered to go to Europe, and over the next 14 years, he had a very fruitful professional life overseas. Gordon finally returned to the United States for good in 1976. In 1986 he won a Grammy for the Best Jazz Instrumental Performance, Soloist, for the soundtrack album 'The Other Side of Round Midnight.'
Sonny Stitt
Sonny Stitt was an American jazz saxophonist of the bebop/hard bop idiom born in Massachusetts, USA in 1924. Known for his warm tone, he was one of the best-documented saxophonists of his generation, recording more than 100 albums.

He was nicknamed the "Lone Wolf" by jazz critic Dan Morgenstern, in reference to his relentless touring and devotion to music. Sonny Stitt made more records as a leader than any other jazz instrumentalist. Stitt had played in some swing bands in the early '40s and was featured in Tiny Bradshaw's big band. He replaced Charlie Parker in Dizzy Gillespie's band in 1945, and in 1946 made the first recordings under his own name for Savoy Records, which established his bop credentials. Stitt's productivity dropped in the 1970s due to alcoholism. Stitt had drunk heavily since giving up heroin in the late '50s. A series of alcohol-induced seizures caused the musician to abstain and kick the habit for good. Stitt said: 'It was pitiful, man...I was really a slave. I've come back from the dead, because that's where I was, man. I was dead.' Later in his life, he joined the Giants of Jazz (which featured Art Blakey, Dizzy Gillespie, Thelonious Monk, Kai Winding, Al McKibbon) and made albums for Atlantic, Concord, and Emarcy. His last recordings were made in Japan.
Paul Desmond
Paul Desmond, also known as 'The Stork,' was an American jazz alto saxophonist and composer born in 1924 in California, USA. He is best recognized for the work he did in the Dave Brubeck Quartet and for composing that group's greatest hit, 'Take Five'. He was one of the most famous musicians to come out of the West Coast's cool jazz scene.

In addition to his work with Brubeck, he led several of his own groups and engaged in significant collaborations with artists such as Gerry Mulligan, Chet Baker, Jim Hall, and Ed Bickert. After years of chain smoking and general poor health, Desmond succumbed to lung cancer in 1977 following one last tour with Brubeck.
Albert Ayler
Albert Ayler was an American avant-garde jazz saxophonist, singer, and composer born in Ohio, USA in 1936. He was called 'Bicycle Horn' for his wild, atonal sound.

After early experience playing R&B and bebop, Ayler began recording music during the free jazz era of the '60s. Ayler experimented with microtonality in his improvisations, seeking to explore the sounds that fall between the notes in a traditional scale. Ayler also resisted the standard swing beat and instead built momentum through the frenetic speed of his improvisatory lines, which he forcefully overblew from his saxophone. Albert Ayler's body was found in New York's East River on 25 November 1970. He was 34. Despite all of the conspiracy theories about global plots against radical black musicians, Mary Parks (Ayler's companion) later insisted that he had jumped from a ferry.
Peter Brötzmann
Peter Brötzmann is a self-taught free jazz saxophonist and clarinetist, born in Germany in 1941. Brötzmann is a colossal figure in European and American free jazz.

He is a rare Ayler-influenced saxophonist capable of producing improvised lines of depth and sensitivity while informing them with enough raw power to make a lesser saxophonist wilt. While there's no lack of spontaneity in his music, Brötzmann's concern with motivic and melodic reiteration gives his playing a palpable sense of direction. He has released over fifty albums as a bandleader and has appeared on dozens more.
Sam Rivers
Samuel Carthorne Rivers was an American jazz musician and composer born in 1923 in Oklahoma, USA. He performed on soprano and tenor saxophones, bass clarinet, flute, harmonica, and piano. Active in jazz since the early 1950s, he earned wider attention during the mid-'60s spread of free jazz.

In 1964, Rivers moved to New York. That July, Miles Davis hired Rivers on Tony Williams' recommendation. In 1970, Rivers opened a studio in Harlem where he held music and dance rehearsals. Space relocated to a warehouse in the Soho section of New York City. He named the Studio Rivbea. Later it became one of the most well-known venues for the presentation of new jazz.
Donny McCaslin
Donny McCaslin is an American jazz saxophonist born in California, USA in 1966.

McCaslin has been a dynamic presence on the international jazz scene for a few decades. In 1987 McCaslin joined Burton's group and toured the world with him for four years. In 1991 he moved to New York City and was a member of Steps Ahead. Exile and Discovery, his first record as a leader, appeared in 1998. In 2006 he joined the Dave Douglas Quintet. In 2014, McCaslin started working with David Bowie on his single 'Sue (Or in a Season of Crime)' and later on on his album 'Blackstar.'
Michael Brecker
Michael Brecker was an American jazz saxophonist and composer born in 1949 in Pennsylvania, USA. Brecker was in high demand as a soloist and sideman. He performed with bands whose styles ranged from mainstream jazz to mainstream rock. Altogether, he appeared on over 700 albums, either as a band member or a guest soloist. His jazz and rock collaborations include work with Lou Reed, Eric Clapton, Billy Joel, John Lennon, Aerosmith, Dan Fogelberg, Frank Sinatra, Frank Zappa, Bruce Springsteen, Paul Simon, James Taylor and others.

He is widely regarded as the most influential tenor saxophonist since John Coltrane. Brecker has 15 Grammy Awards as both
Stan Getz
Stan Getz was an American jazz saxophonist born in 1927 in Pennsylvania, USA. He was known as 'The Sound' because of his warm, lyrical tone. He came to prominence in the late '40s with Woody Herman's big band. In the '50s Getz became popular playing cool jazz with Horace Silver, Johnny Smith, Oscar Peterson, and many others. Influenced by João Gilberto and Antônio Carlos Jobim, he popularized bossa nova in America with the hit single 'The Girl from Ipanema.' Getz recorded 'Jazz Samba' in 1962, and it quickly became a hit that won him the Grammy for Best Jazz Performance of 1963. It sold over one million copies and was awarded a gold disc.