Most Anticipated Albums of November 2017
This November will rock hard.
meetmeatseven
Ultimate Guitar
Posted Nov 11, 2017 11:07 AM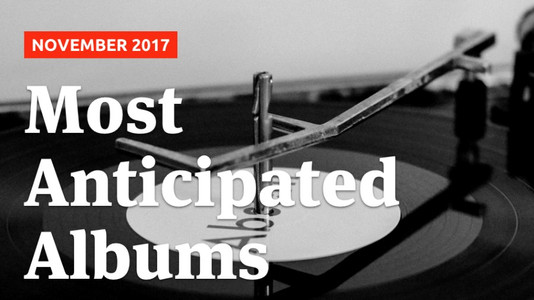 November is here. The days are getting shorter while the nights grow longer and colder. Snowy winter is just behind the corner. But I've got something warming for you, the list of the most anticipated November musical releases!

But first, honorable mentions:
November 3 — Kid Rock — "Sweet Southern Sugar"
November 3 — Converge — "The Dusk In Us"
November 3 — Cannibal Corpse — "Red Before Black"
And now let's dive into the list!
Anti-Flag — "American Fall"
Anti-Flag newest album is here (release date — November 3), and it's their tenth studio album. Trump-era's America has inspired the new rebellious work of famous punk rockers, and it sounds big. Stadium-sized choruses, fury, and riffs. What can be better than this? By the way, there is a beautiful linguistic issue here — their previous effort was called "American Spring."
Morrissey — "Low In High School"
Steven Patrick's newest solo outing will arrive on 17th of November, and the first three singles sound classy. As usual — Morrissey is good at storytelling & melodies.
Electric Wizard — "Wizard Bloody Wizard"
Electric Wizard will return next Friday, November 17 with their new album "Wizard Bloody Wizard." Judging by their own words they took inspiration from Jimi Hendrix's recordings. It's going to be rough, raw and bluesy as hell. Just check the single below. It speaks for itself!
Noel Gallagher's High Flying Birds — "Who Built The Moon?"
Just after his brother's success with his first ever solo record "As You Where" Noel has decided to strike back with his own band. "Fort Knox" sounds euphoric and a bit retro while "Holy Mountain" is a massive Bowie-esque tune filled with sax parts. Liam & Noel's endless competing is sad because they are brothers, but at least it gives us good tunes. "Who Built The Moon" is out on 24th of November.
Cavalera Conspiracy — "Psychosis"
The legendary Cavalera brothers will be back on November 17 after two years of absence. Here is what Max Cavalera said about his brother Igor and the upcoming record:
"Igor has always been adventurous. When we were back in the early days, (Sepultura) "Schizophrenia" days, he would always be jamming Beastie Boys and Run DMC and stuff like that. I didn't quite understand it; that wasn't my cup of tea. But, he was always into different stuff like that. It didn't come as a total surprise that he was doing that. But, I know how to get the 'metal' out of him. (Laughs) It's not too hard. He loves it. He loves playing. We actually found a really cool producer this time, this guy Arthur Rizk. He did "Inquisition," "Power Trip." He was killer. He was great. He was the perfect guy for the album. He had a great knowledge of the underground, knew a lot about the newer, heavy stuff that's coming out, but also knew about old stuff and knew my and Igor's catalog entirely. So the record is kind of rooted in the stuff that we did in those days, like "Schizophrenia", "Beneath The Remains", "Arise", but with a twist of right now, with the noise of right now, stuff like Full of Hell, NAILS, BOLZER, stuff we listen to."
Annihilator — "For The Demented"
Canadian metalheads returned on November 3 with "For The Demented." And they sound stronger than ever. They thrash metal riffs, and passages sound vital, bloody and dark on their latest effort. If you are a fan of good old metal — "For The Demented" is definitely worth checking out. I'm pretty sure that work will fuel their career.
Looking forward to hard-rocking December!