Outsider Rock. Last But Not Least
Musicians who ignore the rules set by the music industry.
meetmeatseven
Ultimate Guitar
Posted Sep 23, 2017 07:22 PM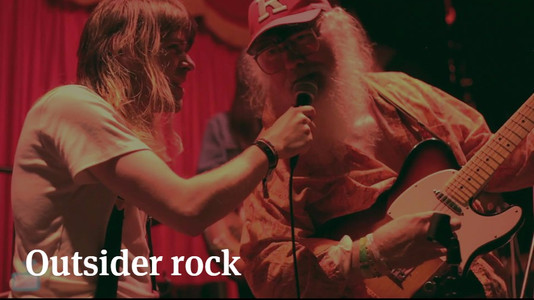 This week I came across one interview on YouTube. It was one of the unpopular Russian underground garage-rock bands. The interview was an hour and a half long, but there was one statement that played a leading role in frontman's speech — "we don't want to be popular. We want to play tiny gigs at local bars and clubs all over Russia & elsewhere." And I immediately remembered one of the nights back in 2014 when I accidentally saw them playing live in a club. I told the frontman that night: "you need to bring your albums to iTunes, you need SoundCloud." "Aaaaah... could be, one day" — his answer was. So yeah, not everyone wants to be famous. Not everyone wants arena-sized auditoriums and sold-out shows. So today I want to talk about outsider-rock and give you some examples.
Outsider rock is a genre created by musicians who are not an actual part of a commercial music industry and who ignore usual rules and norms set in lyrics and genres. They make it for themselves and the way they like it. Let's take a closer look at those musicians.
1. Syd Barret
In the wake of his career, Syd Barret was an original singer and songwriter in Pink Floyd. He left the group in 1968 while the rest of the guys haven't even finished the second album. Then his life was heavily affected by drug abuse and mental illnesses, but he managed to record two solid and influential solo records ("The Madcap Laughs" and "Barrett" both in 1970).
Here is what his ex-colleague Richard Wright from Pink Floyd said about them:
"Doing Syd's record was interesting, but extremely difficult. Dave (Gilmour) and Rogers (Waters) did the first one ("The Madcap Laughs"), and Dave and myself did the second one. But by then it was just trying to help Syd any way we could, rather than worrying about getting the best guitar sound. You could forget about that! It was just going into the studio and trying to get him to sing."
You can check some of the songs below (if you haven't done that yet):
2. Captain Beefheart
The legendary outsider musician, Captain Beefheart, played colourful music with the range of genres from free-jazz to psychedelic rock. His music profoundly influenced punk rock, alternative, post-punk & new wave music. As a teenager, he had an excellent music taste, and when he grew up, he became friends and collaborated with Frank Zappa.
3. Wesley Wills
Wesley Wills was a Chicago-based singer-songwriter and artist. In his songs, he sang a lot about his battle with schizophrenia and about musicians who inspired him (including Alanis Morissette & Tom Petty). He finished most of his songs with the words "Rock over London. Rock in Chicago", which he picked up from some random advert. Also, his lyrics were full of swear-words & he was one of the pioneers of the stream-of-consciousness style of writing.
4. Ariel Pink
And now let's go back to the contemporary times. An amazing cross-genres musician Ariel Pink has recently released a brand new album "Dedicated to Bobby Jameson" which is a pretty decent listen. In his music, he mixes good-old '70s psychedelia with hypnagogic pop and open-hearted lyrics. Sometimes he even plays punk-songs! It's his eleventh record without any planned and intentional advertising campaign.
5. John Maus
John Maus' music is a strange but catchy fuse of lo-fi/synth-pop and post-punk. He is 37, he is from America, and his new album will come out in a few weeks recorded entirely by himself on some weird synth-instrument that he created. In fact, he is also a Ph.D. at Continental Philosophy & early-days Ariel Pink-collaborator.
And here is the video of him talking about Ariel Pink's works:
It would be great to know your opinion about those musicians in the comments section.