Shoegaze Evolution
From the Jesus and Mary Chain to Blonde Redhead
Maria_Pro
Ultimate Guitar
Posted Jun 09, 2017 12:54 PM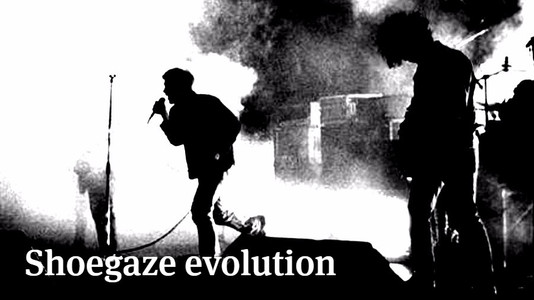 After Punk had introduced people to a revolutionary idea that they don't need big record labels to make music, a lot of great things started happening. Twee pop, featured in 1986 NME compilation C86, was one of them. Twee pop had a spirit of D.I.Y. defiance, sentiment, simplicity and innocence to it. Pop music lovers around the world didn't want to dance to some big record label tunes. They wanted to set their own rules and have their own scene. The thought of starting a label and sharing the music you love was in the air. Thanks to Alan McGee, Slaughter Joe, Jeff Travis such labels as Creation Records, Poptones started to pop up.
One of the brightest representatives were the Young Marble Giants. The band had only released one full-length studio album 'Colossal Youth' in 1980 but still had quite a noticeable contribution to the scene. By the way, they were one of Kurt Cobain's favorite bands.
Shoegaze emerged in the UK in the late 1980s as a subgenre of indie rock, alternative rock, and neo-psychedelia. It may be considered a culmination of the whole D.I.Y. culture.
Contrary to other music styles shoegaze had nothing to do with socializing and had a strong romantic antisocial vibe. It had no particular rules, no special way of dressing, etc. It was about simultaneously sitting alone in your bedroom and dreaming. The music was so overwhelmingly beautiful that kids felt the romance they could find at a college party or elsewhere could never measure up to it. They just stayed in their bedrooms and kept their heads in the clouds. The term "shoegazing" was first brought up by the British music press. They made fun of band members who typically lacked stage presence and stood still during live performances. Because of heavy use of effects pedals, performers were often looking down at their shoes during concerts.
Before the Jesus and Mary Chain, there were no real breakthrough bands that represented the style. They released their debut album 'Psychocandy' (1985) which combined guitar feedback with traditional pop song structures. This album had significant influence on the forthcoming shoegazing genre and alternative rock in general.
My Bloody Valentine can also be considered the pioneers of the genre. The band is known for their integration of noise, melody, and different guitar and production techniques into their music. Kevin Shields was a real virtuoso of effects. He created a hurricane of sounds by using "bloom" effect of the Alesis Midiverb II with it's rich and highly diffuse reverb and a smooth decay. Robert Smith (The Cure) cites their album 'Loveless' in his top three of all time.
The Cocteau Twins were one of the most prolific bands of the 1980s. The captivating vocals, dreamy tunes, and unique, luscious romantic guitar sound formed a perfect shoegaze sound of this band. You can barely make out what Elizabeth Fraser, the singer, is saying, but it really doesn't matter.
Ride were one of the best live bands in the early 90s. They somehow managed to sound very close to their original records in their live performances. Coming before 'Loveless' had Ride free from the sonic influence of that album, presenting a very different palate of ideas. Their album 'Nowhere' was a critical and commercial success, reaching #11 in the UK.
London's Lush alternated between straight pop and the dream pop. It's first proper full-length album 'Spooky' is also a shoegaze essential. Spooky reached the UK Top 10 and topped the national indie charts.
The band Chapterhouse began performing alongside the famous Spacemen 3. Their first album, 'Whirlpool' (1991) has been cited as one of the genre's high points but failed to capture a wider market despite reaching #23 in the UK Albums Chart.
Curve are a blend of shoegaze, dream pop, dance, and industrial. In 2016 Pitchfork Media ranked the album at number 40 on its list of "The 50 Best Shoegaze Albums of All Time", saying: "Curve's great innovation was marrying densely cloistered electronic rhythms with the approaching onslaught of noise-pop. Prior to their 1992 debut 'Doppelgänger', such a blend didn't exist, but Curve pioneered the sound that eventually became widespread; their own doppelgänger, Garbage, made a mint with this fusion just a few years later."
Slowdive's 'Souvlaki' is also an iconic shoegaze album. Early demos for the album were initially rejected by Creation Records boss Alan McGee, but he later decided to give the band full creative control over the album. Slowdive asked Brian Eno to produce the album, and he declined. However, he agreed to do a couple of days of recording with Halstead, and out of these sessions came the tracks 'Sing' and 'Here She Comes.'
In the early 1990s, shoegazing groups were pushed aside by the American grunge movement, and early Britpop acts such as Suede, forcing the relatively unknown bands to break up or reinvent their style altogether. A renewed interest in shoegaze occurred in the early 2000s when bands such as Maps, Blonde Redhead, My Vitriol, M83, A Place to Bury Strangers, Carnavas and Deerhunter, etc. first emerged across both sides of the Atlantic.
Over the last years, a lot of shoegaze bands including the Jesus and Mary Chain, My Bloody Valentine, Ride, Swervedriver, Lush, etc. have reformed to tour or record new material.
Do you think this is a shoegaze revival or just nostalgia?