Side Projects That You Need To Check Out. Part 1
Josh Homme, David Bowie and Lias Saudi pushing boundaries further to the edge.
meetmeatseven
Ultimate Guitar
Posted Aug 05, 2017 12:13 PM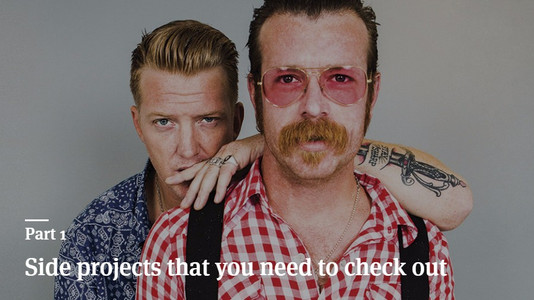 In a recent interview, Albert Hammond mentioned that his son Albert Hammond Jr is recording a new Strokes album with Rick Rubin. Unfortunately, two days later, Albert Jr has claimed on twitter that the new Strokes album will not be ready in the nearest future and that the possibility of it is 'years from now if ever.' He also mentioned that The Strokes members would concentrate on their various side projects. That made me think about not only The Strokes' members projects but side projects in general.

What is a side project? A side project is a musical project undertaken by one or more people already known for their involvement in another band. It can also be a band or a single artist temporarily switching to a different style. It is also a great opportunity for any musician talented enough to do something different and not to be trapped in some certain boundaries set before. Side projects can be fun and enjoyable, sometimes even more enjoyable than the original music of that person. But is it always like that? Is this the unwritten rule? Unfortunately no. There are a lot of examples of side projects which didn't live up to listeners' high expectations. In that series of articles, I'm going to give you some examples of successful and not successful side projects.

I would start my list with a rather unexpected choice. This year a bunch of guys called The Moonlandingz released their debut album "Interplanetary Class Classics." It's a side project of the frontman (Lias Kaci Saoudi) and the guitarist (Saul Adamczewski) of a famous English band The Fat White Family. The band is known for their furious live performances and explicit lyrics with a significant influence of the '60s psychedelia and the Velvet Underground's early work. With The Monnandingz Lias and Saul have expanded their music with elements of krautrock and even more acid-fueled psychedelic effects. They even collaborated with John Lennon's wife Yoko Ono, and his son Sean on that record! As a result, we got a fun band with colorful and eccentric gigs and great tunes. The further we go into 2017, the more I hear the critics say that The Moonlandingz are even better and more assured than The Fat White Family.
Another great example

are

Eagles Of Death Metal, the group of good old friends, Joshua Homme and Jesse Huges. They started their career in 1998, and since then their music is filled with powerful riffs with a bit humoresque nod towards machismo. Some people may say that this is not a side project. In the 2008 interview, Joshua even stated, "It isn't a side project for me. I'm in two bands. I have musical schizophrenia, and this is one of those personalities. In brief, they are amazing." However, I want to pay respect and mention them. They have stormed the audience with their four powerful records. The latest, "Zipper Down," was released just before the tragic terrorist attack at Bataclan, Paris, during their performance. But life is about having fun and living so just yesterday they have also released a live DVD + CD "I Love You All The Time: Live At The Olympia Paris" to celebrate their music and love as it is.
But are there any examples of doubtful projects? Oh yeah. In 1988 David Bowie formed a group called Tin Machine which existed until 1992, and then he went back to his solo career. After critically acclaimed and beautiful record "Let's Dance" he wanted to release something more personal, which has led to the formation of the Tin Machine. But unfortunately, it was not a success at all. Being a big fan of Bowie, I can't say that those records were bad. Actually, I liked them. There are some hard-rocking highlights like "Run" or David's cover of Lennon's "Working Class Hero" with echoes and shimmering guitars, but the musical press was not happy. But I think it is still worth mentioning as a nod to his legacy.
I still have plenty of side projects that I want to talk about in my future articles, including legendary and solo ones.
What bands do you think should definitely be mentioned here on UG?