Stand Up & Shout! – An interview with Wendy Dio
'Bowl For Ronnie' takes place today at Pinz Bowling Center in Studio City, CA.
JustinBeckner
Ultimate Guitar

JustinBeckner
Lives in Minnesota. Been doing interviews for UG since 2011. GG Allin fan.
Posted Oct 06, 2017 03:41 PM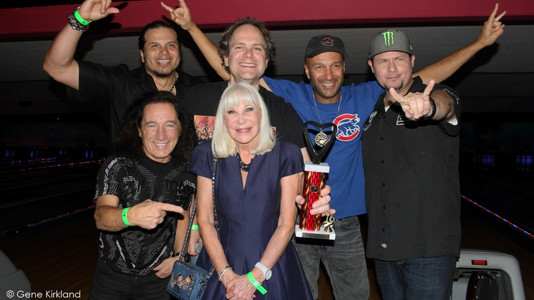 On May 16, 2010, the rock and roll world lost perhaps its most revered icon, Ronnie James Dio. Ronnie was taken from us a year after being diagnosed with stomach cancer. In the years since Ronnie's passing, his wife Wendy Dio founded the Stand Up & Shout charity which has been responsible for raising over 2 million dollars for cancer research and education. The charitable contributions promote early detection, something that Wendy feels may have been able to save Ronnie's life and has been the key to Toni Iommi's remission. Wendy stated that Toni may have been more reluctant to be seen by a doctor had it not been for Ronnie's situation. Ronnie had dismissed his cancer as indigestion for a long time before having a colonoscopy which is how his cancer was diagnosed, by that time it was too late.
UG recently had a chance to talk to Ronnie's widow and longtime manager, Wendy Dio. Wendy says that the charitable contributions have been used to work on new tests, using only saliva, to test for cancer. Such tests may lead to more early detections and therefore a higher success rate for treatment. "Women are really good about getting checked, men you have to drag them there. So this test would be much less invasive. Early detection does save lives. I think that Tomi Iommi's life was saved by early detection and I don't think he would have gone and got checked so early if it hadn't been for Ronnie's situation and he's in full remission now which is great news!"
Other fundraising events include the annual Ride for Ronnie, which will now take place on both the east and west coasts. The charity was also the beneficiary on the This Is Your Life Dio Tribute album that earned two Grammy nominations – one of which won (Tenacious D – "Last in Line", Anthrax "Neon Knights" was also nominated). "I think we've raised over $300,000 from that already. Everybody gave their time and talent and it was just fantastic. Musicians are such fantastic people. We're really really grateful. We have a board of 14 people overseeing the charity so there are no administrative costs whatsoever so every penny goes to cancer research and education" In speaking specifically about the tribute album coming together, Wendy said "it was absolutely amazing. When the idea came to us, I approached Glenn [Hughes] because he was one of Ronnie's best friends. So he obviously said yes and then I spoke to Rob Halford who was a very close friend of Ronnie's and he said yes. Then Metallica came in and said they wanted to do one but couldn't pick which one they wanted to do – they wanted to do four. Then everyone else came in – of course Lemmy who was a good friend of Ronnie's and The Scorpions, and then we had some younger bands in there like Lizzy Hale from Halestorm, It was just amazing and I just wish Ronnie could have seen how many people wanted to be on it and the outpouring of love and excitement around that project" It's important to note that not many people have a song off their tribute albums win a Grammy but it just speaks to the volume of his voice and his music. "Yes Jack Black won and he's a great friend of Ronnie's and he bowls for us sometime when he's in town and not out shooting a movie. He was a great friend of Ronnie's. It was funny because he did this song years ago called "Pass the Torch" which is about Ronnie. Everyone was afraid to play it to Ronnie but I played it for him and he thought it was great and said 'I wanna meet this guy' and then when we did the Push video for the album Killing The Dragon he said he wanted Jack to come in and be in the video so we had Jack do that and they became great friends and of course Ronnie did Pick of Destiny. A lot of people don't know that Jack is actually a really great singer."
Despite his rather epic persona, Ronnie was very down to earth. He had a great sense of humor and was no stranger to the dark art of the prank. Wendy recalls, "He was always playing jokes on people. He and Vinny used to get up to all kinds of mischief. They did a prank in Sabbath where they would rig a bag of flour to explode when they opened their suitcase. Toni was deathly afraid of snakes and they found this dead rattlesnake and tied it to the inside of his car door so when he opened his car door it would sort of jump out at him."
I also asked Wendy about an autobiography that may have been in the works when Ronnie passed, containing some similar stories, "Yes, Ronnie started writing a book and he had written up to about the middle of Rainbow. So we are going to finish that and that will be out next year. There are some great stories in there. Even if Ronnie wasn't who he was, it's got some great funny stories and he writes really well."
For fans who never got to see Ronnie play live, they may have a chance to experience his hologram. There was plenty of controversy and naysaying surrounding this topic so I asked Wendy about it. She said "Were working very hard on that and we hope that everyone will love it. It's the Dio band playing with Ronnie's hologram. Were very excited about it and I hope that people will find that it's been done with love and to keep Ronnie's music and memory alive. Ronnie was always into technology and was always trying to create a hologram when we did Sacred Heart we had a big crystal ball with Ronnie's head talking in it. We were trying to do a hologram but that was actually just a projection and Ronnie was always very enthralled with Disneyland and the holograms there. So I'm sure he would give us his blessing on this. They're doing one of Frank Zappa now too so I think it's the new way and there are a lot of naysayers out there but if you don't want to come, don't come. Were just trying to do this and I think it will be great for people who want to see Ronnie back on stage where he belongs and also the people who never got a chance to see him." Wendy saw Ronnie's hologram debut at Waken and I asked about that experience – "It was very emotional – very. I didn't think it would be because I had been working on it for a year to get it where it was. But to see him on stage in Germany with his band playing, it was very emotional. I was there with the people from the record label and we all cried. But this new hologram is a hundred times better than the one we did before because the technology has just come so much further in the last year."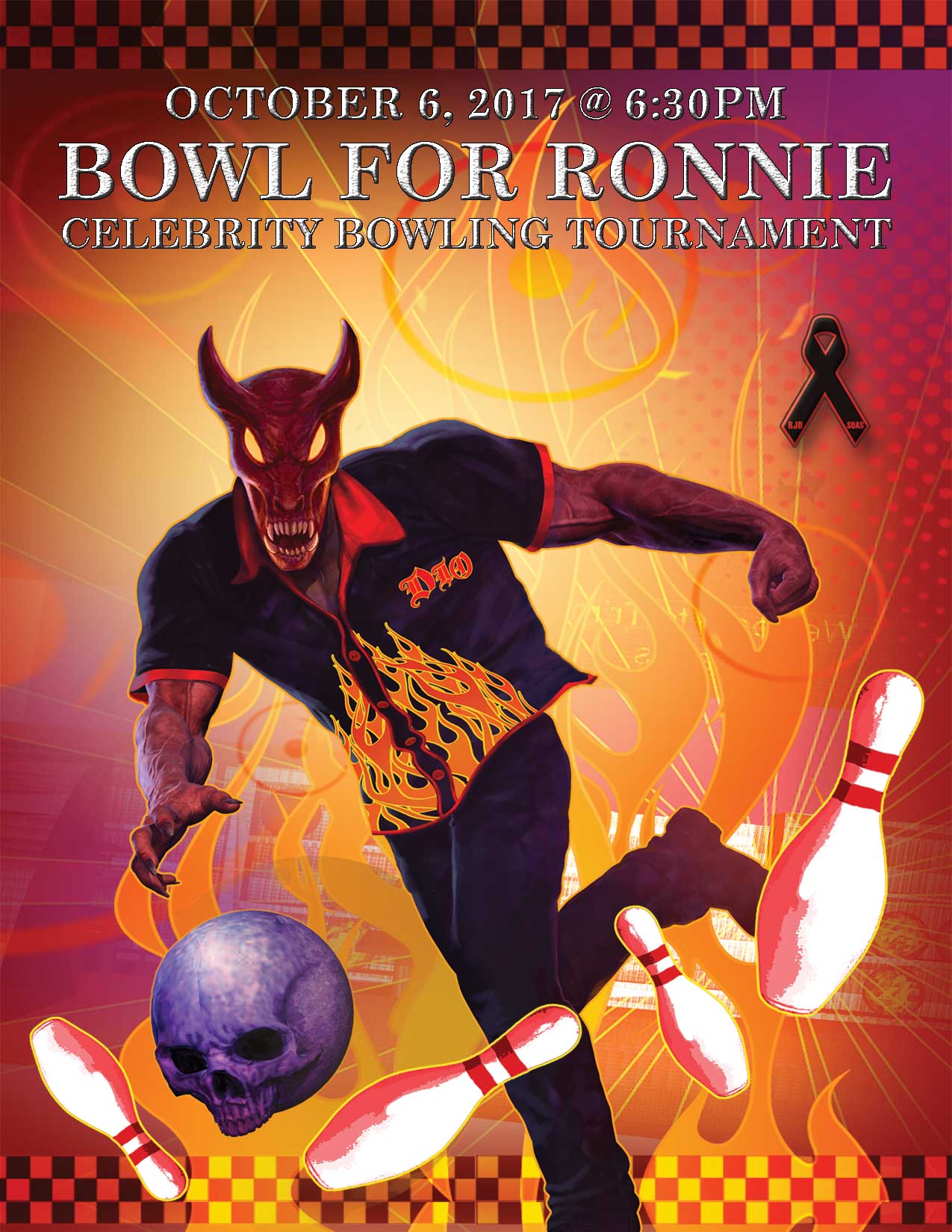 As for Bowl For Ronnie, the event takes place today at Pinz Bowling Center in Studio City, CA. Celebrities seem to come out of the woodwork to uphold Ronnie's legacy and help out with his fundraisers. This year's Bowl For Ronnie event will be hosted by Eddie Trunk. Members of last year's winning team are expected to bowl again this year, among them Mikkey Dee (Motorhead/Scorpions), Sebastian Bach, Tom Morello, Jeff Scott Soto and Rock Feinstein. Also joining the fun this year will be former Guns N Roses drummer Steven Adler, Doug Aldrich (Dio), Ann Boleyn (Hellion), Vinny Appice (Dio), Sean McNabb (Lynch Mob), Phil Buckman (Fuel), Jimmy Burkhard (Billy Idol), Fred Coury (Cinderella), Robbie Crane and Ricky Warwick of Black Star Riders, Juan Croucier (Ratt), Matt Duncan and Joey Vera of Armored Saint, Shawn Duncan and Rowan Robertson of DC4, Marc Ferrari (Cold Sweat), Dio Disciples members Bjorn Englen, Simon Wright, Scott Warren and Joe Retta, Chris Hager (Rough Cutt), Sonia Harley, Rita Haney, Marty O'Brien, Dave "Chili" Moreno (Puddle of Mudd), Budderside members Colin Reid, Rich Sacco, Michael Stone and Patrick Stone, Brian Tichy (Whitesnake), Chas West, Christine Devine and comedian Bill Burr.
For more information on the Stand Up And Shout Cancer Fund and their fundraising events, please visit www.diocancerfund.org.